Today in this blog our topic of discussion will be why it is ideal to Study at MAAC Institute Kolkata.
Multimedia Institutes in India is expanding and becoming popular as career-building setups for the young generation loaded with dreams, imaginations, creativity and passion.
Among several other Multimedia Institute in the markets certain special features gives MAAC'S its unique identity.
MAAC offers student friendly opportunities which aspirants can avail and make their mark in the Media and Entertainment Industry.
It has complete package of technical and professional courses with advanced equipments and infrastructure along with world-class faculty.
MAAC PROVIDES FOLLOWING OPPORTUNITIES:
Career-Oriented Diploma & Certification
Leading Animation and VFX Course in Kolkata
100% Placement Assistance
Events and Competitions
Trained Faculty
Online Varsity
Free Demo Classes
Friendly Environment
360 Degree Skills
Exclusive Benefits For MAAC students
CAREER-ORIENTED DIPLOMA & CERTIFICATION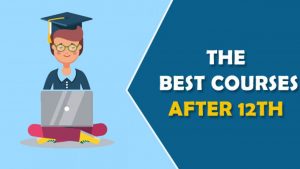 MAAC Institutes courses are well crafted for the benefit of 12th passed out students.
High School passed candidates who have the passion to join professional field can chose MAAC as career path.
This reputed Institute has successfully prepared thousands of students for career in Animation, Graphics, Filmmaking, Web Designing and VFX. All MAAC Course are Media and Entertainment Industry based vocational courses which has great prospects in the job market.
Detailed curriculum of each course has been designed by industry professionals to enrich MAAC students with solid foundation of learning.
DILIGENTLY CONSTRUCTED ANIMATION & VFX COURSES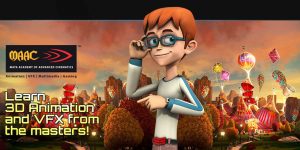 Both 3D Animation and eye-catching VFX are amazingly portraying dreams into reality on the big screens.
In India Animation and VFX Industry has a good steady graph in various sectors such as Advertising, Television, Film and Academic.
Big Foreign animation studios are involving Indian animation studios in big budget Film projects which have resulted in the more and more recruitments of skilled Animators and VFX artists in the production houses.
Under MAAC students can learn various latest high-end animation and VFX software and techniques to build splendour on the screen.
In MAAC Institute one can get the right training and the right guidance to conquer the animation and VFX world.
100% PLACEMENT ASSISTANCE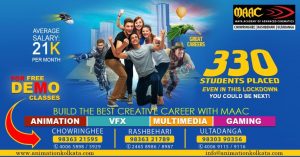 Prime advantage of MAAC Institute is its 100% placement support to all its students.
Placement procedure begins before the course ends and most of the students get placement before the end of their course curriculum.
Top-notch companies come to MAAC every year to select our students on attractive salary.
Placement Cell within the campus looks on nitty-gritty so that every candidate can approach to their dream path with confidence and determination.
Various job openings are available in the market for MAAC Pass outs such as Graphic Designing and Web Designing, Video Editing, VFX Artist, 3D Modelling Artist, Lighting Artist, Roto Artist and so on.
EVENTS AND COMPETITIONS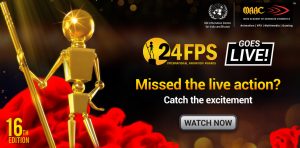 Every year grand event like 24 FPS International Animation Award Ceremony held at MAAC; where students from different MAAC Centres participate in this event to showcase their Best Animated Short Films in the presence of jury members and industry professionals.
Best VFX work also gets awarded in 24FPS event.
This platform offers student the opportunity to interact with the professionals from Gaming, VFX or Animation fields.
Apart from this event; MAAC students get the chance to participate in various Competitions like Kite Making, poster, diya making or Christmas Competition, etc.
TRAINED FACULTY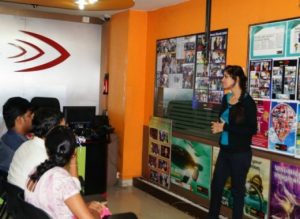 The faculties are the backbone of MAAC Centre; they are experienced professionals from film and television industry with the knowledge of current affairs.
Faculty members at MAAC not only help students in theoretical papers but also in practical section. Classrooms are well designed and fitted with high end computers and other necessary equipments.
From time to time MAAC invite guest faculties also to give its students innovative ideas and knowledge about latest developments in the media and entertainment industry.
Here at MAAC every student gets the chance to work in Studio Environment under the guidance and valuable suggestions we take our students for studio visit also to give them the feel of studio atmosphere.
ONLINE VARSITY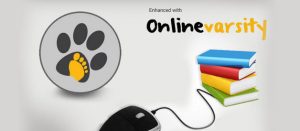 Online Varsity is the new concept that MAAC has introduced in the pandemic year so that students can avail the courses from the comfort of their homes.
It enables MAAC students to attend online classes and they can clear their doubts regarding studies through online video calls and seminars.
Online Varsity makes MAAC a very special Institute for the new upcoming fresh high school passed students to follow the professional courses in the mid of pandemic lockdowns.
FREE DEMO CLASSES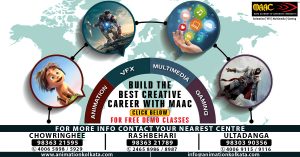 Free Demo Classes in another important criterion which makes MAAC Chowringhee MAAC Rashbehari and MAAC Ultadanaga unique Multimedia Institute from others.
Any aspiring candidate who wants to join MAAC can call at the particular MAAC Centre to get information about Demo Classes. Just a call away 9836321595.
Free Demo Classes will give brief idea to the novice about the type of courses and their prospects.
FRIENDLY ENVIRONMENT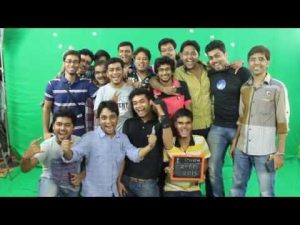 Healthy Environment plays a big role in academic field and hence MAAC's Campus offers ample of space for building up collaborative nature among students and teachers.
At campus students prepare their project work collectively by helping fellow classmates; they learn to work in a team.
Communication with classmates and healthy teamwork prepares the pass out students for the professional world where working with the people of all departments is crucial factor.
360 DEGREE SKILLS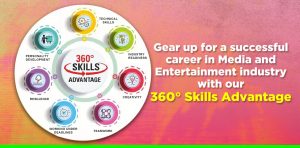 360 Degree Skill Development feature is another exceptional advantage offered only by our MAAC Institute.
Under this thoroughly prepared programme; fresher will learn to work under deadlines, teamwork and resilience. They will also learn technical skills, how to develop personality, how to bring creativity and so on.
This 360 degree skill development curriculum has been designed to make every fresher all rounder for the future survival in the job market.
EXCLUSIVE BENEFITS FOR MAAC STUDENTS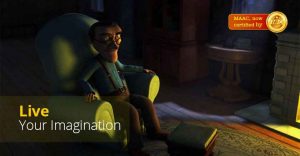 1.Certification from MAAC and Advanced Diploma from Vancouver Center for Entertainment Arts – Langara College, Canada.
2.After completing certification from MAAC one is eligible to get scholarship for a 3-years Post- Graduation Work Permit (PGWP)* post completing the Advanced Diploma from Vancouver Center for Entertainment Arts – Langara College .
3.Eligible to work part-time for20 hrs/week while studying at Vancouver Center for Entertainment Arts – Langara College
4.MAAC Students are eligible for a scholarship of CAD$ 19,500 for the Advanced Diploma at Vancouver Center for Entertainment Arts .
5.Langara College assists for placement service by VCEA, in some of the leading Animation, Visual effects & Gaming studios after completion of the course.
VCEA Langara College is located on a sprawling campus with the best of facilities for you to start your global career.
Building career with MAAC will definitely bring great future.
Hence Fresher's and Aspiring students come join MAAC and live your passion.