In this blog we will unfold the complete voyage of Sandipan Dey in MAAC Ultadanga and his experience at the time of studying at the centre.
The Smile of the face says it all.
The brightness of this person's face is brought to you by none other than the
MAYA ACADEMY OF ADVANCED CINEMATICS KOLKATA popularly known as MAAC.
Anyone who comes to MAAC unaware of their ability finds their true calling.
After hard work and struggle comes the success, this is the natural process in every human's life.
In our centre miniatures are cultured and grown to rise to the sunshine and among those sun shines stood Sandipan Dey.
The Journey of Sandipan Dey is something exceptional which we are going to tell you today.
Let's take a look at Sandipan's extravagant experience and the contribution of MAAC Ultadanga in shaping his career.
CAREER COURSES OF SANDIPAN DEY IN MAAC ULTADANGA
From MAAC Ultadanga, He did his course in 3D Animation and the Course name is AD3D EDGE.
Immediately after completing Class 12 standard Sandipan joined MAAC Ultadanga.
Sandipan selected AD3D Course which is a 3D animation course, which covers the complete process of animation film making from pre-production, production to post-production stage.
AD3D EDGE Course provides hand on training in latest, in demand 3D software and along with it provides training in story writing, directing, lighting and editing.
From this AD3D EDGE Course, Sandipan learned about 3d animation and lighting techniques that are used in animation movies.
For Sandipan selecting a course and studying was not easy because the course was completely different from what he studied so far in his 12th standard and he was also not sure about the prospect of the course.
In the Interview with Sandipan he said that "Faculties and Colleagues at MAAC were great support and with that support I achieved what I always wanted to Achieve.".
The Faculty members of MAAC centre Ultadanga provided great support to him; they helped him to understand the course properly and aided to develop his talent and skill.
The mentor at the centre gave the light of hope to him and with joint cooperation and coordination Sandipan is now a happy person with bright future.
Sandipan received certificate from MAAC after successfully completing his course.
His first placement was at Maya Digital Studio located in Mumbai.
Placement Details
Sandipan rejoiced that "I got my dream job as Lighting Artist at Xentrix Studio Bangalore".
From the beginning he wanted to be a Lighting Artist, before joining Xentrix Studio Bangalore he worked at MDS as Lighting Artist.
MDS is a prestigious Maya Digital Studio owned by Ketan Mehta and located in Mumbai.
Sandipan worked in Maya Digital Studio as a lighting artist for animation films.
After working hard and gathering experience at MDS, he landed up at his dream place in Bangalore.
Currently Sandipan Dey is working in a renowned place Xentrix CG animation Studio Bangalore as the Lighting Artist.
Xentrix Studio is a fast growing animation studio in Asia, specialized in high-end CGI (Computer Generated Imagery) animation and gaming projects.
At Xentrix Studio he has gradually improved himself as a talented animation lighting artist along with other artists.
He is well paid artist in the Xentrix now and his success story is indeed inspirational to many newcomers.
In the world of competition he has proved himself through his hard work and he believes the philosophy 'Stay on the sunny side of life'.
Still he is maintaining the same philosophy that was taught to him by MAAC mentors.
As he said in the interview "Life never gave me anything for granted, I worked hard and achieved everything".
He thanked his mentors at MAAC for making his dream come true.
Achievements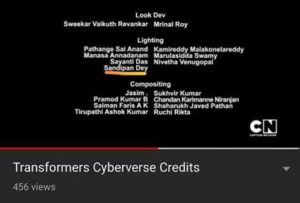 This Acknowledgement card reveals his skills, his effort and what he has gained from the MAAC faculties.
It is a moment of pride and joy when somebody sees his/her name in the credit list.
His work as Lighting Artist has been praised and his name is mentioned on the card along with other artists.
MAAC Ultadanga is feeling proud of his success and is wishing him the best for the upcoming happenings to come in his career.
As Sandipan said "There is many more to accomplished".
He is not going to stop by this achievement he is working hard to add many feathers to his hat.
Mr. Sandipan Dey is highly thankful to the MAAC Ultadanga faculty team for the support they have given to him throughout his career course in the centre.
Like Sandipan many of our alumni are on their expedition to success after they named themselves as MAACites in MAAC Kolkata.
MAAC Kolkata's Director Mr. Naveen Choudhary has applauded the numerous roles played by the alumni after they have passed their course from any of the MAAC centres of Kolkata.
Director Mr. Naveen Choudhary is the lover of creativity and who has creativity, are his proud.
Our alumni Sandipan Dey's journey from MAAC Kolkata to the prestigious animation studios in other part of India is really an impressive one.
Power of MAAC
Chowringhee, Rashbehari and Ultadanga MAAC Centres are the Gurukuls of education where faculty members not just focus on quality by showing the framework but also hold the position that have the power to decide the placements of the students.
MAAC centre provides placement assistance to each and every student.
On completion of the course, the placement begins and each and every student gets placement on the basis of talent, skill, passion and excellence.
The recruiters comes from various large companies across the world such as NDTV India, Xentrix, Redchillies VFX, Technicolor, Zee News, Design Mantra, MDS and many others.
Preparing students for the job is the main target, mission and vision of our MAAC Centres.
MAAC Kolkata has been ranked as the Best Animation, Visual Effects and Multimedia preparing institute in Kolkata.
Our novelty, brilliance and guidance have created a niche as a premiere Animation and VFX Institute in India.