In this blog post, we will enlighten your concept by mentioning the difference between two similar sounding careers graphic designing or web designing, yet totally dissimilar is all aspects: Graphic designer or Web Designer.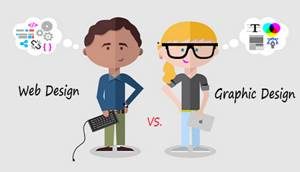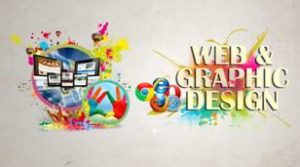 Do you think you are creative?
Have you identified yourself among those aspirants who have a knack for thinking outside the box?
Are you looking for career courses in Graphic Designing or Web Designing?
Then you have landed your flight on the right runway.
Designing is a great field of job in the present market scenario.
If that is so, then working in the design industry can be an incredible option to turn your imagination and innovation into a career.
Because your prime target will be to earn a paycheck for something that you are already passionate about.
There lies a broad spectrum of specialities that fall under the umbrella of the design industry.
For instance, there is a huge difference between the careers: a fashion designer and a textile designer.
These two are very distinct from the field of an interior designer.
In spite of the fact that they all share some similarities, yet there are certain remarkable differences in these fields.
Now, these dissimilarities are relevant to determine what type of career you would like to pursue in the course towards your establishment.
Assuming that you are searching for a prospect to merge your passion for technology with your love for design, you have placed yourself in between a hard-hitting selection: graphic design versus web design.
Coming to the duo, it is crucial to have an all-inclusive understanding of each field of design.
Then you need to select what best suit you and your personality.
This blog is letting you informed about the various areas of the career in web designing and graphic designing.
There are several designing fields; may it be art or graphics, creative or website designing.
Several times we have come across several questions asking us like "what is the distinction between a web designer and a graphics designer?
During the past years, the design industry has been emerging as one of the highly influential industries in the corporate sector.
The Designing industry has seen a rampant growth in the past few decades.
A large number of workforces serve to add vigour to the design industry.
Graphics Designer

The work of a graphic designer is a difficult task to accomplish.
He is deliberated with the comparable duty what a web designer does.
Nonetheless, this qualification is made for print or TV media.
The website specialist is the genius behind all web programs.
He sees how a web program functions.
Graphic designers focus more on the traditional methods of dispersal/broadcasting data.
The senior graphic designer is accountable for conceptualization and use of the framework of game plans that meet publicizing techniques from thought to wrap up.
They oftentimes have the task of "senior" because of their energy in essential initiative, or in light of the way that they hold the lead part on wanders and direct widely appealing and junior fashioner in making thoughts, comps, arrangements and last workmanship.
At the point when all is said in done, a Senior Graphic Designer would have a degree in visual computerization and three to five years' inclusion in lead fashioner/originator parts or past senior maker experience.
Web Designer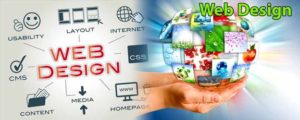 The work of a web designer is to establish the entire look and appearance of the website.
The individual is responsible for the general layout/outline of the code written by the web programmers.
The web designer is conferred with the duty to decide the shading and colours that will be implemented on the website.
He is the man who decides which colour combination will be absolute for the website and the logo of the company.
The slider options, the plugins to be used and where the menu will appear on the page.
All are decided and put on the website.
Difference between Graphic designing and Web Designing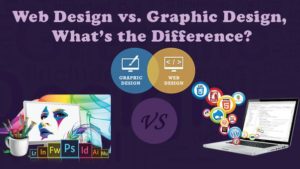 Graphic design: This design course is completely connected to print media.
This implies that all things that are printed in the market are required to be designed in the computer.
After the above procedure, the product is printed.
For instance, brochures, catalogue designs, banner design, board designs, visiting cards, logo designs, advertisement designs, labels and letterheads and many more, all are created through graphic designing.
Web Design: The field of web design is directly linked to the Web media.
All the designs, outlets on Internet are made through web designing.
As for example, web banners, web layout, web advertisements, web forms, all come under the category of web designing.
Difference In Course Contents
Graphics Design Course: To become a graphic designer one needs to learn the four valuable graphics software like Adobe Photoshop, Adobe Illustrator, Adobe InDesign and Corel Draw.
The graphic designer should have a sound knowledge of Print Media.
Web Design Course: An individual can become efficient in web designing by learning two graphics software: Adobe Photoshop and Adobe Illustrator Plus.
The person is expected to have a sound knowledge of the web development part that is connected to Coding of HTML, CSS, PHP, JavaScript, JQuery, Ajax and many more.
He is intended to have some concept of Web Media.
Disparity in Media

Graphics Design and Print Media: Here, now the question arises, what is necessary to know in print media for a graphic designer?
A graphic designer should have a brief idea about the different Printing Techniques, Printing Machines, Printing Inks, and Printing Papers in the market scenario.
He is expected to have knowledge about the different File Formats used for Printing like EPS, TIFF, and PDF.
An absolute knowledge of Print Media is essential for every graphic designer.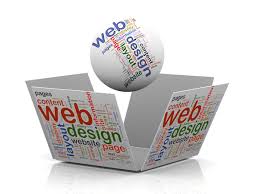 Web Design and Web media: Web Design and web media are interrelated with each other.
Now you might be wondering what is included in web media.
Web Media Knowledge comprises of diverse types of web formats, web technologies, web management, search engine optimization or SEO, social marketing, use of open source, setting audio and videos in websites, geo-location and use of other embedding codes.
Learning Process
Graphics Design Learning Process: The time duration of graphics design differs from two to eight months time span but it basically depends upon the content to be covered.
You can become an expert graphics professional in just a few months.
You will get a total knowledge of software, live projects and complete Print Media Knowledge by doing the course at MAAC .
Web Design Learning Process: In this case also, the time span of the courses ranges from four to twelve months depending on the contents you want to cover.
Within few months, you will become a professional web design expert.
Thus you will be able to design and even develop websites on Internet as per requirement.
Choose which one you want to choose or both may be.
To clear your doubt Click Here Register Get a Call from Expert.