MAAC (Maya Academy of Advanced Cinematics) is the pioneer in animation training in India.
And we at MAAC Chowringhee, Rashbehari and Ultadanga being associated with MAAC since it's inception, carry the mantle of excellent animation training in east India.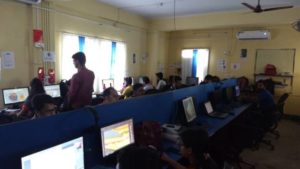 To enhance the technical knowledge with first hand experience and to give students a sneak peek behind the grandeur of the media and entertainment, took them on a small trip.
A trip to uncover the artist working behind the crisp graphics and smooth movements of shows like Tik Tak Tail and Little Singham.
So, it was a trip to the Crazy Animation Studio, which is a Kolkata based Animation studio specializing in 2D animation geared towards young audience.
With a motto to" help buisinesses establish a unique and distinctive identity in market" they also venture into brand identity and product visualizations.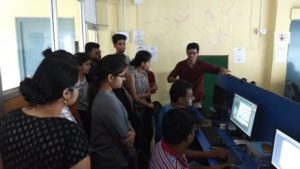 Crazy Animation Studio has worked on quite a few animated series and features with the notable ones being, "Tik Tak Tail" for POGO channel, "Little Singham" and "Bajrangi" for Hungama and "Golmaal" for Nickelodean.
Some of their upcoming projects include Guru or Vole (2nd part) for Sony which is currently in the pre-production phase.
Inspector Chingum(2nd part) also in the pre-production phase.
Shiva is also another series which is currently in it's in the pre-production phase.
Also, Atchoo is one of their internal animated content.
What could be more inspiring and encouraging for our students than to visit a studio and grab an insight in the industry that they aspire to join in the near future.
Keeping this in mind we seek for permission for the visit via email from the director Mr. Soumen Sarkar, to which he happily agreed.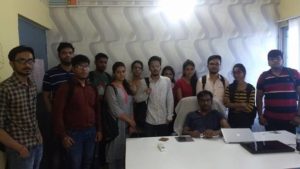 We enthusiastically informed the students about the impending studio visit and asked them to register for the same.
Although we are well aware of the zeal of our students, we still had a very positive participation from the students.
A total of 25 students were chosen from those registered for the studio visit across all three of our centers.
The day for the studio visit was planned to be on Saturday, 11 May, 2019.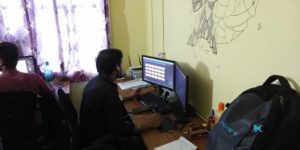 The students were divided in two groups for the visit, which was scheduled as a morning and an afternoon session.
On the designated day the students gathered together at MAAC Chowringhee and set on their fun filled learning experience at 10:00 AM under the guidance of Mr. Souvik Choudhury, one of our faculty members.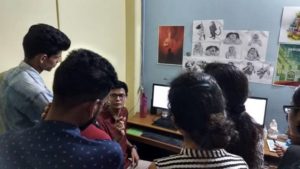 Upon arriving at the Studio, they were greeted by the person in charge to lead them to the conference room where Mr. Soumen Sarkar, Director of Crazy Animation Studios addressed the students giving a brief introduction of the studio and it's journey.
Adding in about the scope of animation and its industry demands and giving students his best wishes he ushered them to the technical department.
The Technical aspects of the various stages of production of 2D animation and graphics designs were explained by the professionals of the respective genres.
The amount of experience and expertise these professional had gathered over the years working in the industry was evident in the way they put forward their skills and techniques.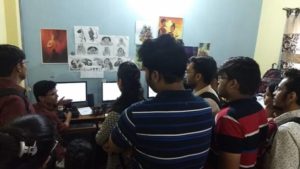 The students were walked through the process of Background Layout by Mr. Bijoy Kumar Pattanayak, who have been associated with Crazy Animation Studios for about 15 years as a background layout artist.
He explained about the importance of layout, composition, placing of elements etc.
Followed by Ms. Arpita Paul who is, a layout artist with Crazy Animation Studios for about 5 Years.
She explained about the visual elements of layout, space, structure, perspective, proportion and gathering them all together to form a single layout.
Followed closely after was a session by Mr. Ananda Goswami, Storyboard artist at the studio, who then talked about the importance of storyboard in the whole process of animation production and how things can go wrong otherwise.
With around 11 years of experience under his belt, his craft was meticulously hobed and detailed.
He then went onto familiarize us with the whole process and concept of story boarding and how they do it.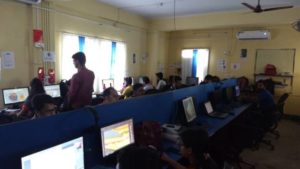 Thereafter it was taken up by Mr. Pijush Poddar, Animation Supervisor at the Studio for 8 years.
He talked about the importance of visual performance in animation and also about the common mistakes one commits while trying to achieve the same, and the corrective measurs to take to avoid them.
The mantle was then handed over to Mr. Souvik Paul, Senior animator at the Studio for 8 yrs, who went to show the techniques to animate a shot going through the details and demonstrating it simultaneously.
Shortly afterwards Mr. Sujit Das took the center stage, being a graphic designer with Crazy Animation for 11 years he has his hands full with credit of a lots of logo and brand identity design.
He addressed one of the most common question of the students which was how to design a logo.
He went all out with the process, skills and techniques to design a logo which is meant to identify with a brand as well as maintain long term significance.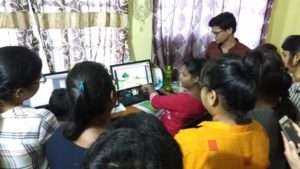 With all these first hand session with people with long standing talents and experience to their credit, our students sure were ecstatic.
They also got a chance to take a look around the work floor of other members of their team busy with their own works.
With this the morning session came to an end at about 2.30 PM.
After which the students departed to their respective homes with brain full of creative ideas to implement in their next endeavour.
But the day was not going to end as there was another group to walk through a similar schedule.
The second group of students were ushered in at around 3.00Pm and ended with their session till 6.00 PM.
With the sun gone down the day of the studio visit came to an end.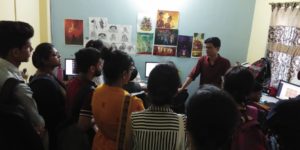 We were very happy to see the mystified yet satiated reactions from our students.
We felt overjoyed with their energy and responses.
After thanking Mr. Soumen Sarkar for such wonderful learning experience they imparted our students with we embarked on our journey back to MAAC Chowringhee.
Love to be a part of such exciting fun filled learning experience.
Join us at MAAC Chowringhee, Rashbehari and Ultadanga or get in contact.