Hello viewers in this blog we will discuss about the growing animation job market in India.
The growth of animation industry in India is quite amazing and surprising.
From the past few years animation production segment grew at a good speed to fulfill the demand of local animation content and characters for Indian market across TV and Over the Top providers.
Indian animation industry started with the mythological concepts compared to the West where characters like Spiderman, Batman generated from comic books.
Indian audiences have already enjoyed animated movies like Return of Hanuman, Bal Ganesh, Chhota Bheem, Mighty Raju, Motu Patlu and many more on the television as well as movie screens.
Scopes In Animation Industry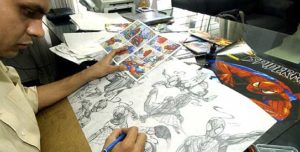 Animation Industry has a very profitable present and a bright future in India.
According to current FICCI report Indian Animation Industry is growing in excess of 20%.
Indian Animation Industry has become a full-fledged industry now and no longer depends on foreign projects only.
With the flow of huge investments
Animation which is a combination of creativity and technology has evolved in a long way.
Small Indian studios started with handful of people have grown to become large brands now.
The demand for technical skills is rapidly increasing and animation training institutes are trying their best to cope with the demand.
Entry into the field of animation requires skills in sketching, drawing and knowledge of software.
Large studios have their own training facilities to teach the aspirants.
Interested youngsters can easily learn about animation by enrolling themselves in the various Animation Institutes all over India.
Along with the local studios, International producers also look for technical skills in India.
You will be surprised to know that Indian animators created the crowd scenes for the TV series Game of Thrones.
Indian animation studios outsource their artists for the foreign projects and this helps in knowledge transfer.
Talent outsourcing enables to raise the bar with respect to animation quality and creativity.
Indian animators have worked on many Hollywood projects.
Indian government has also started taking interest in this field.
State Telangana has its own set up called Telangana VFX, Animation and Gaming Association (TVAGA) which is a non-profit association led by team of professionals and academicians.
According to KPMG professional firm in India "Investment and collaboration opportunities between animation studios and broadcasters have increased and broadcasters are paying in the range of Rs.1.5 to 4 million per 30 minutes of animation content.
With the flow of huge investments new projects on animation will hit the Indian screens in the coming years very soon.
 Animation As A Career Option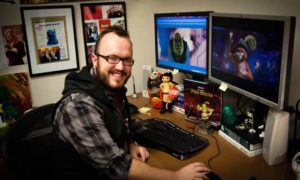 Animation is a field where one can enjoy their work, fulfill their dream, feel satisfied and get praise from the clients.
With the coming of animation industry various animation companies have emerged across India.
Cities like Mumbai, Bangalore, Chennai, Trivandrum and Hyderabad have become major animation hubs in India.
The animation studios with their high-tech infrastructures employ high-quality skilled engineers.
These animation studios are capable to offer a full range of services from 2D animation, 3D animation, Storyboards, viral videos, logos, banners and many more.
They provide services according to the need of the customers.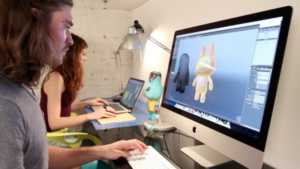 There are numerous work opportunities for the quality animators in these animation studios like graphic designer, multimedia developer, game developer, character animator, 3D modelers etc.
The talented and skilled animators has the scope to get job in the field of advertising, Online and print media, Film and Television, Video Gaming, E-learning etc.
An animator earns a good salary in India and with the experience salary amount increases.
One who want to start own animation business house can search for opportunities hidden in animation industry.
Animation Industry is one of the goldmine fields to explore.
Current Scenario Of Animation In India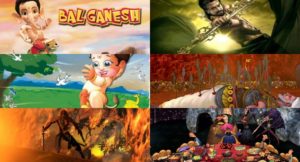 In India a good quality animation film cost around Rs 8-10 crore which is slightly lower than the feature film budget.
Indian market is not big enough compared to Hollywood market.
"In Hollywood companies like Disney or Pixar spend millions of dollars on every projects" said Ketan Mehta co-founder of animation company Maya Digital Studios.
India is competing with global market and Indian producers are working hard to attract International finance to make animation films that can compete globally.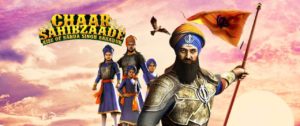 The film Chaar Sahibzaade (2014) directed by Harry Baweja was the highest grossing Punjabi animated movie in India.
This 3D animated film became very successful and received positive reviews from critics for its story, animation and in-depth research.
The budget of this movie was Rs.20 crore and it earned Rs.70 crore globally.
This movie proved that a good well-crafted animated movie can win the heart of Indians.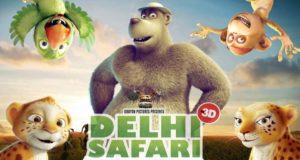 Krayon Picture's (Pune based 3D animation studio) Delhi Safari (2012) was also well received by the audiences and it won awards too.
Made on a budget of Rs 24 crore this film was one of the highest-grossing Indian films in China.
It collected Rs. 2 crore in India and Rs. 12.5 crore in South Korea.
This proves clearly that there is a market for Indian animated films.
With the success of Indian animation Industry global entertainment firms are choosing India for these reasons-
The cost of animation production in India is very low compared to North America, Korea and Philippines.
Indian animation studios provide low cost, high-quality software engineers
Studios are equipped with good quality of hardware and software.
Future Of Indian Animation Market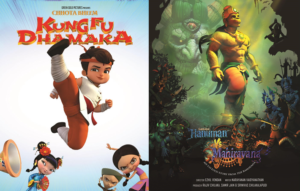 Current size of Indian Animation Industry is US$ 247 million and is expected to grow at 15-20% per annum.
Indian animation industry employs over 80,000 people.
Gaming, Television and Film Industry are in high demand for skilled animators.
Development in all the aspects of animation industry will place India as a leading country in animation production and outsourcing.
Demand for animation services from India is growing and will grow in future with the emergence of well-organized production sectors.
Hence those who aspire to join this field of animation with immense opportunities kindly Cheer Up and join our MAAC Kolkata Centre.