Indeed a graphic designer needs to work on a variety of products and functions such as advertising, websites, books, magazines, other communications, posters and many more.
Neville Brody is of the view that Graphic Digital Design is similar to painting, except the fact that, the paint never dries.
The above statement is absolutely right as it emphasizes the importance of definite, good digital design that will remain evergreen for the purpose of the website.
There are huge career options in graphic designing.
This blog post is about the top job options/profiles that any aspirants can take up if you are a graphic designer.
MAAC Kolkata is posting this blog so that the readers or pupil get a concise thought about the different job scopes in the field of graphic designing.
Advertising Art Director

An advertising art director plays a very important role in the advertising firm or communication media.
Assuming that you are the advertising art director, and then essentially you are the boss of the heart of the firm.
It is the advertising art director who works along with the copywriters in order to create effective visual communication.
However, the job, placement is not only restricted to the advertising agency.
It goes beyond the restraints of advertising.
Several film production houses, web design companies, studios, graphic design companies and other print publishing houses are nowadays employing advertising art directors for designing their websites in a creative way that can appear artistic in the Google listing.
Therefore, it implies that there are varied job scopes for skilled and talented graphic designers.
Animator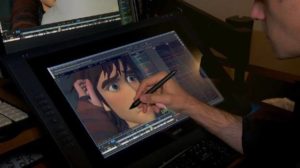 Does animator fall under the category of a graphic designer?
Are you surprised? Then don't be.
An animator is assigned to the job of producing numerous digitally drawn images including puppets.
The images sometimes can also be drawn through handmade processes.
During the past few years, it has been seen that good graphic designers create great animators who are innovative in their creation.
Animators are thought to have a great sense of appeal and visual fascination.
This point is considered to be the most significant requirement for an animator in his work.
He is responsible for putting distinct images in a sequence for the purpose of producing effective and remarkable storytelling.
The aspects of animation start from the 2D and 3D model making to the clay modelling, from Stop Motion Animation to the computer-generated animation or CGI, all fall under the Animation category.
With the wide spectrum of knowledge in graphics design, you can also select to work as per your technical skill capabilities.
Graphics Designer

The work of a graphic designer is a difficult task to accomplish.
He is conferred with the similar responsibility what a web designer does.
However, this distinction is only made for print or television media.
The web designer is the mastermind behind all web browsers.
He understands how a web browser works.
Graphic designers concentrate more on the conventional modes of dissemination/broadcasting information.
The senior graphic designer is in charge of conceptualization and usage of the outline of arrangements that meet advertising methodologies from idea to finish.
They frequently have the assignment of "senior" as a result of their power in basic leadership, or in light of the fact that they hold the lead part on ventures and direct middle of the road and junior designer in making ideas, comps, formats and last workmanship.
When all is said in done, a Senior Graphic Designer would have a degree in graphic design and three to five years' involvement in lead fashioner/designer parts or past senior creator encounter.
The graphic designer is needed to work as per the requirements of the customer.
A visual brand can be created with the help of the conceptualization of the graphic designer.
A graphic designer has the opportunity to work in diverse industries like advertising, magazines, computer games, websites, books, and corporate communication.
Illustrator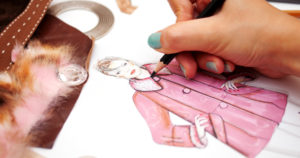 An illustrator's job is full of creativity and craftsmanship.
It is up to you to choose whether you want to become a graphic designer or shift to become an illustrator.
If you choose to become an illustrator then it will be a challenging task for you though other job options are as challenging as a graphic designer.
An illustrator is assigned with the responsibility to take a story or an idea forward by providing it with a visual illustration.
Therefore, he is the man who shapes the storyline and gives it an effective progression.
The visual representation can be done by means of drawing, photography or through digital creation.
The Printmaker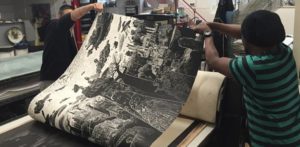 Digitalization is the bringing of information in the digital format.
With the fast-growing digital world, it has evolved vast job opportunities for fresher's in the digital world of communication.
As a result, there is still a vast demand for the graphic designers in the print and publishing industry.
This job is appropriate for those aspirants/designers who like doing things bare hand rather than sitting in front of the computer.
The two basic print techniques that are used by printmakers worldwide in order to create images are woodcuts and silk-screens.
All the designs are composed and created with the help of bare hand.
After creating designs, they are transposed on to surfaces, in general, with the help of printing press.
Another option that is prevalent is you can make artistic and innovative invites for the purpose of celebrities' invitation for an award function or other occasions.
In addition, the design industry allows graphic designers to experience the top-notch work opportunities of both the worlds.
Rather than utilizing the conventional techniques and procedures, you may have the option to implement digital printing process.
This is done because it will allow one to create innovative designs making them work closely with computer artists.
Don't be perplexed, just knock at our site and get instant assistance with our experts.
MAAC Kolkata provides you custom quality designing courses/training facilities that can make you stand out in the market or corporate sector as an identified face.
If you are searching institutes to learn the designing courses, don't hesitate to contact us.