Today we are going to tell you about notable contribution of our MAAC alumni Oyndri Dutta in the very recent movie The Lion King.
Directed by Jon Favreau movie The Lion King is the remake of Disney's 1994 animated film in the same name.
It has been released in July 2019 by Walt Disney Studios and has already received lot of praises for its visual effects, musical score and vocal performances.
The Lion King is a 3D computer animated film with numerous VFX shots done by team of VFX artists from studios of Motion Picture Company or MPC.
MAAC Alumni With Powerhouse Of Talent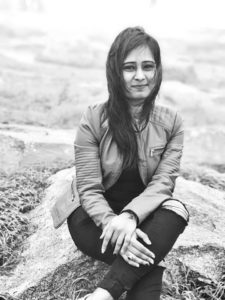 Meet Oyndri Dutta of MAAC Ultadanga who completed her course in VFX Plus in the year 2015.
MAAC's VFX Plus course teaches students about highly advanced visual effects techniques that are being used in modern filmmaking scenario.
This course moulds every budding artist into full-fledged professionals required by film and animation studios.
VFX Plus course empowers a student with technological skills and sharpens their creativity power.
Oyndri selected this course because she had capability to give shape and form to her imagination.
Oyndri Dutta joined the VFX Plus course in the batch of 2013 at MAAC Ultadanga Centre and after completing this 17 months course in 2015 she got placement at a renowned VFX studio.
During her MAAC days Oyndri left heart-warming impression of her extremely creative work on the MAAC mentors and classmates.
Oyndri has shared her experience of MAAC days with us in her interview by saying that "For me the experience of being a student of MAAC went very well; I opted for VFX Course of 17 months. This course was very new to me as I didn't know anything about various softwares. We started with Photoshop and ended with Nuke."
VFX Plus is an attractive course for our students as it gives vast opportunity to handle different type of artistic software.
Oyndri Dutta learned about all sort of digital artistry during her VFX Plus Course period at MAAC Ultadanga.
MAAC Event For Grooming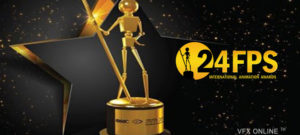 Event like 24 Frame Per Second which held every year at MAAC moulded Oyndri to a better artist.
24FPS is a platform to showcase the talent of young artist and it has different award categories to appreciate the best work.
This event has 'VFX Challenge' category in which the best visual effects wins the prizes.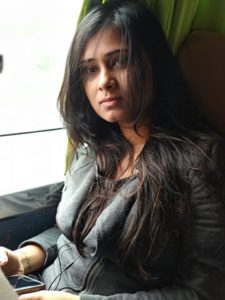 Oyndri mentioned in her interview that "I learned how to work on projects at MAAC itself. I have participated in 24 FPS project in MAAC which helped me a lot to learn about all the department works and how to finish it on time."
24 FPS brings professional approaches among MAAC students as they learn to work on projects in a very competitive environment.
Under the proper guidance of MAAC faculties students learn how to work on project which are judged by professional from the industry in the 24 FPS event.
Acknowledgement Earned At MPC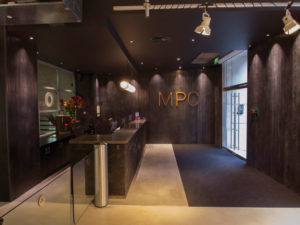 Currently Oyndri Dutta is working at VFX studio of Moving Picture Company which has head office at London.
She is a 3D modeling artist at MPC.
For movie The Lion King MPC has provided the larger than life visual effects with the support of its hard working team.
As a 3D modeling artist Oyndri's task was to create 3D animated model of Simba (The crown prince of pride land), Pumbaa (Warthog), Timon (Meerkat) and other 3D animals and objects for this film.
3D jungle environment too was created using high definition user friendly 3D animation software.
At MPC studio Oyndri knows how to work under deadlines with other VFX artists like texture artist, lighting artist etc.
Each day she is learning something new at MPC while earning.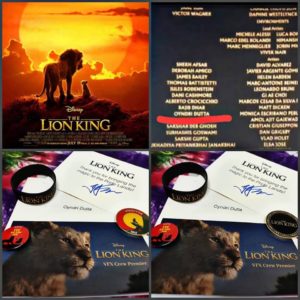 At MPC among great team of VFX artists Oyndri Dutta worked hard day and night to make the exceptional movie The Lion King spectacular.
With all her talent and power of creativity Oyndri has secured her place in the acknowledgement list of the movie along with her co workers.
It's a proud moment for us when we see her name with the name of other artists from other corner of the world.
Oyndri has also received an Appreciation Letter straight from the Director Jon Favreau which is another reason for celebration.
The Appreciation Letter from Jon Favreau says "Thank you for bringing the magic to the Pride Lands."
No doubt VFX artists have brought magic into this film with their power of imaginations.
Oyndri is one of those dare dreamers who can make their dreams come true.
Disney's President of Production Sean Bailey has called the visual effects of this movie "A new form of filmmaking".
From Sean Bailey's quotation we can figure out that movie The Lion King has set new milestone in the history of filmmaking.
The production team of this movie has combined VR technology with camera in order to film the remake in VR simulated environment.
Filmmaker has used Motion Capture and Virtual Reality technologies in its production stage.
VR or Virtual Reality environment is an entire work of 3D animation and visual effects for which credit goes to MPC.
Gratitude Towards MAAC Mentors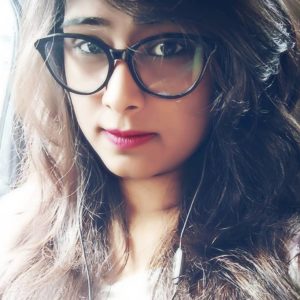 Behind our every successful student there are great MAAC teachers.
Oyndri has also expressed it in her interview as she said "Our teachers at MAAC taught us everything from the beginning to the end with each and every detail."
MAAC mentors are there for the students in every even and odd situation.
Of course the journey of Oyndri does not end here more appreciations and applauses are waiting on her path and we are sure that she will give us more reasons to smile in the future.
She has thanked her teachers especially Rajib Sir, Ajay Sir, Saumen Sir and Pradip Sir and appreciated all their efforts.
Oyndri thanked her mentors for making her future bright; she is enjoying her work at MPC and looking forward to more interesting projects to work on.
We as a MAAC team wish her all the best for her upcoming projects.
Aspiring students may contact any of our prestigious MAAC Centres.
Or call @9836321595 for Free Career Counselling Session.