Today our blog will be on fictional superhero Batman who first appeared in American Comic books published by DC Comics.
Artist Bob Kane and writer Bill Finger together created Batman character which came out in DC#27 in 1939.
Batman has gained enormous popularity and is among the most noticeable comic book characters.
Cultural Icon of America, Batman has been featured in various adaptations from radio, television to film and appeared in products sold around the world such as toys, attire and video games.
The secret identity of Batman is Bruce Wayne, a wealthy American playboy, philanthropist and possessor of Wayne Enterprises.
Batman does not possess any superpowers; he relies on his genius intellect, physical skill, martial art abilities, detective skills, vast wealth, science and technology.
Batman works in the fictional Gotham City with his assistance including his butler Alfred, Police Commissioner Gordon and vigilante allies Robin.
Batman has gained enormous popularity and is among the most noticeable comic book characters.
Batman In Movies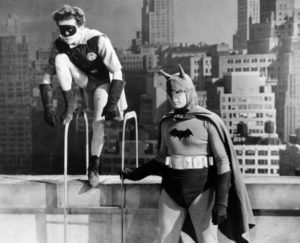 Batman appeared in various films since his formation.
The character first came in two serial films in the 1940s Batman and Batman and Robin.
In 1943 a 15 chapter black and white theatrical serial film Batman released by Columbia Pictures and it was the first appearance of the comic book character on film.
In this film Batman Lewis Wilson played the role of Batman.
In 1949 a 15 chapter serial Batman and Robin released by Columbia Pictures again.
In this serial Batman was played by Robert Lowery and Robin character was played by Johnny Duncan.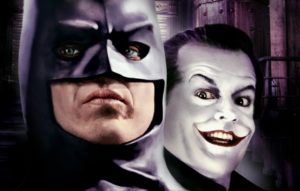 In the late 1980s, the Warner Bros Studio started producing a series of feature films casting Batman, starting with the 1989 film Batman which is directed by Tim Burton and featured actor Michael Keaton as Bruce Wayne and actor Jack Nicholson as Joker.
It depicted the battle between Batman and Joker.
Along with Michael Keaton; director Tim Burton made Batman Returns in 1992.
In 1995 Joel Schumacher directed Batman Forever with actor Val Kilmer as Batman.
The popularity of Warner Bros. Pictures' live-action feature films on Batman helped to maintain the character's prominence in mainstream culture.
Fictional character Batman has been depicted in both film and television by Lewis Wilson, Robert Lowery, Adam West, Michael Keaton, Val Kilmer, George Clooney, Christian Bale and Ben Affleck.
Joel Schumacher directed the 1997 film Batman and Robin which featured George Clooney.
This film was not praised by fans and critics and led to the cancellation of further two film proposals.
It is only live-action film where Batgirl appeared who helps the title characters fight the villain.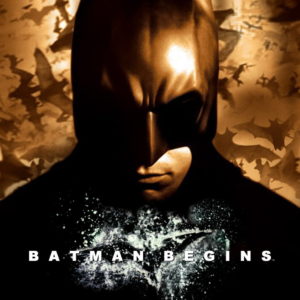 In 2005 came Batman Begins directed by Christopher Nolan and starred Christian Bale.
This film revived the Batman film series, telling the original story of Bruce Wayne from the murder of his parents to his journey to become Batman his fight to save Gotham City.
Christopher Nolan also directed The Dark Knight in 2008 and The Dark Knight Rises in 2012 with Christian Bale as lead actor.
Both the films earned over $1 billion worldwide.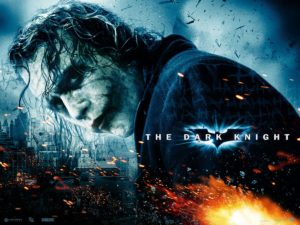 Released on July 2008, the film The Dark Knight showed Batman, Police Lieutenant and District Attorney forms an alliance to dismantle organised crime in Gotham city and face troubles from the mastermind Joker.
This film considered as one of the best films of its decade by Film Critics and one of the best superhero films of all time.
It received highly positive reviews for its action, score, screenplay, performance, visual effects and direction.
This film received eight Academy Award nominations; it won the award for Best Sound Editing and actor Heath Ledger was posthumously awarded for Best Supporting Actor.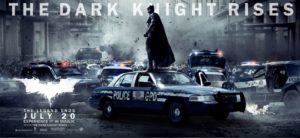 After eight years of the events of The Dark Knight, Bruce Wayne is forced to resume his role as Batman where Bane, a masked, merciless revolutionary emerges to destroy Gotham City in nuclear destruction.
Released in 2012 The Dark Knight Rises; the screenplay was written by Christopher Nolan and his brother Jonathan Nolan.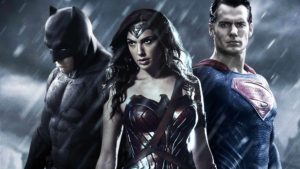 After the launch of Warner Bros. own shared Cinematic Universe DC Extended Universe in 2013, Ben Affleck was cast as protagonist in Zack Snyder directed Batman v Superman: Dawn of Justice made in 2016.
This film Batman v Superman: Dawn of Justice is the first live-action film to feature Batman and Superman together and first live-action cinematic portrayal of Wonder Woman.
The incarnation of Batman in this film is different from the character's previous portrayal in The Dark Knight Trilogy; it's a cinematic reboot of the character.
The film was released in IMAX formats with70mm prints by Warner Bros. Pictures.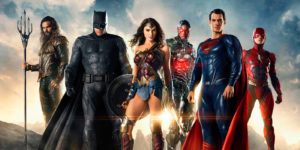 Released in 2017 Justice League is the follow-up to 2016'sBatman v Superman: Dawn of Justice and the fifth instalment in the DC Extended Universe.
Directed by Zack Snyder; the film casted Batman, Wonder Woman, The Flash, Aquaman and Cyborg after Superman's death to save the world.
With production budget of $300 million Justice League is one of the most expensive films ever made.
In the up-coming 2019 film Joker directed by Todd Phillips, Dante Pereira-Olson acted as Bruce Wayne.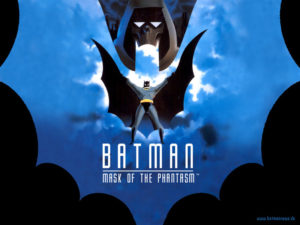 Batman character also appeared in multiple animated movies.
Most of the animated Batman films were released direct-to-video rather than a theatrical release.
In 1993 animated feature Batman:Mask of the Phantasm released theatrically which was based on the 1990s Batman: The Animated Series.
It was written by Alan Burnett, Paul Dini, Martin Pasko and Michael Reaves and used voice talents of Kevin Conroy, Mark Hamill and Efrem Zimbalist Jr.
Directed by Eric Radomski, it was the only first original theatrical film produced by Warner Bros. Animation.
Batman: Mask of the Phantasm failed at the Box Office due to release in theatres in short notice but became successful after release on home video.
It was praised for storyline, music and voice performance.
This film earned a total of U.S $ 2,407,708,129.
And the fact is Batman series is the fifth-highest-grossing film series in North America.
So far we tried to cover the Journey of Batman from Comic Books to Movies.
Hence if you have any character in your imagination to which you would like to give action; then be part of us and fulfil you dream in just a click away.