Indian has been the hub of literature and art, so comic books has been a part of our growing age for a long period of time, from novelist to poets to painters,  singers even drama India has excelled and produces great personalities who are adored and looked up to by many a generations.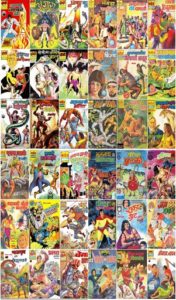 One dark horse to in the world of literature in India is Comic Books .
Comic books have been present in India since a little before the year of our freedom; 1947 saw the first publication of CHANDAMAMA.
In a bid to help Indian kids learn more about the country's rich culture in more creative ways, Chandamama began to create and publish stories adapted from the Indian mythologies such as Ramayana and Mahabharata.
The magazine first began to publish in Telugu and Tamil. Two years later, the Kannada edition was released, followed by Hindi a month later and Marathi and Malayalam in 1952.
By 2004, Chandamama was publishing in 9 more local languages.
In publication to this day, the magazine and its illustrations are known for its unique storytelling, reminiscent of grandparents' bedtime stories conveyed in the print format. It's important to note that Chandamama is not a comic book, in the quintessential sense.
Thankfully the illustrations per page, it can pretty much be considered as the herald of graphical storytelling in India.
The Indian Comic scene has been perhaps one of the most underrated creative industries in India; Both the classical age and  the modern age.
Which is why today we have decided to, as the topic says gone full nerd on the most popular Indian comics.
If you have been living in India from the past decade and haven't heard of Chacha Chaudhary then you gave been living under a rock.
The witty intelligent old man is a smart and quick thinker. He rarely uses his stick but when he does he beats u to pulp.
Accompanied by his loyal dog Rocket Sabu who is from the planet Jupiter; he is tall as a coconut tree and does all the beating and catching of villains.
Together they solve crime and mysteries, and make one hell of a couple. Chacha Chaudhary first issued in the year 1971 by its creator the famous cartoonist Pran.
Chacha has been a household success since then, every child and adult enjoys reading the tales of  Chacha Chaudhary and Sabu.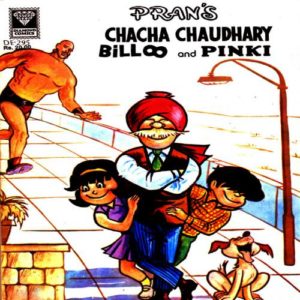 A production of the lesser known Tulsi Comics, Angara tells the story of a man, scientifically modified from animal parts but without losing the colour and shape of humans.
His skin is made from a Rhino's body, which makes him bullet proof; his brain is that of a fox, which makes him extremely intelligent; his eyes are of a vulture's , heart of a lion and the body of a gorilla .
He was born to save animals and known as a savior of wildlife.  He has special commando training taken from experts and he knows the language of every animal. Dr Kunal helped him achieve all these qualities which makes him a Super hero in Angara Land.
Pinki is an unintentionally naughty five-year-old girl of the Diamond Comics house.
The character of Pinki was inspired from the American comic character Dennis the Menace, who is mischievous and creates a lot of trouble for his neighbour Mister Wilson and as his mirrored self being  Jhaptji, Pinki's neighbor, is much disturbed and distressed with her always mobilised naughty behaviour.
Pinki has also made her visits in several issues of Chacha Chaudhary and Billoo comic series.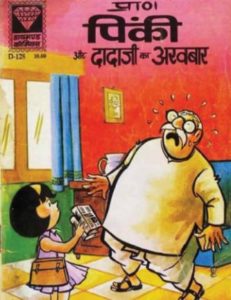 The longest running Indian action comic superhero, Nagraj is the foremost  hero from the house of Raj Comics.
First coming to life in 1980s by Sanjay Gupta, Nagraj has evolved a lot in his 25 years of existance, both in terms of looks as well as in stories.
Originally created as the greatest criminal the world has ever seen, Nagraj's life took a turn to the effect that he started amending his mistakes and fight for justice and to end crime and terror from the world.
In his regular humanly life he is a PR officer for a news channel that is secretly owned by him; its like Bruce Wayne and Clark Kent being the same person.
The debut issue of Nagraj was written by Parshuram Sharma and illustrated by Sanjay Ashtputre, later their work were carried on by other artists after 1995.
Nagraj was originally planned and designed to be an enemy with  terrorist intentions. In the debut issue, Professor Nagmani had devised a way to make Nagraj to do his dirty work as his thug would do; then how he turned to a hero and became a household favourite is a story that will best suit if you read it yourself.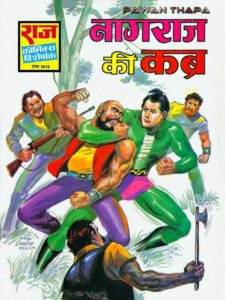 Other known regional comic books include Narayan. Debnaths famous creation "Nonte & Fonte"; first issued in the year 1969 which depicts the hostel life in a boarding school where u have a senior who always gets into trouble but shows he is the boss and a strict principal who always likes to eat.
A fun time at a serious place to lessen the pressure off kids those days; "Handa & Bhoda" which published in 1962 which depicts the story of two best friends.
Where Hada always does something mischievous but ends up getting Bhoda into trouble, such funny kind of trouble that you would fall off the chair reading them; and "Batul The Great".
The super human who is the shining example of staying healthy and has god like strength, who can run through walls and can pick up mountains, and his story with two notorious kids Bachhu and Bichchu whom he takes care of, and when they get into trouble doing something naughty.
They are saved by Batul and are even punished for doing that thing in the first place.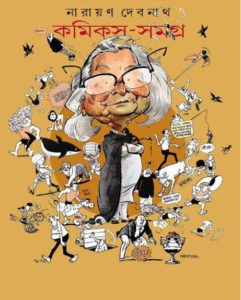 Marvel Comics have even landed their sail in the rich comic background of India. Recreating their iconic superhero in an Indian scenario, he was none other than Spiderman.
Unfortunately it was published for only four issues. The Indian version was conceptualised by the legendary Indian director Satyajit Ray.
Ray had once met Stan Lee in New York to discuss creating an Indian version of the superhero. Sadly, this was not done during his lifetime.