Today in this blog we will discuss about the masterpiece movie named Gunjan Saxena: The Kargil Girl where Red Chilies, Vfx Company has delivered magnificent VFX shots to captivate the audience.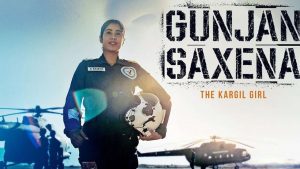 Gunjan Saxena: The Kargil Girl is a biographical drama film directed by Sharan Sharma that released on Netflix in 2020.
Nowadays VFX technology or Visual Effects are very common in the entertainment industry as it enables the artist to create an impossible world.
VFX are computer-generated imagery that is added after shooting during post-production stage.
Earlier Visual Effects were mainly used in Science Fiction Movies but now it has become common in every genre of the movies.
VFX technology provides exceptional tools which permit the professional artist to blend the line between Real and Unreal.
Bollywood industry has mastered the craft of VFX or Visual Effects with time and some of the reputed VFX Companies have gained applause for their groundbreaking contributions.
One of such company is Red Chillies Entertainment Visual Effects Company established by Shah Rukh Khan; that has worked in many Bollywood Projects.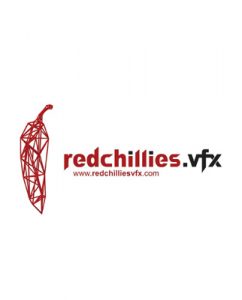 Red Chillies VFX Studio's most noted VFX-heavy projects are like Movie Zero, Ra-One, Radhe and recent one Gunjan Saxena: The Kargil Girl. This top-notch company is master in handling International VFX projects too along with Bollywood projects.
Red Chillies .vfx has released the visual breakdown of the VFX shots used in the film Gunjan Saxena: The Kargil Girl. The VFX reel shows that every shots has been designed meticulously by the hand of professional experts.
AN ENGROSSING WORK BY RED CHILLIES .VFX COMPANY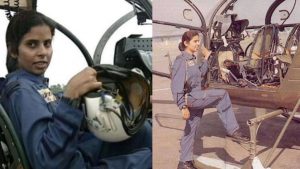 The film Gunjan Saxena: The Kargil Girl is based on true life incidents of one of the first female Indian Air Force Pilot in combat named Gunjan Saxena played by actress Janhvi Kapoor on screen.
This film was shot extensively at Lucknow under the supervision of Cinematographer Manush Nandan.
The plot nicely depicts the journey of Pilot Gunjan Saxena India's first woman combat aviator to fly Cheetah Helicopter during Kargil War in 1999.
Red Chillies .vfx Company has created spectacular imagery for this visually exciting movie starting from creating computer generated explosive shots to realistic 3D helicopters.
Under the guidance of VFX Supervisor the team of artists at Red Chillies .vfx developed 3D modelled fighter planes, Helicopters and other necessary vehicles and machines.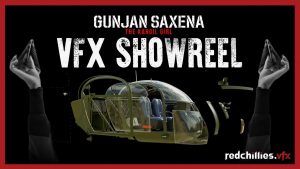 Part by part 3D helicopter was constructed at the workstation of Red Chillies .vfx which in all angles matched the real combat helicopters.
3D modelling software allowed the VFX artists to view 3D helicopter model from different angles and select the best angle for the reel.
Computer generated 3D helicopters were placed at combat location shots during post-production process through seamless transition techniques.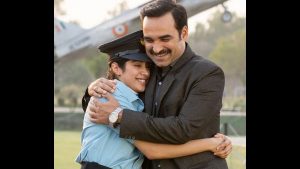 The fighter planes that we see in the movie are also 3D modelled planes designed in detail by Red Chillies .vfx.
Through VFX techniques Fighter planes were positioned at the entrance of Air Force Academy shot.
Actor Pankaj Tripathi played the role of a remarkable father who raises his son and daughter as equal.
Some of the sequences of this film have been shot in the high altitude region of Georgia; in a town called Kazbegi surrounded by mountainous area.
Outdoor mountain shots and Udhampur Air Force Station shots were 3D modified and colour corrected for more realistic look.
THE IMPECCABLE CHROMA KEY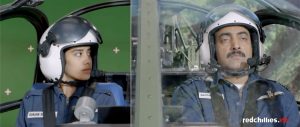 Chroma Key or Green Screen Background played a pivotal role in this thrilling movie.
Chroma Key Technique is used to remove the background from the subject of a video and it's widely used in filmmaking industry.
The above image shows how the green screen has been replaced by outdoor shots with the help of relevant 3Dsoftware and digital techniques.
Redchillies.vfx breakdown shows step by step addition of visual effects on the helicopter shots where Commanding Officer Gautam Sinha gives training to Gunjan Saxena.
Through Chroma Keying Effect indoor shots got the realistic and natural look.
The film has beautifully captured the moments when the protagonist is thrilled and excited to fly her combat helicopter as a pilot.
Here VFX artists diligently beautified every single shot so that essence of the plot could be enhanced; the sky, the clouds, the mountains and greeneries all were recreated to perfection.
THE EXPLOSIONS IN THE WAR SCENES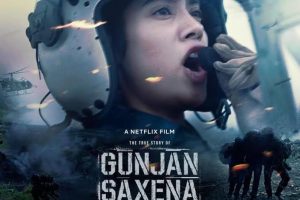 Red Chillies .vfx reel shows that how the production team has constructed the challenging VFX for the Kargil War Sequences with fires, bombing and shooting here and there.
Gunjan Saxena the protagonist was tasked with medical evacuations, mapping enemy position duties during the war. She flew her helicopter over the battle area; guarding herself from the enemy's missiles and gun shots.
Computer-generated Army Camps, Trucks, Explosions, Missiles, Helicopter crashes and war annihilation built up the exact scenario of 1999 on the screen.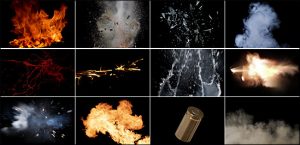 Red Chillies .vfx reel shows 3D explosions, modified gun shots and Computer generated missile shelling at the war zone. It shows how much visual effects work has gone into the action sequences.
Apart from war, VFX artist team also worked in crafting various locations, environment and elements.
Red Chillies VFX team, Cinematographer Manush Nandan and Director Sharan Sharma spent enough time together and discussed about VFX shots in detailed to avoid any doubts for final processing.
The Director along with his VFX artist team viewed and analysed the shots many times and came up with detailed observation and feedback for final clips.
Due to Covid-19 Pandemic, VFX team arranged a system where every artist worked from home without any loss in the quality and for that Director Sharan Sharma has appreciated Red Chillies .vfx teamwork.
Therefore we got a view that how Red Chillies .vfx has done magnificent job to prepare this wonderful, fascinating and inspiring movie Gunjan Saxena: The Kargil Girl.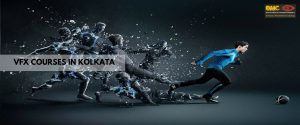 MAAC Institute is one of the top Multimedia Institute where a learner can acquire knowledge on advanced VFX techniques.
Here at MAAC students through unique training process learn to handle big VFX projects in professional ways.
Every year MAAC students create VFX projects which show amalgamation of superb imagination and technology.
As VFX is key part of Film and Gaming Industry therefore MAAC has VFX Courses for both gaming and filmmaking.
Contact MAAC 9836231595, get the details about the courses and live your dreams.