Today we will discuss about most popular 3D Software that are used by the multimedia students and professional artists.
A good 3D modeling software doesn't make any one a good artist; for that one need great 3D skills.
To create incredible 3D art, you need the right 3D modelling software, skill level and of course the power of imagination.
3D software is used in variety of fields like television, films, virtual reality and video games.
3D software helps to create models by manipulating polygons, edges and vertices in simulated 3D space through a variety of tools and applications.
There are many 3D software in the market but let us discuss about the most popular 3D software used by the modelling and visual effect artists.
Autodesk 3ds Max or 3D Studio Max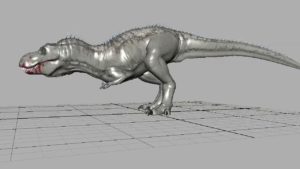 3ds Max is a professional 3 dimensional computer graphics program for making 3D animations, models, games and images.
Developed and produced by Autodesk Media and Entertainment; it has modelling capability and a flexible plug-in architecture and can be used on the Microsoft Windows platform.
This software is frequently used by video game developers, television commercial studios and film industries.
For modeling and animation 3ds Max features; shaders, dynamic simulation, particle systems, radiosity, normal map creation and rendering, global illumination, a customizable user interface, new icons, and its own scripting language.
Many Hollywood films made use of 3ds Max in CGI animation, such as 'Avatar' which contain computer generated graphics from 3ds Max alongside live-action acting.
The modelling techniques in 3ds Max are polygon modeling, Nurbs and Surface tool.
In 3ds Max, MAXScript is a built-in-scripting language that can be used to automate repetitive tasks, combine existing functionality in new ways; develop new tools and user interfaces and many more.
Autodesk Maya 3D Software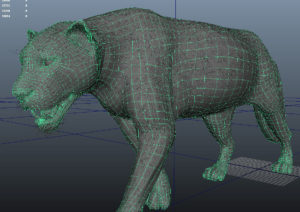 3D software Maya runs on Windows, Mac OS and Linux, originally developed by Alias Systems Corporation and currently owned and developed by Autodesk, Inc.
Maya is used to make interactive 3D models in video games, animated film, TV series and visual effects.
Walt Disney Animation Studios collaborated closely with Maya's development during its production of the film Dinosaur.
Disney Studio requested that the User interface of the application be customizable so that a personalized workflow could be created.
This was a particular influence in the open architecture of Maya and partly responsible for its becoming so popular in the animation industry.
On March 2003, Alias was honoured by the Academy of Motion Picture Arts and Science with an Academy Award for Technical Achievement for Scientific and technical achievement for their development of Maya Software.
Maya has been used in the films like Finding Nemo, Ice Age, Frozen, The Transformers and The Lord of the Rings: The two Towers.
Blender 3D Software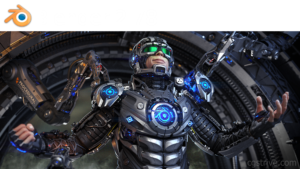 Blender software is a free and open-source 3D computer graphics software toolset used for creating animated films, visual effects, art, 3D printed models, interactive 3D applications and video games.
Features of Blender includes 3D modeling, UV unwrapping, texturing, raster graphics editing rigging and skinning, fluid and smoke simulation, particle simulation, soft body simulation, sculpting, animating, match moving, rendering, motion graphics, video editing and compositing.
NeoGeo, the Dutch animation studio developed Blender as an in-house application.
Blender Version 1.00 was released in January 1995 and originally developed by Ton Roosendaal.
The name of the software Blender was inspired by a song by Yello band from the album baby which NeoGeo used in its showreel.
In 1998 Blender was released publicly online as SGI freeware.
Blender runs on Microsoft Windows, Mac OS and Linux.
Blender is used for television commercials in several parts of the world including Australia, Iceland, Brazil, Russia and Sweden.
NASA also use Blender for publicly available.
Blender is used in the movie Spider-Man-2 to create animatics and pre-visualizations for the storyboard department.
Blender is mostly used for shows on the History Channel.
A commercial animated feature film Plumiferos was entirely created in Blender in 2010.
A 35mm feature film Friday or Another Day was the first French-language feature film to use Blender for all the special effects made on Linux workstations.
Houdini 3D Software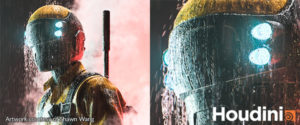 3D animation software Houdini is developed by Side Effects Software Inc (SESI) based in Toronto.
Side Effects Software Inc (SESI) adapted Houdini from the PRISMS suite of procedural generation software tools.
The Houdini software is commonly used in FX departments.
Major VFX companies such as Sony Pictures Image works, Method Studios, Double Negative, ILM uses Houdini.
Houdini has been used in the films like Frozen, Zootopia and Rio.
Limited version of Houdini Apprentice is available free of charge for non-commercial use.
The areas of 3D production covered by Houdini are- Modeling, Animation, Dynamics, Lighting, Rendering, Volumetrics, Compositing and Plug-in.
Any scripting languages which support socket communication can interact with Houdini. 
ZBrush 3D Software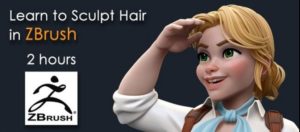 Digital Sculpting tool ZBrush combines 2D/3D modelling, texturing and painting.
ZBrush has Pixol technology which stores lighting, colour, material and depth information for all objects on the screen.
Compared to other modelling packages ZBrush is more close to sculpting.
ZBrush is capable of creating high-resolution models for use in movies, games and animations by renowned companies like ILM, Weta Digital and others.
ZBrush 4 version runs on Mac OSX and Windows.
ZBrush software uses dynamic levels of resolution to allow sculptors to make global or local changes to their models.
This software is developed by the company Pixologic Inc.
ZBrush is capable of sculpting medium to high frequency details that were traditionally painted in bump maps.
ZBrush offers integration with Autodesk Maya, Autodesk 3ds Max, Cinema 4D, LightWave 3D, PoserPro, DAZ Studio, EIAS, MODO and Blender.
The ZBrush comes has many features to help in the sculpting of Models and Meshes.
ZBrush is capable of Skeletal Animation in other 3D programs and transpose feature allows a user to isolate a part of the model and pose it without the need of skeletal rigging.
Therefore we got a glimpse of the popular 3D software which is commonly used by the designers.
So, if you want to know in details about the 3D software and want to give shape and colour to your imagination please contact any of our MAAC Kolkata Centre.
Or call us @9836321595.