Today in this blog we will discuss on why Blackmagic Design took a gigantic leap from Fusion 9 to Fusion 16.
Fusion is the post-production image compositing software developed by Australian company Blackmagic Design from 2014 and originally authored by Eyeon software.
The very first version of Fusion was written in DOS and was not commercially available.
Fusion is very common software among VFX and digital compositing artists working for movies, television series and commercials.
Fusion supports Linux, Microsoft Windows and MacOS platforms.
It is a node based interface in which complex process can be built up by connecting a flowchart of many nodes where each node may represent a simple process of blur or colour correction.
Blackmagic Design Fusion 9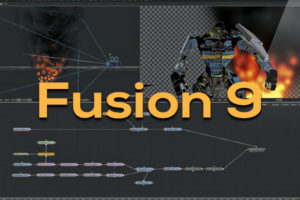 Fusion 9 launched by Blackmagic in the year 2017 had virtual reality tools, planar tracking, camera tracking, state-of-the-art keying and more.
It was the compositing software with great possibilities for the VFX artists.
Fusion 9 consisted flexible parameters which could be easily modified for digital compositing.
It was highly modified software compared to Fusion 8 and previous versions.
Fusion 9 had 3D workspace and node-based interface for compositing along with keying, matte tools, rotoscoping, tracking, vector paint, time remapping etc.
The artist working on Fusion 9 could easily import 3D models and scene from other applications into it.
It had great tools to create 2D and 3D titles for motion graphics and can automate broadcast graphics such as weather, news headlines etc.
Fusion Aligned With DaVinci Resolve 15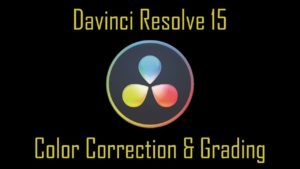 But in April 2018 Blackmagic Design integrated Fusion into DaVinci Resolve 15; before this integration Fusion was a stand-alone app used alongside with DaVinci Resolve 15.
Rather than making a bridge between two softwares; Blackmagic integrated Fusion and DaVinci Resolve 15 seamlessly to help digital artists.
It was a huge leap for Blackmagic Design which has been appreciated by entire media and entertainment industry.
Blackmagic acquired DaVinci Resolve and Fusion Software from different companies; DaVinci Resolve from 'da Vinci Systems' in 2009 and Fusion from 'eyeon Software Inc' in 2014.
Before integration DaVinci Resolve and Fusion used to run on different timeline and versions.
DaVinci Resolve 15 is mainly the non-linear video editing software which runs in Mac OS, Windows and Linux.
DaVinci Resolve 15 combined with Fusion has excellent colour corrector, Grading and audio editor for Hollywood VFX artists.
The editing module of DaVinci Resolve 15 is easy to learn, faster and powerful.
It can handle heavy audio/video files from the camera.
After being integrated with DaVinci Resolve 15; Fusion offers 2D and 3D workspace with various tools for compositing, painting, particle effects, keying, rotoscoping, text animation etc.
To make DaVinci Resolve 15 and Fusion more streamlined Blackmagic Design jumped from Fusion 9 to Fusion 16.
Presently Fusion 16 is available as bundled with DaVinci Resolve 16.
New DaVinci Resolve 16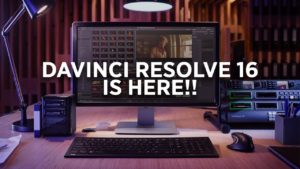 DaVinci Resolve 16 released by Blackmagic Design on April 8th 2019.
DaVinci Resolve 16 is announced as 'The revolution in Editing'.
Fusion 16 is no longer present as independent software; it has been clubbed with DaVinci Resolve 16.
This latest version of software by Blackmagic Design also changed Fusion drastically within DaVinci Resolve 16.
Improved Fusion tab inside DaVinci Resolve is a tremendous aid for wide range of artists like editors, VFX artists, colourist and audio/video post-production.
This highly useful software saves a lot back and forth time of rendering and re-rendering.
Smooth integration of DaVinci Resolve and Fusion prevent data loss which usually happens during switching between various software programs.
The integration allows synchronization of various editing and other post-production effects in real-time.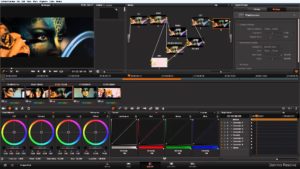 Within DaVinci Resolve 16 one can easily move between editing, colour effects and audio effects with a single click.
New DaVinci Resolve 16 is just suitable for high end post-production of audio/video files with large bulk of information.
It has new cut page specially designed for editors to work quickly on tight deadlines.
The export tool of DaVinci Resolve 16 helps to upload projects to YouTube and Vimeo from anywhere in the application.
It is available free for commercial and production work.
Projects files can be saved easily as the render output is without water mark.
Various industry standard formats can be rendered here easily.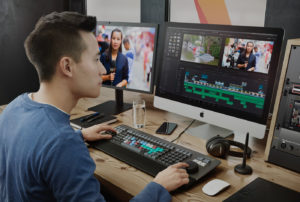 Blackmagic Design introduced Editor Keyboard for Resolve in April 2019.
Editor Keyboard includes standard computer keyboard along with components for controlling the Resolve software for example dial for changing the timeline position.
Editor Keyboard supports the use of two hands for editing tasks.
Hollywood features films like La La Land, Best of Enemies, Prometheus and many others has been edited using this wonderful highly efficient software DaVinci Resolve 16.
DaVinci Resolve 16 has large number of free version users.
Features Of Fusion 16 Within DaVinci Resolve 16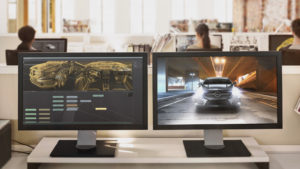 Fusion within DaVinci Resolve 16 has many new modified features.
The VR toolset of Fusion 16 includes 360 degree 3D workspace, panoramic viewer and support for all headsets for interactive VR workflow.
By wearing headset the user can interact with elements in the VR scene in real time.
It has the node-based digital compositing workflow that allows the artist to connect quickly effects and tools together in a flow chart style.
Here footage mix-match of different resolution and aspect ratios is possible within single project.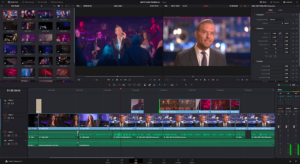 The Non-linear timeline supports trim and position of multiple clips simultaneously.
Detailed audio waveform can be viewed within timeline.
Fusion 16 has camera tracker with 3D output of camera motion and point cloud.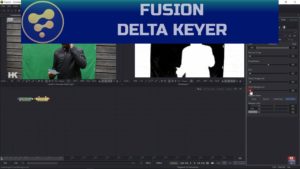 It has Delta Keyer for advanced chroma removal functions.
High quality industry standard Rotoscoping through planar tracking is possible in it.
In Fusion 16 2D/3D text creation is easy with complete control over every parameter of a font colour, size kerning and layout.
It has Accelerated GPU computations tools to increase productivity.
File format compatibility like DNxHR, MXF and DNxHQ to increase support for production pipeline in conjunction with other software.
Therefore the jump from Fusion 9 to Fusion 16 by Blackmagic Design has proved to be great benefit for the audio/video editors.
Get informed more about Blackmagic Design Fusion 16 from any of our MAAC Centres.