In this blog we are going to talk about the animation history of the 7 up commercials and how it captured the whole market with Fido Dido.
Industry has grown rapidly both in terms of competitors as well as need for marketing individuals and strategies to keep it going.
Animations have the capacity to capture anything and everything that we see including people flying, animals talking, objects dancing in the air and castles getting built within seconds.
Animation plays with the imagination of people and comes up with more and more out of the world ideas. It is directly linked with our imaginary world.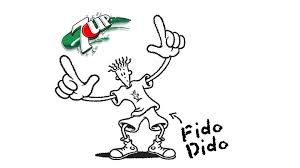 It can grab the attention of the people in no time and the need for graphic designers and animators is also growing with the growing demands of the animation industry.
Hurd Earl was one of the most important figures of early animation as he was the one who patented the first cell animation process.
People are very much fond of animated movies and visuals as it plays with their imagination and helps them to go to that fantasy land.
Television advertising is the most desirable and favorable platform for creating awareness among consumers, customers and people about the brand which needs to be advertised.
Rapid advancements in the technology revolutionized animation process throughout.
In fact ,Japanese animation which was known as Anime is huge part of animation today and is still being used though in a more advanced way.
Animation plays an important role in advertising products which has a great appeal and can reach millions of people and can affect their liking.
Television commercials can cover a wide range of audiences of all age groups, color and gender.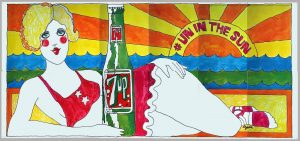 The 7 Up Company started in 1920 when C K Griggs used his 30 years of experience of advertising and merchandizing and formed The Howdy Corporation in St Louis.
His main aim was to create a wholesome and distinctive soft drink that will prove to be something which no one can resist.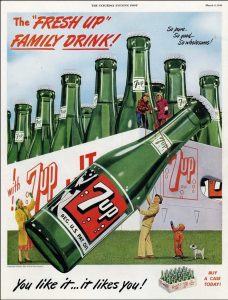 In the year 1967 the Seven Up Company introduced the Unocal advertising campaign which helped in it sky rocketing sales.
As it was presumed that compared to the younger generation the older generation were liking it more and helped in its sales.
It was majorly done to compete with the Coca-Cola advertisement.
After the huge success of the Unocal campaign the no caffeine thing started getting popularity in the market.
Then came the picture which showed a boy feeling tired after lifting a heavy ball and a girl smiling .But when he takes a sip of it he feels energetic.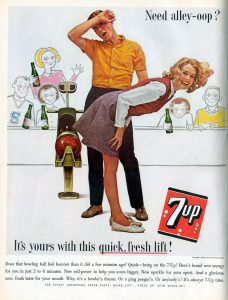 The 70's add which featured athletic stars like magic Johnson, Sugar Ray became the most inspired advertisement with the tagline "Feeling 7 Up".
During 1970's Diet Cola started making news. The sugar free drink switched to Diet Coke and celebrities like Lynda Carter and Don Rickles were pitched in to advertise the slimmer soda.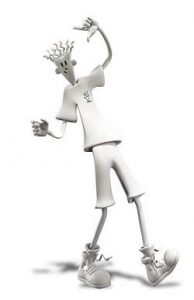 Then came Fido Dido who became a huge hit with its carefree and happy go lucky look and till date it's the same.
The Fido Dido was originally sketched on a napkin by Rose in 1985.
Fido Dido was the result of doodling.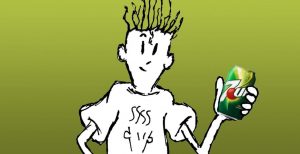 Fido started out as a traditional animated version and soon took the form of Computer Generated Image ( CGI).In the animated version Fido Dido had black hair whereas in the CGI version it was white.
During 1990's Fido Dido could be seen with his family and friends in the CBS channel.
His family included Lido Dido, son Mario, daughter Julia and Dido. His friends' names were Doodles, Dooly, Off Dee, Boy and even pets.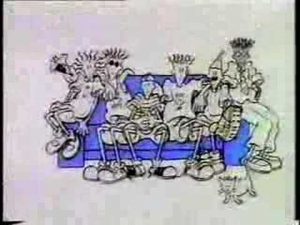 It became an instant hit with his funky look, laid back attitude and an unconventional take on life.
He was also used as a mascot for another drink Fluke in Turkey.
Fido was used in various merchandise like t-shirts, shoes, backpack, perfume stationary etc.
This character was portrayed as someone who does not age with time and is always compassionate, thoughtful and sweet.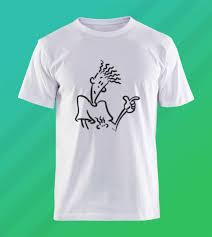 As quoted by Ferrone the philosophy on which Fido was based was, "You are what you are and what you are is ok"
Different types of artwork was always an important aspect of this campaign.
They used graffiti aesthetics and modern art styles in their print advertising during their UNCOLA campaign.
Based on these concepts the brand eventually came up with two distinct mascots in two different parts of the world, the Cool Spot in the United States of America and Fido Dido across the pond.
Till date Cool Spot is being remembered as for his many video games appearances.
In some ads he was shown alone ruling the screen whereas in other ads he was shown sharing screen space with Bollywood actors.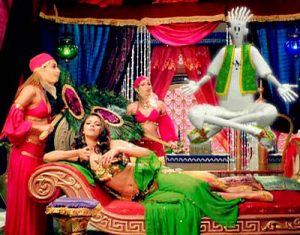 In the Quawaali ad Fido was first shown in a desi avatar with colorful attires where we can also see him smiling with actor Yana Gupta.
Fido was also seen in various ad campaigns in different countries like Australia, India, Philippines and Netherlands.
Fido Dido gives the message to the audience that it's good to be stress free and the best way to beat the stress what else you can think of other that 7Up and 7 Up means Fido Dido who has a nostalgic element attached to its character and that's the reason is reach is beyond imagination.
Fido Dido has the ability to manipulate and alter reality (in one of the advertisements he has been shown reversing changes which were made by an advertiser)
This wriggly haired cartoon character was one of the most loved characters of all times and till date he is fondly remembered as the Cool Dude.
Fido Dido talks about the concept of Think Fresh and stay cool while connecting with people and things that do matter to us.
Animation started getting more and popular as they started getting more innovative ideas to showcase their products .
They made use of animated characters to talk about the product as Mascots were shown holding the products and moving and even convincing people to buy them.
Then came the era of the 3D Mascots which not only had a great visual appeal but also they were shown interacting with the common man which was entertaining as well as appealing.
Like the Animated character Fido Dido who has been shown holding the beverage in his hands. These kinds of animated characters had hands, legs and all other facial features which could help the people in identifying them with their own likings and interests.
Animated characters were designed in such a way that it represented the company's motive and brand image.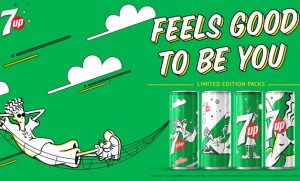 Like Fido Dido was designed and animated in such a way that it showed the carefree attitude of the young generation.
It all started with the transition where every transition translates animation into a text file.
For the heritage pages they used Vector but it lacked the 3D aspect so this character was born to give it a new and different feel and look.
Then we can see the bottle cap flip animation made with the 3D softwares which finally gave us the beautiful light weight animation of a bottle cap popping out of the screen as if it is in a 3D space.
Fido talks about the message that even the most complicated situations in life can be dealt with nicely if one adds freshness and optimism to it.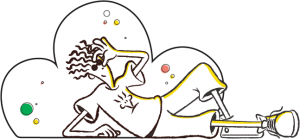 Human imagination is limitless and is evolving day by day and winning the audiences hearts with all the new ways and means.
During the 50's before Computer Generated Imagery (CGI) was introduced the traditional methods of animation were being used such as Stop Motion.
Apart from being only kids animation, animation became more experimental with many other kids friendly subject matter and gain populatity in advertisement world as well.
So with time the commercials changed their way of advertising and came up with innovative animation ideas to rule the market and win customer satisfaction.
Animation and advertising go hand as both are important in their own way and both can actually create magic with their developments and innovations.
The animation landscape is changing with more and more advanced and creative ways and means.
Earlier it was only cartoons that were dubbed and created in the regional languages for audiences who lived in different parts of the country.
But these days with the help of animation they are being made available in the language of the audience for whom it is being developed.
Animation is a medium that facilitates our flights of imagination and helps to think beyond that world of reality.
The quality of animation has improved over the years and is getting more creative.
All these things have been possible as we have some great and highly developed with proper state of art facilities which helps in getting the best education in this sector.
There are institutes for learning where these different art forms are being taught which are getting popular among students of different regions.
MAAC play a major role in this as it has the best of the courses which are designed in such a way that it can benefit students.
MAAC is the only institute which offers the best of the courses in animation which can pave the way for these types of highly creative commercials.