Design Visualization is a technique or a programme for designing 3d animated images, diagrams , and animation to express a message.
Visual message was the tool of communication since Stone Age.
This include cave painting, Egyptian Hieroglyphs, Greek geometry.
Leonardo Da Vinci used technical drawings for engineering and scientific purpose.
Design Visualisation has expanded its application in science ,education , corporate and manufacturing sector.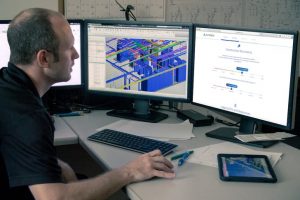 Career in Design Visualization
A career in design visualisation is one of the most sought out career choice in recent years .
By the help of design visualisation , designs for products are created in automobile, garment and architecture industry prior to final production.
Design Visualization plays a big role at every stage in the above industries.
So one can built up a career in design visualization and get a good salary package by joining any industry as a design visualizer.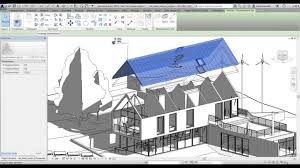 Maya Academy of Advanced Cinematics popularly known as MAAC is widely aclaimed as one of the best 3danimation and Visual effect training institute in Kolkata.
The three centres at different location in Kolkata Chowringee, Rashbehari, Ultadanga are the best centres where training is provided by highly skilled training experts who expertise in 3d, 2d animation , filmmaking, multimedia courses, gaming, web designing.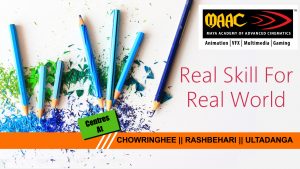 Design Visualization Course offered by MAAC Chowringhee, Rashbehari and Ultadanga Institute.
MAAC is providing an advanced course on design visualization.
Design visualization is a technique or a programme for designing 2d or 3d images.
It is a premier institute that provide design visualization courses.
Design visualization has expanded its application in science , education, engineering, interactive multimedia, medicine.
The invention of computer graphics has enhanced the idea of visualization in a comprehensive way.
Expert trainers provide training to aspiring students at MAAC Chowringhee MAAC Rashbehari and MAAC Ultadanaga.
The trainers are highly skilled in design visualization programme.
They are experts who has profound knowledge in this field.
Course Content In Design Visualization
Photoshop for texturing- Sometimes by adding various special effect textures to images one can get amazing results .
This texturing of images by use of photoshop is widely used in wedding   or other family function photographs or videographs.
In this photohop for texturing part   one learns how to use painting and adjustment tools to edit textures in 3d file.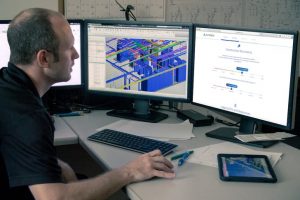 3D Design Visualization – In 3d design visualization part one gets an idea about the software that is required for 3d modelling , animation, and images that appears in movies video games.
3d images are more lively to the people than 2d images.
In this part of the course aspiring students get a vivid idea of making 3d images.
Over view of architecture- In this part of the course one gives the aspiring students a general idea of architecture.
Actually before becoming a design visualization artist one need to get a a general idea of achitectural designs.
Real world lighting simulation- In this part of the course at MAAC Chowringhee MAAC Rashbehari and MAAC Ultadanaga gives the aspiring students a general idea of lighting effects used in animation.
By using lighting effect in a proper way a 3d model can be represented in an extraordinary way.
Bim Information modelling– In this part of the course MAAC Institute provides the student a general idea of 3d modeling of architectural structures such as multistoried buildings, shopping malls, etc.
Video editing– In this part of the course aspiring students are given an idea of video editing.
They are taught by the instructor how to arrange the video shots properly with the help of software and to create a film or game.
Interactive design– In this part of the course an aspiring designer gets an idea of creating a design strategy, he identifies key interaction with products and customers and create design strategy with the help of software.
Different softwares are covered in design visualization course.
Adobe photoshop– This is one of the most frequently used software for photo editing compositing , and digital painting.
It is frequently used for adding special effect to digital images and videos.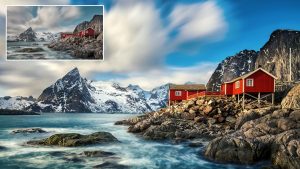 Auto Cad– It is a computer aided software designing programme that is used for creating blueprints for building, bridges is what Auto Cad all about.
It is widely used in architectural firms.
Autodesk 3d max – Auto desk 3d max is a software used for creating 3d animations, models games and images. It is used in 3d games and movies most of the time.
V ray– V ray is another software programme which is used to create photo realistic images.
It is widely used in 3d animated movies and videogames.
Autodesk Revit– Autodesk Revit is software used for creating drafts for building before the actual work of construction begins.
It is frequently used in architectural firms.
Unity– Unity is a software that is frequently used while making 3d video games, simulations for computer, consoles and mobile devices.
Here are the list of Career option after completing design visualisation programme.
INTERACTIVE PRODUCT DESIGNER– Interactive product designer is the person who plays the role of behavioural scientist in his organization.
His or her duty is to analyze business hindrances faced by his company and he tries to design solution for business.
He tries to work closely with market research to identify problem, opportunity and to socialize idea.
He need to interact with design concepts with customers, management and higher authority.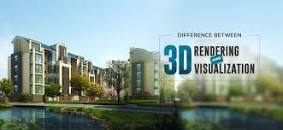 Architectural visualiser– The main job of a architectural visualize is to create 3d illustration by using 3d software.
The 3d images of building structures we see in hoardings magazines presentations billboards are created by architectural visualizers.
The software skill required to become an architectural visualizer is Autocad.
Lighting Artist– Another job one can persue after completing a course on design visualisation is lighting artist.
The lightening artist does the work of adding lighting effect to scenes.
He adds lightening effect to visually enhance the objects or characters in the scene .
They add eye glint or rimlighting to images.
3d visualizer – One can take the job of 3d visualize after completing a course on design visualization.
They create computer generated 3d images which appears to us as real.
Bim Specialist– A Bim specialist is a person whose job is to develop the model of any building or architectural structure.
He need not be a certified architect or engineer but should have an idea of how to create structures with the help of software.
As the animation industry has grown beyond leaps and bounds in India from its blooming stage so after persuing a course in design visualization one can easily persue a good career in this particular field.
In India a design visualization expert may earn more than one lakh annually after gaining a high level of expertise and experience in this particular sector.
MAAC is a premier institute in Kolkata which provides training as well a placement facility to the students after they complete design visualization programme.
So what are you waiting for click here and join us.