Today in this blog we will tell you about the top animated character that changed the face of animation industry.
Cartoon characters are entertaining the young and old audiences from the past decades.
Remember Mickey Mouse, Donald Duck, Bugs Bunny, Tom and Jerry, Scooby Doo, Sylvester and lot more who have entertained us for a long time.
These colourful, mischievous animated characters changed our perspective and triggered our imagination.
Presently animated cartoon shows are not restricted to television series; they have occupied theatres and internet platform.
Cartoon Characters That Created Revolution In Animation Industry
Mickey Mouse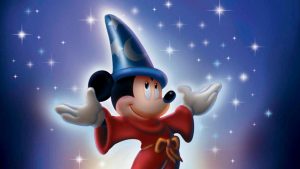 The good-luck piece of Disney and the most popular cartoon Mickey Mouse has changed the television viewership.
Created by Walt Disney and Ub Iwerks at the Walt Disney Studios has revolutionised the world of cartoon.
Walt Disney was a restless innovator who used to push the boundaries of creativity; Mickey Mouse was created as a replacement for Disney character Oswald the Lucky Rabbit.
Mickey Mouse has appeared in many shorts and feature length films and marked its presence in animation industry time and again.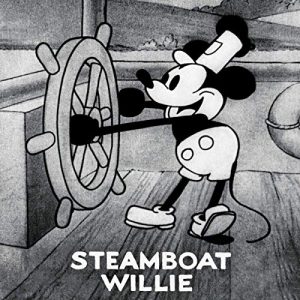 It first appeared in black and white American animated short film called Steamboat Willie (1928).
Mickey can easily be recognised by his red shorts, large yellow shoes and white gloves.
Walt Disney was voice actor for both Mickey and Minnie in many television series and shorts.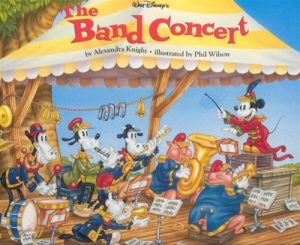 The Band Concert (1935) was the first animated colour film of Mickey Mouse which was voted the third greatest cartoon of all time by animation professionals.
Mickey Mouse has developed into role model for children from its inception; the colour animated version of Mickey attracted the audiences more than before.
It has always represented as a nice honest guy and admirable hero in animation industry.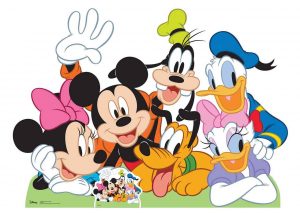 In numerous animated films Mickey appears with his girlfriend Minnie Mouse, his pet dog Pluto, Donald Duck and Goofy.
Mickey is popular with children of all age group and also appears in video games, commercial products and theme parks.
From 1950s Mickey Mouse was known face on the television screens and animation industry with the Mickey Mouse Clue House shows and is still in the popularity list.
Bugs Bunny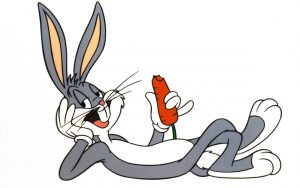 The hilarious Bugs Bunny animated character in the Looney Tunes animated shows is still fresh as usual.
Created in late 1930s by Leon Schlesinger Productions; Bugs Bunny with his carrot changed the face of the animation industry by attracting lot of young kids to the audio/video medium.
Animated character Bugs is a gray and white rabbit or hare famous for his carefree personality.
He appeared in Looney Tunes and Merrie Melodies under Warner Bros. Cartoons Production.
American voice actor Mel Blanc did the voice part for Bugs Bunny in the early series.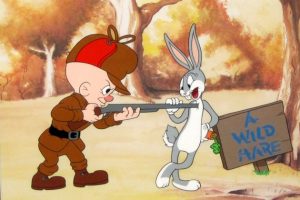 Bugs Bunny first made his debut in A Wild Hare (1940) animated short directed by Tex Avery; this animated short made huge success in theatres and also received Academy Award nomination.
In this short film Bugs used his catchphrase "What's up Doc?" and has been portrayed as a hunter.
His popularity made him American cultural icon and mascot of Warner Bros. Entertainment during golden age of American animation industry.
The carrot-chewing standing position of Bugs has appeared in many TV series, feature films, video games and commercials.
Scooby-Doo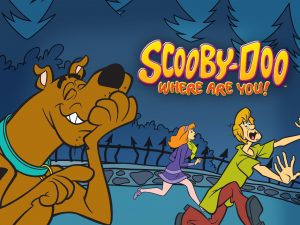 The fun loving adorable dog of the animation industry Scooby-Doo started to appear from 1969 on television channel.
Writers Joe Ruby and Ken Spears prepared the seventeen episodes of Scooby-Doo, Where Are You! for Hanna-Barbera Productions during 1969 to 1970.
American voice actor Don Messick had been featured for Scooby Doo voice dubbing.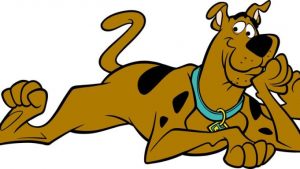 Lead character designer Iwao Takamoto consulted a breeder of Great Dane before designing Scooby Doo with bowed legs, double chin, sloped back with black spots.
The talking brown Great Dane has always been accompanied by four teenagers Fred, Shaggy, Daphne and Velma in solving mysteries.
Scooby-Doo animated series brought different supernatural story plots with ghosts, zombies and lot of adventures on the screen.
It became huge success among Saturday morning audiences of CBS (commercial broadcast television) with 65% rating.
Spooky stories of Scooby Doo are already been adapted to animated feature films and live-action films.
TV guide has ranked Scooby-Doo the fifth greatest TV cartoon in 2013.
Sylvester Pussycat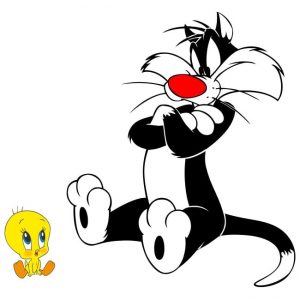 The animated character Sylvester was so admired by the audiences that it won Academy Award three times for Looney Tunes and Merrie Melodies series of cartoons.
Mischievous cat used to chase Tweety bird or Speedy Gonzales in the cartoon series of golden age of American animation.
Sylvester first appeared in Life with Feathers in 1945 created by Friz Freleng.
In 1947 cartoon Tweetie Pie he was paired with Tweety bird.
Sylvester made his impressions in various Warner Bros. television specials and feature films.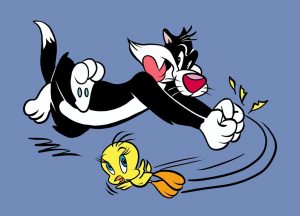 In Loony Tunes shows the black and white cat has shown living with granny alongside Tweety and played many antagonist roles.
Sylvester with red cherry nose always chases Tweety bird and creates mess around the house.
In early series Mel Blanc voiced Sylvester but later comedian and actor Jeff Bergman did the voice.
Sheriff Woody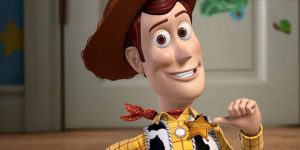 Sheriff Woody is another animated cartoon character which has a big role in the history of animation industry.
The protagonist of the Toy Story created by Pixar completely turned the look of the animated characters that used to be designed in the early years.
3D animated CGI Woody was critically acclaimed by the audiences all over the world and set the box office record after its release in 1995.
Famous actor Tom Hanks did the voice for Woody in the feature films and short films.
Pixar Animation Studio's new rendering 3D tools put life into the animated Woody cowboy doll and it became alive as a human.
Sheriff Woody is a pull-string doll and the leader of the toys in the Toy Story movies; his facial expressions are no less than the human expressions.
Directed by John Lasseter Toy Story was one of the path breaking films in the category of animation.
Woody has also appeared in television series and video games.
Therefore we can see that how cartoon characters of animation industry created through imagination have entertained us over the years with full potentials.
Open up your creative mind with MAAC Kolkata Animation Institute.