Funny and hilarious Scooby Doo is very familiar cartoon series among us.
Today in blog we will see how Scooby Doo covered its path from Cartoon to Animation Movies.
Produced from 1969 to the present day, writers Joe Ruby and Ken Spears first created the original series Scooby Doo, Where Are You!
With the success of the original series Hanna- Barbera Productions and Warner Bros.
Animations produced many animated series for Television and direct-to-video films.
Scooby Doo is ranked as fifth greatest TV cartoon by TV Guide in 2013.
Columbia Broadcasting System (CBS) originally broadcasted Scooby Doo from 1969-1975; Cartoon Network broadcasted Scooby Doo from 2010 to till date.
Funny Great Dane Scooby Doo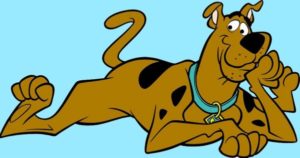 Scooby Doo is a male Great Dane (German Breed of domestic dog) and companion of detective Shaggy Rogers.
Scooby has the ability to speak in broken English and puts the letter R in front of words.
American voice actor Don Messick was the original voice of Scooby Doo from 1969 until 1996 and Scott Innes was the voice of Scooby Doo from 1998 to 2002.
Along with characters Fred Jones, Daphne Blake, Velma Dinkley and Shaggy Rogers, Scooby Doo solves mysterious problems.
Few versions of Scooby-Doo featured different theme other than its supernatural theme and included characters like Scooby-Dum (Scooby's Cousin) and nephew Scrappy Doo.
Gold Key Comics began publication of Comic books of Scooby-Doo, Where Are You! in December 1969.
Initially the comics contained episodes of the television show drawn by Phil DeLara, Jack Manning and Warren Tufts.
In the year 1995 Archie Comics published monthly Scooby-Doo comic book.
Meanwhile Marvel Comics also published nine issues of Scooby Doo.
Shaggy Rogers And Other Characters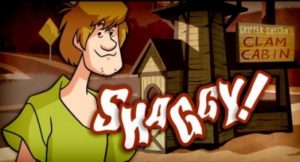 Radio disc-jockey and comedian Casey Kasem gave the voice for Norville or Shaggy Roger from 1969 to 1997.
Norville or Shaggy Rogers is a coward and Idler; like Scooby Doo shaggy is more interested in eating than solving mysteries.
Shaggy Roger's dress code is green V-neck T-shirt and maroon bell-bottom pants with sandy-blond hair.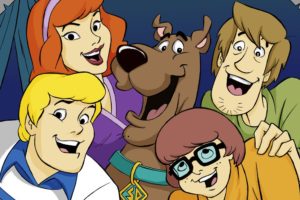 Other characters included-
Fred Jones who wears white/blue shirt and blue jeans; Fred takes the lead in solving mysteries.
Frank Welker gave the voice to the character since its inception in 1969.
Daphne Blake belongs to wealthy family has red hair, lavender heels and fashion sense.
Stefanianna Christopherson an American singer gave the voice for the character at the beginning.
Velma Dinkley is the brain of the group, with a pair of square glasses, short red pleated skirt, knee socks and orange baggy polo neck garment.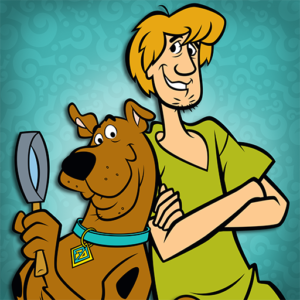 From the year 1987 to 1988 Hanna-Barbera Productions produced animated Scooby Doo movies for Syndicated TV.
Animated comedy films like Scooby Doo Meets the Boo Brothers (1987).
Scooby Doo and the Reluctant Werewolf released in 1988 and Scooby Doo and the Ghoul School (1988) showed four characters dealing with ghosts and monsters.
TV Movies and Direct-To-Video Films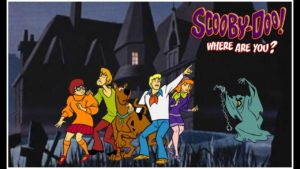 Mystery comedy Scooby Doo, Where Are You!, the first animated Cartoon series aired on September 1969.
It showed the four characters along with Scooby Doo travelling in a blue and green van to solve mysteries.
Columbia Broadcasting System (CBS) telecasted the series as part of the network's Saturday morning Schedule.
This show was created as a CBS and Hanna Barbera's plan to make non-violent Saturday morning program against the superhero based programs of mid 1960s.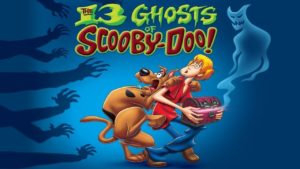 The 13 Ghosts of Scooby Doo premiered in 1985 and ran for American Broadcasting Company as a half-hour program.
With only 13 episodes, it was the shortest-running series in the Scooby-Doo franchise.
All the thirteen episodes were made in 1985 and replaced Scary Scooby Funnies.
Cartoon Network broadcasted first four Direct-to-Video animated movies produced by Warner Bros. such as Scooby Doo on Zombie Island (1998),
Scooby Doo and the Witch's Ghost released in 1999, Scooby Doo and the Alien Invaders made in 2000 and Scooby Doo and the Cyber Chase released in 2001.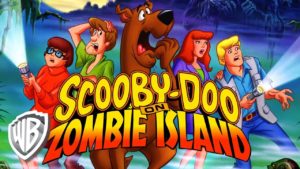 In the animated movie Scooby-Doo on Zombie Island Shaggy Roger's favourite dish is additional cheese pizza with lot of pickles.
Animated movie Scooby Doo on Zombie Island (1998) is a direct-to-video comedy horror film and long running series of Scooby Doo films production started by Hanna-Barbera but completed by Warner Bros. Animation.
This film was animated by Japanese Animation studio Mook Animation.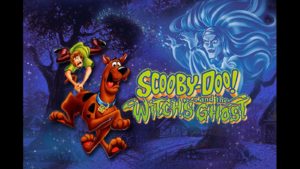 Animated comic Scooby Doo and the Witch's Ghost made in 1999 was the second direct-to-video film.
Where the four characters and Scooby Doo travelled to a New England town called Oakhaven after getting invitation from horror writer Ben Ravencroft.
It featured real ghosts instead of traditional crooks in masks and thus gave a darker tone to the film.
Scott Innes gave the voice for Shaggy in this film.
This film has been adapted into a book.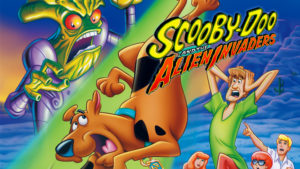 Scooby Doo and the Alien Invaders released on October 2000.
It had a lighter tone as the real monsters are the good guys and the disguised humans are the main antagonists.
It was also animated by Japanese animation studio Mook Animation.
This film was the last film of voice artist Mary Kay Bergman as Daphne Blake before her death and this film was dedicated to her memory.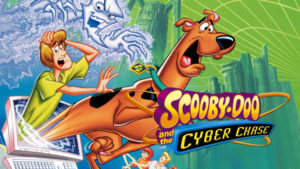 Animated comic science fiction mystery film Scooby Doo and the Cyber Chase made in 2001; based on Hanna-Barbera's Scooby Doo Saturday morning cartoons was produced by Warner Bros. Animation.
It was the fourth and final Scooby Doo direct-to-video film animated by Mook Animation.
It was Grey DeLisle's first movie as voice artist for Daphne Blake.
Along with the movie Aloha, Scooby-Doo! this movie was re-released on Blu-ray on April 2011.
This was the last film of B. J. Ward who gave voice for Velma.
Other animated series on Scooby-Doo are-
What's New, Scooby-Doo; Scooby Doo! Mystery Incorporated, Shaggy and Scooby-Doo Get a Clue and Be Cool, Scooby Doo.
The latest Scooby Doo and Guess Who? Is scheduled to release in 2019.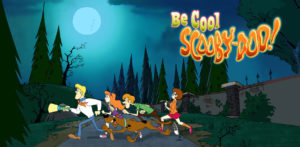 In Be Cool, Scooby Doo!, the gang decided to travel during their summer break and encountered a monster long the way.
The animated television series Be Cool, Scooby Doo!; show started on 2015 and concluded on 2018.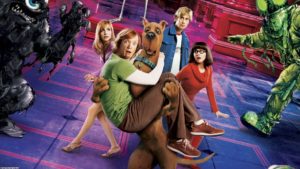 Live-action film version of Scooby-Doo was also released by Warner Bros. Pictures on June 2002 directed by Raja Gosnell.
It was a success at box office.
Here we presented a view of Scooby-Doo from its origination.
Welcome to the MAAC Kolkata Centre, where you can quench your thirst regarding Animation.