Today's blog will cover the experiences of MAAC Rashbehari Alumni Pradyut Chowdhury who recently worked in the movie The Lion King as 3D Rigging Artist.
We all know that The Lion King directed by Jon Favreau hit the theatres all over the world in the month of July 2019 and got huge praises from the audiences across the world.
Pradyut Chowdhury's contribution to The Lion King movie delighted each and every MAAC members.
But before working as 3D artist in The Lion King; Pradyut had amazing MAAC days at MAAC Rashbehari Centre.
Let's look into his interesting and creative career path till now.
Gifted 3D Artist Of MAAC Rashbehari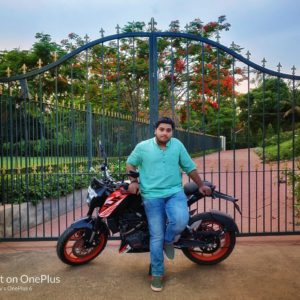 As you know MAAC Rashbehari is one of the reputed Institution of Animation, VFX, Multimedia and Gaming which has covered incredible journey so far in craving extremely talented professional artists out of budding aspirants.
Our alumni Pradyut Chowdhury joined MAAC Rashbehari in the year 2014 for the course Autodesk Maya.
Autodesk Maya is a highly interactive modeling, texturing, rigging software used by professional 3D artists in the audio/video medium.
Autodesk Maya has huge potential in animation, VFX and gaming industry.
Under this course Pradyut learned about digital sculpting, texturing, character rigging, animation, look development, lighting, Hair and cloth simulation, rendering and skinning.
Pradyut learned 3D modeling, rigging and animation under Autodesk Maya Course and completed it in the year 2016.
During his period of learning he received full guidance of MAAC Rashbehari 's dedicated teachers and guest faculty.
MAAC Rashbehari 's well-equipped studio helped him to learn the course in professional environment.
After the course completion Pradyut Chowdhury formed a team with his fellow classmates to make an animated short film for the 24FPS competitive event.
MAAC Rashbehari Project 'Ek Tu Aur Ek Main'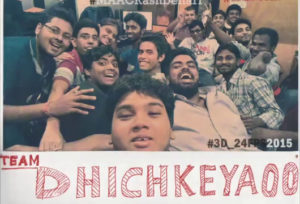 Pradyut along with his fellow classmates formed a team called 'Dhichkeyaoo'.
This 'Dhichkeyaoo' team of artists prepared a short romantic animated film called 'Ek Tu Aur Ek Main' in the year 2015 for which they won Special Jury Award at 24 FPS event.
The above picture shows full energetic and joyful team of 'Dhichkeyaoo' with Pradyut at forefront.
Team 'Dhichkeyaoo' worked for hours with patience to make their sweet and short animated film.
The happy faces of the team 'Ek Tu Aur Ek Main' saying it loud that hard work wins at the end of the day.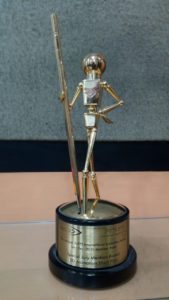 Pradyut and his team 'Dhichkeyaoo' won this Special Jury Award during 24 FPS International Animation Award Ceremony in the year2015 for 'Ek Tu Aur Ek Main' short.
24 FPS is an annual event of MAAC which selects the best animated short film every year.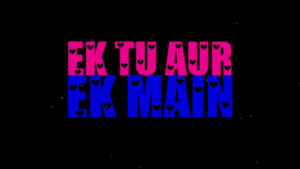 Pradyut's team used Bollywood music track in the animated short 'Ek Tu Aur Ek Main' .
The plot of the film follows a young lover boy who after lot of hassle finally proposes a beautiful girl with a red rose flower.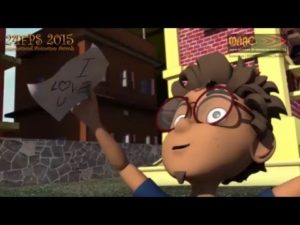 For making this short Pradyut's team 'Dhichkeyaoo' first designed the 3D characters.
They sketched the male protagonist, two young girls and one fat belly traffic guard.
When every part of the body designing was complete then they did character rigging.
Under character rigging each body parts were given movements according to the storyline; such as eyeball movement, hand movement, facial expressions so on.
Each artist of the team 'Dhichkeyaoo' including Pradyut delivered their best in 3D character designing and rigging.
They worked on the software Autodesk Maya for this project 'Ek Tu Aur Ek Main'.
For background designing they constructed 3D buildings, fences, roads, bridge and trees with the software tools.
Team artists even enacted some of the scenes so that 3D artist can sketch it down on the characters of 3D platform.
3D lighting and composition were also taken care of during the post-production stage of 'Ek Tu Aur Ek Main'.
Working on this project was a challenge as well as fun for the team 'Dhichkeyaoo'.
This project prepared Pradyut Chowdhury wholly for professional expedition.
Rewards Received At Esteemed MPC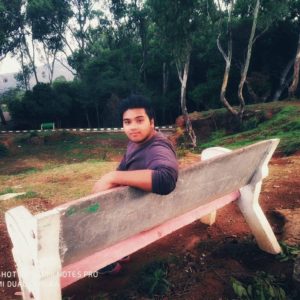 Our gifted artist Pradyut Chowdhury is currently working at Moving Picture Company or MPC VFX Company located at Bengaluru.
He is appointed as 3D Rigging Artist at MPC and already has quite few movies to his credits.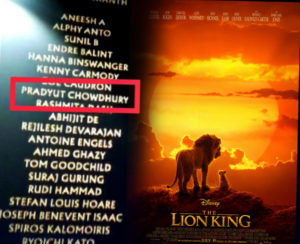 Pradyut has made us swoon with pride with his participation in making the milestone movie The Lion King as 3D Rigging Artist.
Presence of Pradyut's name in the acknowledgement card is the absolute moment of joy for his mentors.
Movie The Lion King is a 3D computer animated film with photorealistic visuals.
This movie has breathtaking VFX shots which have been achieved by technically skilled and inventive team of VFX artists and Pradyut is one of them.
As 3D Rigging Artist Pradyut sculpted 3D objects and gave movements to them.
Definitely this masterpiece movie has taught many artistic lessons to him.
Other than The Lion King he has also worked for other VFX packed movies.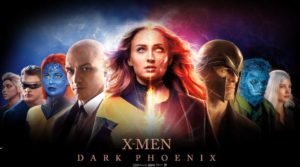 Like X-Men & Dark Phoenix which releases in the month of June 2019.
This American superhero film has good amount of VFX shots as well as animation techniques.
Superheroes with their exceptional super powers in this movie are the result of magic between technology and imagination.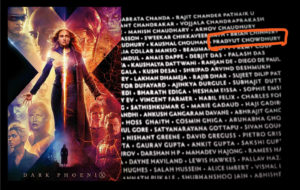 Here we can see Pradyut's name along with other VFX artists in the credit list who delivered their best effort for this movie.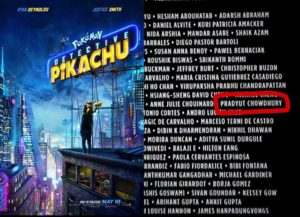 This is another credit card for the movie Pokemon Detective Pikachu which has Pradyut's name mentioned.
This movie too has high-end visual effects which are completely photo-realistic.
As Rigging Artist Pradyut covered character animation for the 3D Detective Pikachu.
From those huge lists of VFX artist names we can predict the amount of VFX works in Hollywood movies.
Our alumni Pradyut Chowdhury have definitely gathered many lessons through these International film project and we hope he will continue to do so in future also.
Pradyut's achievement is a source of pride for all MAAC Rashbehari center's Mentors.
Today MAAC Rashbehari center trained skilled artists are placed at different media studios all around the world and they are doing brilliant work to cherish forever.
If you have that passion to work on International Film Projects then join our MAAC Courses to make yourself industry standard professionals.