In today's blog we are going to inform you about another seminar on Story Development which held recently on 27th July 2019 at MAAC Ultadanga Centre from 2 pm to 5 pm.
This seminar was taken by Dr. Krishnendu Chatterjee an eminent personality in the Bengali Entertainment Industry.
Dr. Krishnendu Chatterjee has directed Bengali short film, feature film and wrote scripts for many popular Bengali Serials.
Some of the television programs for which he wrote scripts are Mirakkel Akkel Challenger,Banglar Sera Paribar (Zee Bangla), Chaka Chak Comedy Chak (Colours Bangla), Singing Star (Rupashi Bangla) and the list goes on.
Active Participation of MAAC Students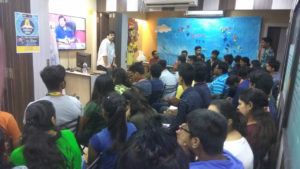 In this MAAC Ultadanga seminar Dr. Krishnendu Chatterjee a well-known scriptwriter elaborated the topic Story Development which he introduced in his previous workshop.
He went into the explanation of story development process and how to approach the same.
For MAAC students this seminar was extremely important as story development is the part of their curriculum structure and the basis of entertainment medium
Large number of MAAC students participated in this seminar held at MAAC Ultadanga Centre on 27th July to learn the art of story development from the master Dr. Krishnendu Chatterjee.
Story Development is the initial part of MAAC's detailed course which is essential for every student of MAAC before jumping into animation or live-action movie making process.
Crafting a good story is essential in gaming industry, animation industry, advertisements and feature films.
The main purpose of this seminar was to ignite the young minds for brilliant creative works.
This event helped the participants to prepare themselves for the Script to Screen category competition which occur every year during 24FPS Short Film Festival organised by MAAC Kolkata.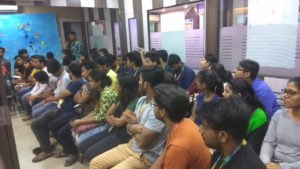 Students showed very enthusiasm for this seminar as everyone actively participated in this event.
Classroom of MAAC Ultadanga was beautifully arranged and decorated too for this seminar especially by our students.
The registration process for this event made us awe.
Nitty – Gritty Of Story Development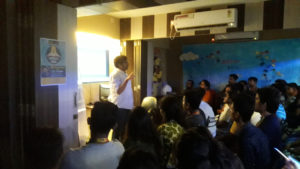 Dr. Krishnendu Chatterjee shared his ideas on different ways to develop the storyline for the audio/video medium.
As a successful scriptwriter he has vivid experiences about story development for different genre.
His short film Satya Dar Coaching has already been praised by the viewers which is in both comic and horror genre and feature film Ka Kha Ga Gha is in comic genre for regional audience.
Our guest speaker gave tips and tricks to our students on how to add comedy, romantic or thrilling touch to the story while developing the script.
Story Development takes place at pre-production process.
A scriptwriter is free to do experiments with the storyline of the script before presenting it on the big screen.
Dr. Krishnendu pointed that while writing script the writer must sketch the characters and plot of the scene so that the director or the actor can get the detail picture of the story from the script.
To build characters within a story the writer must carefully observe people's day to day activities, their behavioural pattern and style of speaking.
A good script with good storyline is the backbone of every successful film.
A script without proper detail causes difficulties for the filmmaker or the director to get the grip over the narrative.
A story with proper beginning, climax and end catches viewer's attention effectively.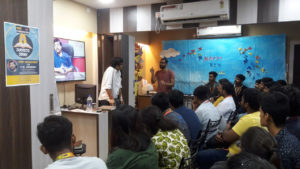 Every story carries a certain mood and setting that mood for the story is very important.
For example horror story has a certain mood whereas romantic has certain.
Mood of the story should be highlighted with the set design to mesmerise the audience.
Dialogues help to build the mood of a story and so narration of the story must be powerful and compact.
Well-written dialogue leaves more impact on the audience thinking process.
In other words dialogues are the building blocks of story development process.
Throughout the seminar Dr. Krishnendu's words created a very creative environment among the students.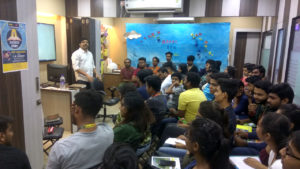 Without any hesitations our students placed their doubts and queries in front of him.
The session left everyone amused as lot of new ideas, thoughts and imaginations were displayed for this three hour long event.
Each one participant was deeply engrossed in the seminar.
A Welcome Play Based On Movie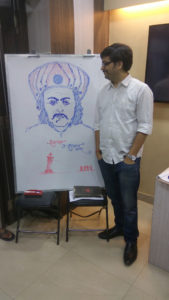 MAAC Students were so excited for this seminar that they prepared a play to welcome Dr. Krishnendu.
The play was based on the movie Hirak Rajar Deshe (In the Land of Diamond King) directed by Satyajit Ray in the year 1980.
Student participants presented the play with the dialogues from this movie Hirak Rajar Deshe in front of our guest speaker.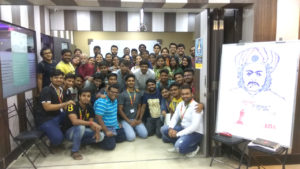 They even created a rough portray of Dr. Krishnendu on the white board with his name mentioned on the drawing.
Our speaker was overwhelmed by the display of respect and affection shown from the participants.
He appreciated portray of himself which resembled actor Utpal Dutt the king of Hirak.
This play added more colours to the seminar.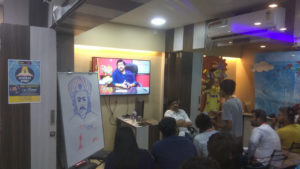 During the play more emphasis was given on the style of throwing of dialogues.
With great attention Dr. Krishnendu heard the play and felt impressed by student's creativity and imagination.
He liked the way they built the characters with the dialogues from the movie Hirak Rajar Deshe.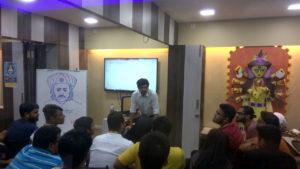 It was a fun filled and interactive play enjoyed by everyone.
Three hour long seminar ended with lot of zeal and participants enjoyed the process thoroughly.
MAAC Centres always arranges for knowledgeable seminars from time to time in order to sharpen the skills of their students.
These workshops or seminars are part of advanced MAAC Course.
The eminent personality from the film or television medium generally comes to take MAAC workshops.
Such seminars make our students aware of the professional world, how to handle work pressure, how to handle deadlines, ways to communicate ideas among colleagues or team members etc.
More seminar and workshop is going to happen in next month under the guidance of MAAC Director Mr. Naveen Choudhury who is a very noble person and always inspire students to deliver their best.
Interested one can join any of our MAAC Centres to explore amazing world of imagination.