Today in our blog we will share with you about a very interesting workshop which held recently at our MAAC Chowringhee Centre on 13th July from 2pm to 4pm.
This workshop was about Story Development taken by renowned scriptwriter Dr. Krishnendu Chatterjee.
From time to time MAAC Kolkata Centres make arrangements for different workshops on various topics to benefit their students.
On 13th July 2019 at MAAC Chowringhee Centre the workshop focussed on Story Development topic which is the fundamental of any film making process.
This workshop to a great extent helped MAAC students for their up-coming annual event 24 FPS 2019 which is a 3D animation short film competition.
The Man With Profound Talent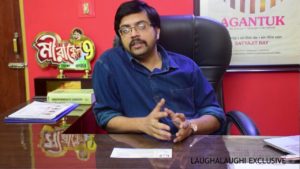 Dr. Krishnendu Chatterjee is a popular director, actor and script writer based in Kolkata.
He is famous for his Bengali television channel Zee Bangla's stand up comedy show Mirakkel Akkel Challenger.
As a scriptwriter Dr. Krishnendu has contributed in many Bengali serials including Dadagiri Unlimited, Dance Bangla Dance for Zee Bangla Channel, Katha O Kahini for Star Jalsha, Ranna Ghore Rockstar for Colours Bangla and many others.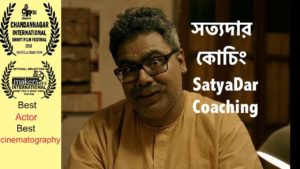 Satyadar Coaching was his first short comedy film as a director and script writer.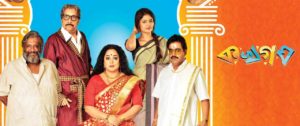 Ka Kha Ga Gha is Dr. Krishnendu's first full length comedy Bengali-language feature film as a director released in the year 2018.
The very talented person Dr. Krishnendu has also tried his hands in acting such as Holy Faak which is a web series for Hoichoi and Selfier Phande movie for Zee Bangla.
MAAC Workshop On 'Story Development'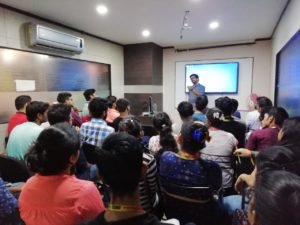 The workshop held at MAAC Chowringhee on 13th July Saturday was an immensely knowledgeable event for the aspiring students of MAAC.
In this 2 hour workshop Dr. Krishnendu Chatterjee taught our students about how to write appealing scripts for the entertainment medium.
He shared his experience as a scriptwriter within the film industry.
A story passes through many steps while moving from paper to television or film screen.
Developing a story for short film is completely different from developing a story for feature film.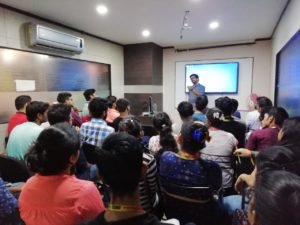 Dr. Krishnendu focussed upon the technique behind creating a successful story which will retain in the memory of audience for a long time.
He discussed about methods and tricks of story development; how to give comedy touch in the story; how to emphasize the characters etc.
A good story consists of plot, climax, satisfying resolution and goal of the characters.
Within the story the characters must be crafted in depth with their personalities, back-stories and perspectives.
Dr. Krishnendu showed the effective ways to develop the scripts for short films as well as feature films.
In short films where the time is a limit the script must be compact and convincing.
Scriptwriter must know how to manipulate time within the story.
During the workshop our students were so much engrossed in the session as if they were listening to some great stories.
This two hour long workshop piqued curiosity and imagination of the students as lot of questions were asked to Dr. Krishnendu.
This workshop threw abundant lights on the scriptwriting for the 3D animation short film competition 24 FPS 2019.
24 FPS 2019 Short Film Competition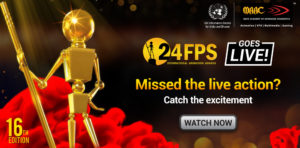 24 FPS short film competition is an annual event conducted every year in the month of December by MAAC in association with United Nations Information Centres (UNIC).
From its inception in 2003 this event has served as a platform for young artists of MAAC to showcase their creativity and potential.
This event is a prestigious effort to bridge the gap between students and industry professionals as prominent industry personalities join this event as guest members.
24FPS event is a platform where quite a good amount of 3D animation short films entries comes from various MAAC Centres.
This event is also open to national and international animation studios, professionals whoever wants to showcase their talent, so the competition is very tough.
The jury members not only judges the special effects and type of animation used in the short films but also notices the concept or the story line of the films.
24PFS welcomes entries from multiple skilled categories but it has three main award categories.
Three main award categories are
Script to screen
3D Challenge
VFX Challenge
So you can easily understand that how much challenges each and every MAAC student faces in choosing the best story for their 3D animated short films for this annual event.
Short film with exceptional concepts and story line always wins the heart of jury members.
MAAC students make use of their knowledge and experiences gathered from the workshops help throughout the year for this 24FPS events.
Each year the performance bar is raising and hence 24 FPS competition is becoming much tougher.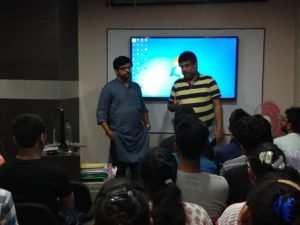 No doubt this workshop held at MAAC Chowringhee on 'Story Development' taken by Dr. Krishnendu Chatterjee will play a big role in crafting good scripts for the 24 FPS 3D animation short film event.
MAAC Director Mr. Naveen Choudhury was also present at this workshop to motivate our students.
A well-crafted story is foremost important in the event like 24FPS; so the script part should not be neglected.
Mentors at MAAC help our students to pick the best story for the 24 FPS event, the story with powerful message.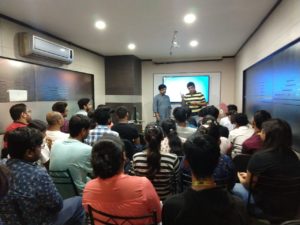 From the workshop on 'Story Development' our students not only learned about how to write a good script but also got valuable notes on how to convert script to screen story.
Dr. Krishnendu Chatterjee's workshop also focussed upon how to work under pressure according to the demand of directors and producers of the film industry.
Dr. Krishnendu with vast experience as director, actor and scriptwriter inspired and encouraged our students to come up with their own unique and entertaining stories.
We thank Dr. Krishnendu Chatterjee from the bottom of our heart for his thought provoking and knowledgeable workshop.
In future we hope to watch many more entertaining stories on the silver screen from master story teller Dr. Krishnendu Chatterjee.
If you want to be a part of such brainstorming MAAC workshop contact @9836321595.