VFX or visual effect is the creation or it is just the process of manipulation of on screen imagery that practically doesn't exist   in real life. VFX allows filmmakers to create environments objects, creatures, that is otherwise impossible to create in real life. It is in fact artificial imagery to create environments, objects, and creatures, even human beings that would be quite impractical and impossible to shoot in context of live action shot.
Technology has been a blessing to mankind. It has helped human beings in many ways of life. It has helped human beings to communicate as well as to cultivate something in science or in civil service. One of the key parts that is gaining from this industry is none other advertising industry. In one of the recent Frooti advertisement where Varun Dhawan played the pivotal role VFX was used. In Rajnigandha Pearl advertisement where Priyanka Chopra played the pivotal role most of the shots were made with the help of VFX.
By watching the ads of 80s and90s we generally have nostalgic feeling, but a modern day ad has really changed the game a lot. By watching the ads of 80s and90s we generally have nostalgic feeling, but a modern day ad has really changed the game a lot. With the advent of television channel, as well as influx of new technology.  In 2011 a visual effect company named Gen Arts a visual effect developing company worked with Market Tools   and made an online research on how visual effect influences the audience.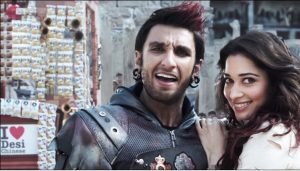 The research was done on 518 people mostly belonged to age group 18 – 54 years. The video with visual effect influenced 90%of the people. If a producer wants to sell his product one need to advertise his product. The video with visual effect influenced 90%of the people. If a producer wants to sell his product one need to advertise his product. Some of them has left us spell bound, some of them has been a great source of fun, and others has given us a   source of thinking.
As technology improved the creative mind has made the best use of technology and surprised the world. So a longer the advertisement the longer it will make a permanent impact on the viewers mind. Suppose one is making advertisement of mosquito repellent. If in the advertisement it shows that the giant mosquito is being killed by the mosquito repellent. So this giant mosquito in the advertisement could only be possible with the help of VFX.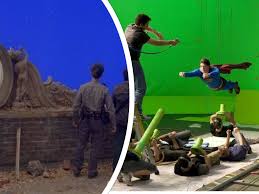 Visual effect actually captures the audience's interest.
There are various Bollywood movies where VFX was used in a large scale. One of the recent movie were Prabhas starring Bahubali. It was indeed a big budget film with 'too good to be true visual effects'. The fictional movie is made by with the help of heavy duty VFX which became a high budget film only to prove how the audience are enchanted to watch good cinema. Starting from bull fight sequence to grand entries in mega war, Bahubali hired more than 15 VFX companies to make the movie excellent in VFX.
Other Bollywood Movies where recently VFX is used in Gangubhai Kathiwad in 2022, Bramhastra in 2022.
Types of Visual Effect-
Computer Generated Imagery is the most widely used visual effect used that is used to describe digitally created VFX in film. These computer generated graphic may be 2d or 3d but computer generated image is referred when one is talking about 3d VFX. The most discussed process about CGI is 3d modelling- the creation of 3d representation of any object, surface or living creature. CGI VFX is something that is used to create a thing that literally doesn't exist Visual effect might be used in a different way such as to fill a stadium with crowd of cheering fan or to make an aged actor younger. Like a dragon or monster.
Compositing – Compositing is another form of VFX where visual effect artist combine visual elements from different origins to make look as if they are in the same place. The visual effect technique screening generally requires filming with green screen or blue screen that the VFX artist replaces with another element using software in post production. An early form of compositing was generally acquired with matte painting illustration of landscapes, or sets that were composed with live action footage.
Motion Capture – Motion Capture is the process of digitally recording an actors movement to a 3d model. When the process is used to record facial movement of the actor it is referred to as '' performance capture''. One of the most common methods for motion capturing involves placing an actor in motion capturing suit covering it with markers that a camera might track. The data captured by camera is then turned into 3d skeleton model using motion capture software.
Virtual Cinematography- It collects a variety of subject like multi camera setups, etc to form 3d objects.
Motion Control Photography – It is another VFX technique that is used in motion photography which helps us controlling and optional repetition of camera.

There  are various  VFX software that are used by filmmakers.
Some of them are Adobe –After Effects, FX home hit film Pro, Autodesk Maya, Autodesk – 3d max, Maxon- Cinema 4d, Side fx –Houdini, Foundry –Nuke, Black Magic Design- Fusion.
There are various qualities that a VFX artist need to aquire.
The ability to create and implement high quality VFX.
One should possess strong visual awareness and artistic ability.
Excellent interpersonal and communicative skill
Lateral thinking skill.
The skill to learn and develop professionally.
Knowledge of 3d animation software such as Houdini, Maya, 3d Max , cinema 4d.
There are various roles played by a VFX artist. They are mainly compositing artist, effects technical director, FX animator, multimedia artist , VFX artist, VFX supervisor.
So youths hurry up  ! Come to MAAC located in Parkstreet.
The institute provides high quality certificate and diploma courses in VFX.
It has excellent lab and good faculty. It provides placement assistance.