Digital world has gifted us marvelous artefacts and VFX or Visual Effects is one of them.
In this blog we will see how breathtaking VFX has been used in the Salman Khan starred film Radhe: Your Most Wanted Bhai.
In Filmmaking through the assist of digital platform live-action footage and computer-generated imagery can be united with the VFX technology.
VFX helps in recreation, manipulation and enhancement of any image which is not possible in live-action shooting.
VFX loaded Hollywood as well as Bollywood movies have excellent demand in the entertainment market and audiences of all age group appreciate eye-popping Visual Effects of the movies in theatre halls or OTT platforms.
During this pandemic time most of the Bollywood movies released on OTT platform and among them Radhe is one which got huge praised for its technical magic.
Most Wanted Bhai In VFX Loaded Radhe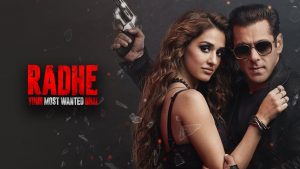 Radhe: Your Most Wanted Bhai got released in May 2021. It is directed by Prabhu Deva and produced under the banned of Salman Khan Films.
The lead actors are Salman Khan, Randeep Hooda, Disha Patani and Jackie Shroff.
Radhe film is unique and thrilling from other Salman Khan starring films because visual shots are splendid and mind-blowing. Each and every shots and sequences has been taken care of masterly to make the plot impressive and admirable for the audiences; especially for the fans of Salman Khan.
In the movie macho cop Salman Khan combats with drug mafia Randeep Hooda and saves the lives of young children from being addicted to drugs.
Radhe has great action scenes with Salman Khan performing heavy stunts and scuffles to defeat the antagonist.
Red Chillies Entertainment VFX Company has delivered the Visual Effect shots for this film. About 288 visual artists worked on this project for two month to create 1,856VFX Shots.
JAW-DROPPING GLASS BREAKING SHOTS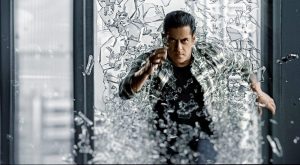 The Entry Scene of Salman Khan showcases breaking the glass window and spitting the glass pieces and creating bloodstain on a chubby man's cheek.
This spectacular glass-breaking shot has been highlighted with slow-motion actions with numerous glass pieces floating in the air and with all possible camera angles covered by cinematographer.
Red Chilliesvfx team crafted this innovative shot with advanced VFX techniques which was quite challenging for them.
VFX artists confirmed that with great detail they worked on to create visually perfect glass particles through computer graphics. Application of 3D models and techniques made glass pieces looked photorealistic.
Team also informed that another VFX challenging scene was the opening scene where Salman Khan is fighting with the goons inside the penthouse.
Visual effect team informed that director Prabhu Deva wanted Salman's entry to be more dashing and dynamic compared to his previous films.
For Radhe, Redchillies.vfx team created photorealistic CG (computer-generated) images, seamless de-aging, body double, seamless live-shots, realistic environment and so on.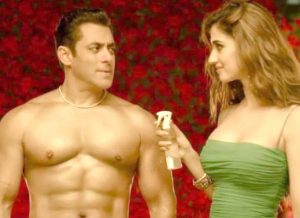 Salman Khan's 6 pack abs body was recreated through3D modelling for the macho avatar effect. Salman looks very fit and younger than his real age with the aid of digital computer graphics.
With limitations in shooting and limited crew in this pandemic Radhe managed to tell its story with the extraordinary contribution of VFX industry.
CHROMA KEY EFFECT FOR TUSSLE SHOTS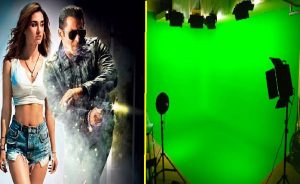 Due to constraint in shooting most of the Radhe shots were completed within the studio with Chroma Key Effect. In Chroma Key VFX effect filmmakers can easily remove the background digitally and place any background of their choice. Salman Khan's high-octane combat scenes were mostly shot in studio environment against green screen.
Lighting team did terrific job for the development of the set and structuring the indoor as well as outdoor shots.
VFX team used Muzzle flash, breaking of props, fast ramp and camera shakes elements to enhance the imagery and action parts, so that audience gets authentic effect.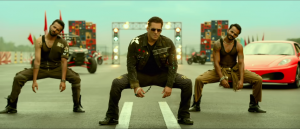 Colourful Zoom Zoom romantic dance number has been shot at Amby Valley with stylish racing bikes and cars when the lockdown was eased in 2020under choreographer Caesar Gonsalves.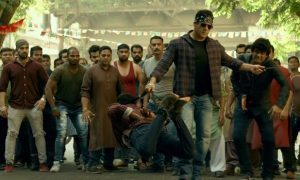 Here in this shot we can see how the hero is carrying the goon by holding the belt. VFX Roto effect erased the actual rope that carried the goon thus delivering a dynamic shot where the goon is hanging on the air.
Redchillies vfx team revealed that they even recreated the high rise city backdrop with Computer Graphics Imagery; even visual effects of blood spurts, CG swords together made the scenes powerful.
Computer generated Photorealistic visuals blurred the line between real and unreal objects.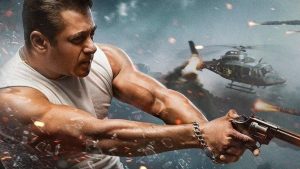 The helicopter shot with fire at its tail is another example of 3D shot, masterfully designed by VFX team for the climax scene.
Along with Redchillies.VFX Company, Ajay Dengn's NY VFXWALA Company did the colour work on Radhe during post production.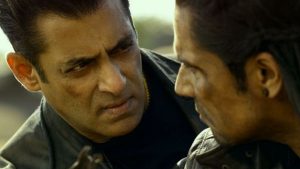 For the chasing scene between Khan and Hooda, shooting took place in different locations and for visual effects of the climax scenes the production department spent rupees 7.5 crore.
For the prime shots the studio was reconstructed to replicate 360 degree natural environment and this gave more control over natural settings in virtual scenario.Chroma Key effects with expensive lighting equipments were used for the tough fight between Khan and antagonist.
CGI live 3D environment saved the time and speeded up the building of VFX shots.
Radhe is different from other movies directed by Prabhu Deva in terms of VFX used; For Radhe's Visual effects Prabhu Deva came up with completely new concepts and ideas which he never applied before.
Once again Salman Khan's Radhe has proved that no matter how the situation is tough due to pandemic lockdown Bhai is there to entertain his fans in full action.
Visual effect artists of Red Chillies and NY VFXWALA studios learned to deliver large scale projects from work-from-home workflow.
Visual effect industry has bright future and in coming years we will evident more Bollywood films loaded with heavy Visual effect techniques.
MAAC Kolkata has career-oriented advanced programme in Visual effects for those who wants to explore Media and Entertainment Industry.
Join MAAC today call us 9836321595 and be a part of progressive entertainment world.