Every child has got some comic characters fantasies of their own.
And when they see their fantasies being portrayed by comic characters on screen, they start loving them.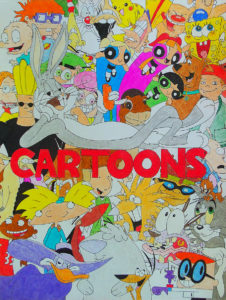 Animation Characters leave a huge impact on the child and they get influenced by the actions of the characters.
The comic that we used to watch during our childhood were much better than what our children are seeing now.
In our Childhood, during the 80's and 90's, the animations were more character based, based on the central character.
Most favorite comic book characters which reminds us of our childhood days are the following:-
. Tintin – Tintin is the central character of the comic series 'The adventures of Tintin'.
It is created by Belgian cartoonist Georges Remi who wrote under the pen name Hergé & is a series of 24 comic albums,
Out of the most popular European comics of the 20th century, this was one among them.
Studios Hergé produced the canonical versions of ten Tintin albums created by Herge in 1950.
The Hero of the series is Tintin, a courageous young Belgian reporter and adventurer.
He is aided by his faithful dog Snowy.
Other protagonists include the brash and cynical Captain Haddock and the intelligent but hearing-impaired Professor Calculus.
As well as the incompetent detectives Thomson and Thompson  and the opera diva Bianca Castafiore.
Tintin, along with his dog Snowy and Captain Haddock gets involved in dangerous cases, which he solves with his intelligence and heroism and gets the culprit arrested at the end of the day.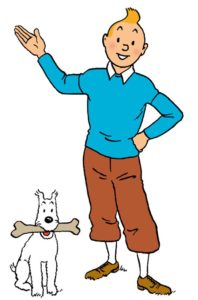 Tintin travels to real locations such as the Belgian Congo, the United States, Egypt, India, China, and the United Kingdom to solve the cases.
He also goes to fictional countries such as the Latin American republic of San Theodoros, the East European kingdom of Syldavia, or the fascist state Borduria .
Tintin has been much in the news lately, with the 100th anniversary of his creator Hergé.
And yet even after so many years of worldwide popularity, it is still one of the most popular animated characters, till date.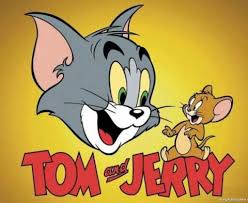 Tom & Jerry –Tom and Jerry is created in 1940, by William Hanna and Joseph Barbera, in America. It focuses on the fights between the two central characters, Tom and Jerry.
And many recurring characters.
The series shows comical fights between a house cat (Tom) and a mouse (Jerry).
The plots always revolve around Tom's futile attempts to capture Jerry and the mayhem and destruction that follow.
Because of Jerry's cleverness, cunning abilities, and luck, Tom rarely succeeds in catching Jerry.
Throughout the years, Tom and Jerry cartoons remained popular to the viewers all over the world and still now, the show is popular to children of all ages.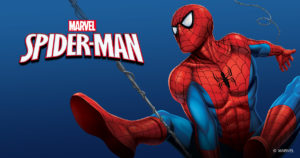 Spiderman – Spider-Man is a fictional superhero appearing in American comic books published by Marvel Comics.
Countless forms of media.
Including several animated and live action series, have shown this series.
His actual name is Peter Parker, a High School student, whose parents Richard and Mary Parker got killed in a plane crash. Being an orphan.
He was being raised by his Aunt May and Uncle Ben in New York City .
As a teenager, he has to deal with the normal struggles of a teenager in addition to those of a costume crime-fighter.
Spider-Man has the ability to shoot spider-webs using wrist-mounted devices of his own invention, which he calls "web-shooters", cling to most surfaces using spider webs and react to danger quickly with his "spider-sense".
Spider-Man had to learn for himself that "with great power there must also come great responsibility", he had no superhero mentor like Captain America and Batman.
A number of supervillains have been created to face Spider-Man over the years, in comics and in other media.
As Spiderman got all the powers after getting bitten by a spider, the majority of the villains' powers originate with scientific accidents or the misuse of scientific technology.
Many have animal-themed costumes or powers, e.g Doctor Octopus, Sandman, Green Goblin, Electro, and Venom etc.
Spider-Man is one of the most popular and commercially successful superheroes over the years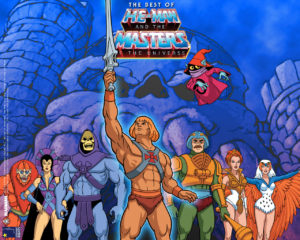 He-Man – He-Man, having superhuman strength, is the principal character of a series of comic books and several animated television series.
He is the changed character of Prince Adam.
He-Man, along with his friends try to save the secrets of Castle Grayskull & and the reign of Eternia from the evil forces of Skeletor.
He was the son of King Randor and Queen Marlena. Being Prince Adam of Eternia, he ruled the Kingdom of Eternia.
The power to transform into He-Man,was endowed to Prince Adam by Sorceress of Castle Grayskull , which Adam did by raising his Power Sword and proclaiming, "By the power of Grayskull…"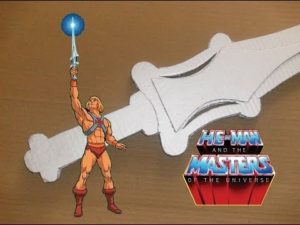 Once the transformation was complete, he continued "…I have the power!"
He also is able to return to his former form by saying, "Let the power return."
A cowardly green tiger named Cringer was Adam's pet.
Adam transforms Cringer to 'Battle Cat' by pointing his sword at him.
An ability Adam discovered accidentally during one of his transformations into He-Man.
Skeletor was He-Man,s main enemy.
He is a blue-skinned sorcerer with a yellow skull for a head (concealed with a cowl).
He was skilled in black magic and all forms of combat.
He was also shown to be extremely cunning and intelligent.
He-Man was possessing superhuman strength, super speed and indestructible skin.
Among the most popular animated children's shows of the 1980's, He- Man is one of them.
Over the years, this show has maintained a heavy fan following to this day.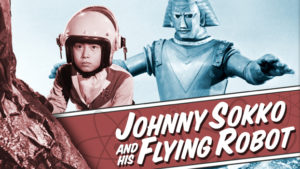 Johny Soko and his Flying Robot – Giant Robo, also known as Johnny Sokko and His Flying Robot in the United States, is a Japanese cartoon and live action drama series created by Mitsuteru Yokoyama.
The English-dubbed version of the series, developed by Reuben Guberman for American television, was produced by American International Television and directed by Manuel San Fernando.
The plot was such that the Earth is invaded by an interstellar terrorist group, the Gargoyle Gang in the English version, led by Emperor Guillotine. Guillotine spends most of his time in a multicolored space ship hidden at the bottom of an Earth ocean, from which he issues his orders.
To create rampage on Earth, the group has been capturing scientists to create an army of monsters.
A boy named Daisaku Kusama or Johnny Sokko, and a young man named Jerry Mano, (a member of the secret peacekeeping organization Unicorn) are shipwrecked on an island after their ship is attacked by Dracolon (a sea monster) and captured by Gargoyle Gang.
They end up in an elevator leading to a complex where a Pharaoh-like robot is being built by captive scientist Lucius Guardian, who gives Johnny and Jerry its control device.
Before he is shot to death, Guardian helps them escape. Before he dies, he triggers an atomic bomb which destroys the base.
The explosion activates the robot, which obeys Johnny.
The boy is invited by Jūrō and his chief, Azuma, to join Unicorn and fight Big Fire with Giant Robo.
Guillotine has tentacles extending from the bottom of his head and is a blue-skinned alien.
He wears a long robe, carries a staff with a white orb at one end and can grow to a great height.
From the mid-1980s to the early 1990's, Johny Soko and his Flying Robot was shown in India.
Johny soko became an idol for the children of his age and many people still now remembers growing up with Johny and his Robot, fighting with the enemies to save the world.
Hope you like our effort in today's blog to take you down your memory lane and reminding you about those amazing cartoon characters you were in love with.
Do share your thoughts in the comment section below.