Hello Readers, in this blog we are going to tell you about the achievement of Diganta Sethi who is a MAAC Ultadanga's Alumni and who proved himself through determination and hardship.
From the beginning MAAC Kolkata has proved itself efficient enough to deliver dream jobs to the MAAC pass outs.
Each year thousands of students apply at MAAC (Maya Academy Of Advanced Cinematic) Academy.
MAAC Kolkata takes great care to each and every student who dreams to pursue their career in the professional industry.
MAAC Ultadanga Alumni Diganta Sethi's life changed after joining this prestigious Educational Institute.
Like many other MAAC pass-outs, Diganta Sethi has also curved a niche for himself in the professional market.
Let's have a look on how Diganta Sethi covered his path from MAAC student to a professional person.
Training At MAAC VFX Plus Course

After completing basis education Diganta Sethi joined VFX Plus course at MAAC Ultadanga Centre.
MAAC's VFX Course proved to be a great eye-opener for Diganta because VFX or Visual Effect section provides wide range of working experiences with the computer technology.
With the growing digitalization Visual Effects or VFX has become a crucial section of filmmaking, television series, commercials and many others.
MAAC's VFX Plus in-depth syllabus teaches students high-quality Visual Effects that are used in films and other entertainment industry.
Presently Hollywood as well as Bollywood industry uses VFX in almost every movie to give the audience a larger than life experience.
At Ultadanga Centre Diganta learned about every bits and parts of the VFX.
MAAC's detail curriculum for each course is designed by the industry professionals to give the students a solid foundation for learning.
Diganta got the opportunity to work on small projects and assignments; he received practical trainings in the studio environment.
Ultadanga Centre is well equipped with hi-tech labs and wi-fi facility where the budding professionals can enhance their skills.
Under VFX Course students need to learn about different 3D software and Chroma-Key techniques.
Diganta learned about the software like Adobe After Effects, Autodesk 3D Max, Fusion, Nuke, Adobe Photoshop etc,
He also learned about digital composition, colour shading, lighting, and lot more.
The faculty members of MAAC help the students throughout their learning process.
Faculty members provide sufficient Theory materials to the students so that each and every concept gets clear in the mind of the students.
Diganta attended practical classes at Ultadanga Centres to get hands-on experiences about VFX.
Diganta expressed his gratitude toward MAAC Ultadanga as "I want to thank MAAC Ultadanga for helping me throughout my VFX Course."
After completing small in house projects and workshops Diganta Sethi appeared for the placement interview.
Like any other students Diganta also had doubts about his placement, but he crossed the hurdles with flying colours.
Diganta got selected by Fourth Dimensions Production House during his interview.
He thanked MAAC Ultadanga for assisting him during the interview procedure; he also thanked the faculty for making his placement successful at Fourth Dimension VFX Company.
As he said "I thank MAAC Ultadanga for giving me placement at Fourth Dimension Production House."
Placement At Fourth Dimension VFX Company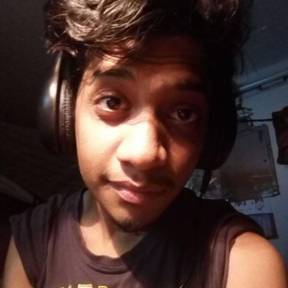 Diganta Sethi joined Fourth Dimension Visual Effects Company as Junior Motion Graphics Artist.
Fourth Dimension Visual Effects Company is a very reputed VFX company located at Kolkata.
It provides visual effects for different television episodes, commercials and films.
But the road to the Fourth Dimension was not smooth for Diganta, he had to prove himself to get a job here.
He is working at Fourth Dimension from the past six months and through these months he learned many news things at his work place.
At Fourth Dimension Diganta gets the opportunity to work on variety of projects.
Diganta works on projects on a team basis; he knows how to work within a team something that he learned at MAAC's Institute.
MAAC creates professional environment for each and every student to teach them how to deliver your best while working under pressure.
In the professional fields where employees handle big projects; co-operations plays a big role; employees work on different part of the projects while keeping the communication flow intact.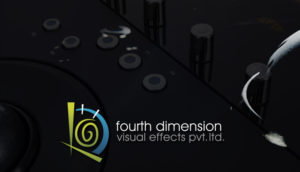 In Diganta's words "I get the chance at Fourth Dimension to deal with new challenges everyday to fulfil my goal".
New challenges are part of the industry work culture and to face those challenges MAAC's students are always efficient.
As Diganta has only covered six months at his new job so much more experiences are waiting for him ahead.
He is interested in to pursue his career in production house only in future.
As he says "This particular job has deliberately increased my interest in pursuing my career in production house".
Mentors of Diganta Sethi are sure enough that he will definitely overcome every challenges of his life as they have trained him like that only.
Diganta Sethi is thankful toward the MAAC Ultadanga and his Mentors.
We wishes him all the best from our side.
MAAC Is An Exceptional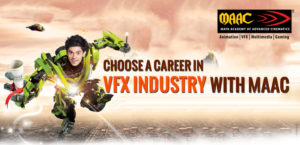 If somebody asks why go for MAAC Academy?
Then the answer is simply because MAAC is the best and leading Institute in Kolkata.
MAAC offers quality education.
It has dedicated Research and Development team behind the structure of the Course Materials.
Apart from trainings MAAC conducts events like 24 FPS, Seminars, Workshops, Competitions, Studio Visits and many more throughout the year.
MAAC has different programs for faculty members also; faculties are exposed to industry updates, they visit the production houses and studios on regular basis.
MAAC has International standard infrastructure to train the students for the global requirement.
MAAC Centres such as MAAC Ultadanga, MAAC Rashbehari, MAAC Chowringhee is under the directorship of Mr. Naveen Choudhary.
Mr. Naveen Choudhary is a great person; he makes enormous effort to guide each and every MAAC's events.
Under his guidance and leadership MAAC has achieved great appreciations and popularity.
With all the efforts, hard-works and dedication we hope to see the success in future also.
Interested in VFX and Animation, then don't look back, be a part of us.