In this blog we will try to find the reason behind why female character not used as protagonist in animated kid series.
Kids fall in love with the cartoon superheroes.
The mighty, intelligent superheroes can cross any hurdles on the television screens.
But what about super-heroines; why there is too little female protagonist based animated kid series?
From Tenali Raman which was the India's first animated series, many animated series have launched till date.
Chhota Bheem, Roll No.21, Pakdam Pakdai, Motu Patlu, Little Singham, Krishna aur Balram and the list goes on.
Keeping in mind the demand of the children new programmes are being launched from time to time.
Male Protagonists In The Popular Animated Series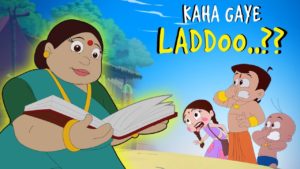 From 2018 Kids Genre animated series is growing in India.
Green Gold Animation, Discovery Kids, Cartoon Network, Nickelodeon have already made their mark in the world of entertainment business.
Cartoon Channels focus on children as audience; they observe the children's choices, preferences and consumption habits.
In one of the most popular cartoon shows Chhota Bheem, the main protagonist is the Bheem while Raju, Jaggu, Chutki, Indumati and Kalia are in the supporting roles.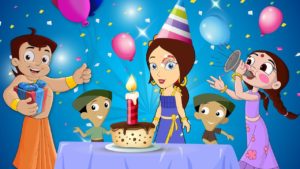 Chhota Bheem has three female characters Chutki, Rajkumari Indumati and Tuntun Mousi.
Seven year old Chutki is Bheem's closest friend and assists him on his adventures.
In the group of Bheem, Raju, Jaggu, Kalia, Chutki is the most intelligent.
Bheem depends on Chutki for solving puzzles.
Tuntun is the mother of Chutki, she has a laddoo shop, Bheem is very fond of her laddoos.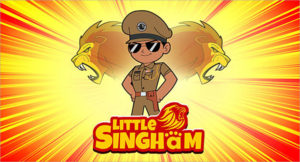 Last year saw the debuts of characters like Little Singham, Rudra, etc.
Little Singham animated series has strong female characters but has no single female protagonist.
Little Singham which launched on April 2018 on Discovery Kids is produced by Rohit Shetty Pictures.
This heroic television series shows the life of Singham as a little boy who fights criminals to save his city.
Little Singham increased the TRP ratings of the Discovery Kids and placed it into Top 5 league of kids entertainment in India.
Based on the film Singham, it has three female characters Teacher Tara, Babli and Inspector Kavya.
Strong Female Character In Supporting Roles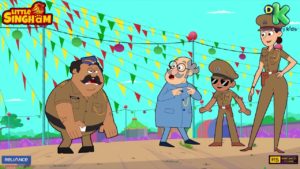 Female inspector Kavya is a police inspector of Mirchi Nagar along with Little Singham.
Inspector Kavya's best friend is Hawaldar Karate and her catchphrase is "Dungi Ek Ghoomake".
Inspector Kavya is a strong female character in the show but she is not protagonist.
In recent times women in different sectors are making their presence felt.
Today women have successfully created their space in the male dominating industries.
Then why these animated cartoon series lack the female protagonists.
Well the producers of these cartoon shows have simply stressed on the business aspect.
According to the market survey producers find the male characters as protagonists are more in demand among kids.
But some of the marketing supervisors believe that the time has come to focus on creating female protagonist based shows.
Producers of these cartoon series have to keep in mind the demand and choice of the Indian kids.
As the head of the Discovery Kids Uttam Pal Singh said "We are creating strong female characters like Inspector Kavya, Babli in Little Singham but we also have to keep in mind what the kids want to watch these days".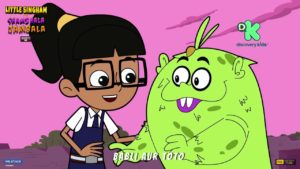 In Little Singham Babli is a brainy girl, daughter of Professor Avishkar, she laughs loudly very much and wears glasses.
The survey says kid audience ratio is 60 per cent boys and 40 per cent girls in India, so the programme head has to organise the programme like that.
If the audience ratio of boys is more than the girls then shows with male protagonists; must be more in the market or entertainment channels.
Television is an art form but the producers can't ignore the business aspect of these shows.
Rajiv Chilaka CEO of Green Gold Animation has a different view on the lack of female protagonist in animated kid series.
Rajiv Chilaka thinks that the time has come to encourage female centric or female led animated shows for all young ages.
He said he tried to push the channels for the last decade but channel felt that the market is not ready to accept such female character .
Producers are working on the female character or female centric shows now and hopefully audience can see them in the year 2020.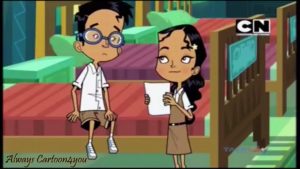 Pinky character of the show Roll No 21 is well-received among young ages.
Pinky is Kris's classmate, a brainy student and an activist.
Because of nobody has explored with the female centric shows, the demand is more now.
Gender equality and women empowerment plays a big role now days, so the producers can't ignore that aspect of the society.
Kids are the future generation who can shape the world, so it is the responsibility of the Channels to empower kids with positive thoughts and power to analyse any difficult situation being gender neutral.
Viewership Percentage Has Changed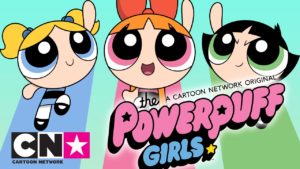 It is not that we don't have, we had female character in female centric foreign animated kid series like The Powerpuff Girls in the Cartoon Network Channel.
Another one is the Sally Bollywood produced by French Television Company.
Scenario in Indian context is also changing with the improvement in the every aspect of society.
Girl ratio of viewership has changed from 40 percent to 55 percent.
With the time people mind set is changing, women empowerment is occurring at every sector of the organization.
Hence a lot of scope is developing to create girls based content.
Presently different types of entertainment platforms are also available; earlier it was the channels only running animated kids shows.
In the days of channels it depended upon who is controlling the remotes but now it is changed there are opportunities to explore and experiment.
Devices and gadgets have reached to the hands of every human beings.
As the medium of entertainment can play a vital role in shaping the mind set, broadcasters and animation studios should explore diverse female character for the coming generation.
MAAC Kolkata is a renowned Animation Institution; cultivate your dreams with us.