Today in this blog we will mention about how learning VFX Technique can help in De-Ageing Character.
In simple words De-ageing is a 3D CGI (Computer-Generated Imagery) technique that used to make an actor look decades younger by erasing wrinkles and tightening jaw lines.
In Films and Television Shows De-Ageing Mechanism is mostly used in case of Flashback Scenes.
Aged actors get a new life through the magic of de-ageing VFX technology and can play younger roles themselves thereby saving money on hiring additional talents.
In early days of filmmaking a Director normally used to cast child actor to show the hero's past life or childhood stage but now with de-ageing technique hero's youthful appearance can be brought on the screen.
De-ageing VFX is digital craft commonly achieved at post-production stage with high-resolution equipments like digital cameras, 3D software etc.
This enthralling De-Ageing 3D VFX technique has become very much popular both in Hollywood and Bollywood Films at present scenario.
Professional VFX artists are now skilled enough to construct entire movie with de-aged actor rather than just a few scenes.
HOW DE-AGEING CHARACTER IS DONE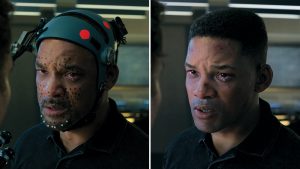 In the American action movie "Gemini Man" the director Ang Lee explored the idea of building a much younger version of the protagonist Will Smith through de-ageing VFX technique. Here actor Will Smith played the role of both 51 year old Henry Brogan and 23 year old junior younger version.
The camera tracking device recorded all the facial expressions of aged Will Smith and regenerated younger version of him with similar expressions.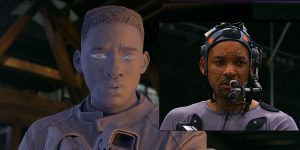 In the above picture we can see actor Will Smith wearing head-mounted camera to capture the live-facial performances that would later applied to his digital double.
In de-ageing character; aged actor's expressions are recorded with tiny markers attached to their faces; the recorded expressions are later implemented on the younger computer-generated 3D version of the actor.
Then comes the task of an animator who performs a computer "Facelift" by removing chin, drawing more clear cheekbones and making nose and eyes more wrinkle free and sharp.
Previously Prosthetics and Make-up occupied a great space in visual effects but with the entry of digital de-ageing technique these have taken a back seat.
High-resolution cinematography has pushed the Hollywood Filmmakers to record the character in their genuine form rather than in artificial get-ups.
With de-ageing VFX technique, scope for new creativity and opportunities lie ahead for filmmakers' worldwide.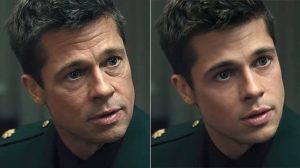 In the movie "The Curious Case of Benjamin Button"; the older and younger versions of Brad Pitt's character was smoothly digitally manipulated according to the plot of the film.
Here also Computer-generated 3D model of Brad Pitt got facial deformation data from live-action performances.
This de-ageing technique requires frame-by-frame adjustments in great details and it is a cost effective process that requires skilled digital artists powered with innovation.
RE-CONTEXTUALIZING FILMMAKING WITH DE-AGEING

Actor Shah Rukh Khan starred movies like "Fan" and "Zero" is an appropriate example of using de-ageing technology. Red Chillies VFX Company did applaud able task in developing younger version of Shah Rukh Khan in both the movies.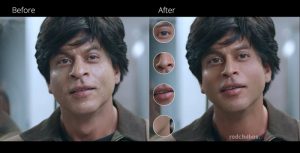 For the movie "Fan" VFX artists reconstructed each facial parts of Shah Rukh Khan and added expressions with the help of facial motion capture device.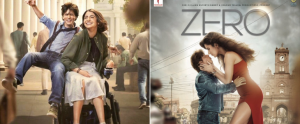 Likewise for the VFX heavy movie "Zero" the talented team of visual effect artists of Red Chillies Company not only created vertically challenged character of Shah Rukh Khan amazingly but also de-aged the character seamlessly.
Audience preferred to watch their favourite actors in de-ageing mode rather than some other duplicate and that is the reason behind the popularity of de-ageing technology which has encouraged the filmmakers to tell stories in new ways.
The magical de-ageing has allowed the filmmakers to time travel; it is no more difficult to capture a particular age or stage of a character's life.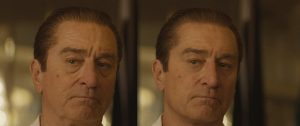 For example in the film "The Irishman" actor Robert De Niro and Al Pacino were de-aged digitally to portray younger version of Frank Sheeran and Jimmy Hoffa respectively.
This super hit film would not have gained so much appreciation if the director had used other younger actors with more or less similar facial features to play the younger versions; that would have stolen the essence of the actual characters.
FLEXIBILITY FOR LEGENDS OF CINEMA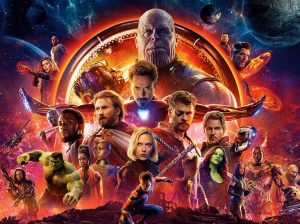 De-ageing has given scope to the actors to extend their careers in the field of acting.
Actors are no longer limited to the role choices in films depending on their age factor.
Marvel Studios is fully taking advantage of de-ageing technology to bring forth their favourite superheroes from time to time.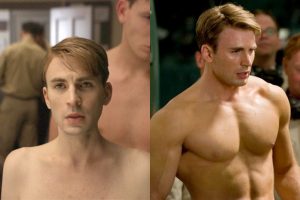 For example in the movie "Captain America: The First Avenger" the Lola VFX Company digitally constructed skinny teenager Chris Evans's body shrunken from all dimension.
Body double was hardly used here except in case of absolute necessity. Lola VFX team actually invented a method for shrinking the protagonist.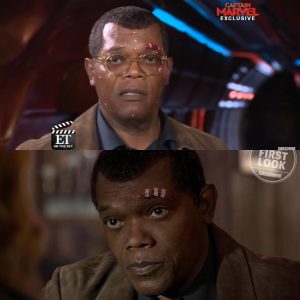 Marvel Cinematic Universe characters like Nick Fury and Phil Coulson de-aged by 25 years by Lola VFX Company for the movie Captain Marvel.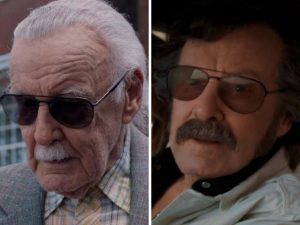 Other actors who went through de-ageing technology are Stan Lee for "Avengers: Endgame", Robert Downey Jr. as Iron Man for "Captain America: Civil War", actress Michelle Pfeiffer for "Ant-Man and the Wasp" and the list goes on.
With the advantage of de-ageing method portraying the role of younger version is hassle free for the aged actor as most of the action sequences are performed by their digital 3D modeled characters.
De-ageing is a mesmerising effect and this technology is bringing more realistic cinema on our screens.
Implementation of de-ageing for VFX has revolutionized the cinema and this has resulted to growing demand for skilled VFX experts in the entertainment and media market.
Therefore without any conjectures filmmakers are relying on this incredible De-Ageing Technology for their future ventures.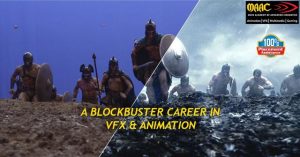 MAAC Institute of Kolkata offers Advanced programme in Visual effects (VFX) for the interested candidates.
MAAC's VFX Courses are minutely designed so that the learners can achieve over all knowledge about this digital technology and could make themselves prepared for the competitive professional world.
So what are you waiting for; unclench your doubts and contact our MAAC Centre for further details.
@9836321595 MAAC CHOWRINGHEE
@9836321789 MAAC RASHBEHARI
@9830390356 MAAC ULTADANGA