Broadcast Industry has evolved over the past few decades and has impacted our lives in wider aspects. This industry has many job openings ranging from news anchors to engineers.
Here in this blog let's have a look on the 5 top most career options in the Broadcast Industry.
From one and only Doordarshan Channel, Television has come to a stage where it has thousands of channels to offer entertainment in various genres for different age groups.
Diversified mode of programmes transmitted by Broadcast Industry has also opened up new career options for the millennial.
Imagine how it would be if you could be a part of thrilling wildlife documentaries or Soap-dramas or News reader.
It is absolutely not a tough task to follow your dream job in current time because both professional short-term and long-term courses are available to train young minds for the need of media industry.
Broadcast Industry is booming and you can be the part of this exciting industry by choosing the right career path from the following options.
GRAPHIC DESIGNER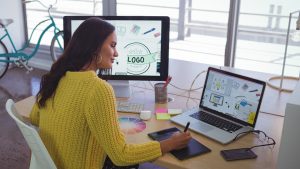 The job of Graphic Designer is extremely creative and innovative.
A graphic designer explores with various colours, textures, designs and logos to bring out the specific idea required by the client of a company.
To become a successful graphic designer one need to have important traits like good visualization and fabulous artistic ability.
They work with software like Adobe Photoshop, Adobo Illustrator, CorelDraw, Autodesk 3ds Max and many more. 3Dimensional design elements are widely used these days in broadcast industry.
In Broadcast Industry graphic designers fulfil the task of preparing graphical representations of News events, Drama series etc. Not only that they are also responsible for producing graphics for advertisements, animated films and motion pictures.
In Television production process, an art director with an experience in graphic designing can manage the creative team with efficiently under his/her guidance.
Graphic Designer must have an understanding about, space, text, font style, compositions and other designing features available within the software.
VIDEO EDITOR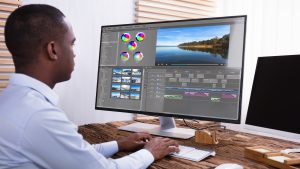 This is one of the top trending job profiles in Broadcast Industry and the task of a Video Editor is to arrange the raw unsynchronised footage into synchronised manner.
A trained Video Editor in broadcast industry selects the best video and audio footage captured by the cameraman and makes it presentable so that viewers can get the clear information or thought from the footage.
The Video Editor must have experience of video editing software like Adobe Premiere or Final Cut Pro which helps to perform numerous functions like slicing, copying, pasting, transitions etc.
Video Editors generally edit in the editing room but they can be in the field with Reporters and perform editing from the Station Van.
This professional has high demand in the broadcast industry; therefore if you are capable of noticing small details then go for this video editor career option.
SOUND ENGINEER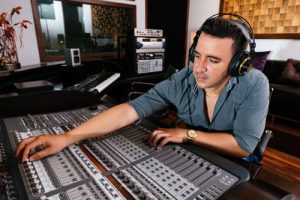 Sound Engineer is a highly specialised career option and it needs careful handling of sound.
Sound plays important role in the making of video and so Sound Engineers are in great demand in the broadcast industry market.
Recording sounds indoor and outdoor is an art and the job of sound engineer involves recording, modifying, mixing and laying sound tracks.
Sound Engineers make use of equipments like microphones, sound mixer, recorders and many others to deliver best quality of sound effects.
Adobe Audition Sound Editing Software with exceptionally powerful feature is the most admirable software for the Sound Engineers.
As a sound engineer you may have to maintain sound equipments, assist in synchronizing audio and video tracks, test sound quality, create sound libraries, resolve technical problems if they occur and collaborate with multidisciplinary team of video editor, lighting experts, cameraman etc.
Those who are interested in studying sound can enroll themselves in courses that give thorough knowledge about sound.
VIDEO JOURNALIST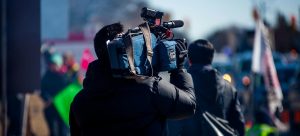 This is another attractive and exciting career field in Broadcast Industry where the video journalist can capture important live action events in their cameras and make the world aware of those events.
Video Journalists are required to travel to the locations and provide an on-ground report. They are responsible for researching content, finding people to interview and recording footage.
They should be up-to-date with the current situations and must have excellent verbal communication skills.
Job of a video journalist is challenging as their mission is to deliver right news at the right time.
Video Journalist should be outgoing as they can cover sports news, political news, business news and many other sectors.
A well-trained video journalist can give a unique perspective to his/her video while maintaining a level of impartiality.
BROADCAST PRODUCER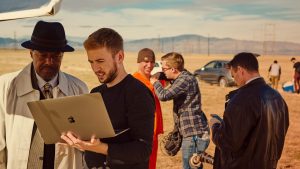 A Producer does it all from the conceptualisation of the storytel to pre-production, production and post-production.
In broadcast industry producer attends every shoot and remains with the production team till the project or programme is marketed and released for the public viewing.
The Producers work in collaboration with art directors, actors, sound artists, lighting artists and editors. Producers raise money for the production and prepare the budget.
A Producer must have the communication and leadership skills to make all the other artists work under his/her guidance.
In broadcast industry one can be documentary producer and can travel a lot to different locations to shoot his/her film.
Producer can create melodrama series or soap operas or any other series from any genre for the entertainment of the viewers.
Broadcast Industry has many other career options too but it is necessary to choose an excellent Institute to get the knowledge and certificate.
MAAC COURSES ON BROADCAST INDUSTRY

MAAC Institute In Kolkata Institute has all the above mentioned career options in its academic curriculum.
MAAC offer courses on Broadcast Media under which wide range of professional fields are covered.
Here students can learn Filmmaking to Cinematography, Sound and Video compositing editing, Chroma Screen Removal, Lighting, Graphics etc.
Latest computer equipments with high-end software are available to train the students in advance methods.
Broadcast Media course of MAAC is a great career opportunity for the students; it opens door for youngsters in the media industry where they can touch number of lives every day.
Join our MAAC Centre to chase your dream in Broadcast Industry.
Call us for free demo class 9836321595.