Ganesha is one of the best loved deities without him any auspicious ceremony is in complete .
Ganesha is one of the most popular hindu deities who have fans following him from various sects and traditions all over the globe.
Many of you may be wondering what does Ganesha's popularity have anything to do with MAAC.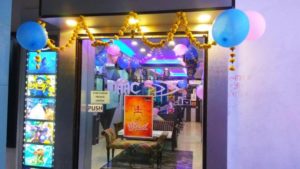 Well, we celebrate art in various forms and encourage our students to get creative whenever they get the opportunity to.
It is our motto at MAAC Chowringhee, MAAC Rashbehari and MAAC Ultadanga to not just teach skills but also promote creative instincts of students.
The presence of Ganesha marks the beginning of something new.
What would be better to start off the Bengali New Year with an event of the mighty deity himself.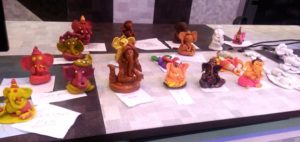 Sculpting, is a form of visual art which work in three dimensions, giving the artist a sense of shape and form from all possible directions.
It can be considered as an extension to 3d modeling, just as 3d modeling can be to drawing.
And as all forms of visual art aid the development of perspective, shape, surface, form and volume, sculpting strengthens the same while giving one the accessibility to exercise the sense of touch in addition.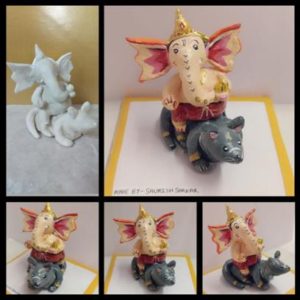 When it comes to art, Indian art is an unparalleled realm.
Indian art is a domain where Ganesha's popularity is quite evident.
So, you see the connection.
Not many deities enjoy the variation in styles and representations as does Ganesha.
Through ages, Ganesha has been depicted in numerous contemporary situations as humans themselves.
With this idea at the core of our thought, we came up with the idea of organising a Creative Ganesha making competition.
Where students have the freedom to sculpt out their version of the mighty god from clay.
Sculpting from any medium, helps you develop your sense of understanding shapes, surfaces and most importantly volume.
Like all other art forms, sculpting has its own takeaways.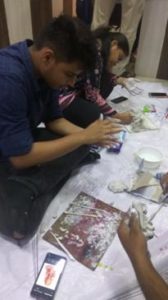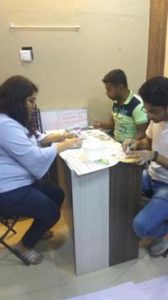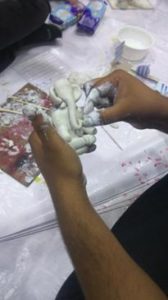 Moreover, sculpting with clay allows you to make mistakes and learn along with the flow.
Students can shape and reshape the structure they are making until they are satisfied with the resultant forms.
The choice of the type of clay was left to the students to think for.
As widely worshiped as Ganesha is, he also has many forms for his devotees, who belong to various ethnicities and topographical areas.
And so, Ganesha has embodied around thirty-two diverse forms.
The central figure of the Ganesha form has a combination of four arms, a round belly, an elephant's head instead of a human one, and sometimes it appears with one tusks broken.
Ganesha in a dancing stance is also quite popular.
Thinking of his structure from a fresh point of view is a bit difficult as well as gives you a challenge.
But since we are talking about the one who has an already peculiar form, the subject has endless possibilities.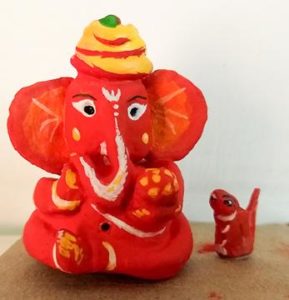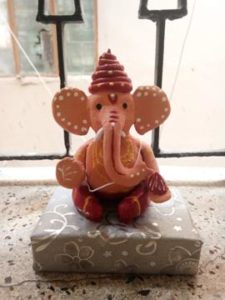 We have always been proud of our students who devote themselves to honing of their skills and even this time displayed a lot of creativity and enthusiasm.
The competition was set to be held on 12th of April, 2019.
And the students were required to create their very own Ganesha in the center premise itself.
All the students from all three of our centers MAAC Chowringhee, MAAC Rashbehari and MAAC Ultadanga had participated in the competition.
Since the morning on Friday, students from all batches across our three centers, which are collectively known as MAAC Kolkata were busy preparing the concept of their Ganesha.
Under the guidance of our learned faculty members, students always strive to give their best.
As we have time and again expressed, our students are our pride.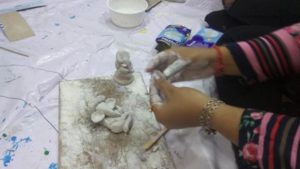 Students tried out various colours and styles for their best Ganesha idols.
One of our students Arijit Dey, came up with a vibrant combination of yellow and red to signify the auspiciousness associated with the deity.
With minimalistic design patterns, the overall rotund form of Ganesha was very pleasing to look at.
Rishiraj Banik conjured up the idol to represent the fertility of earth and how Ganesha blesses the people with good harvest and thus great year ahead.
His Ganesha had the feeling of mud with well developed forms and details.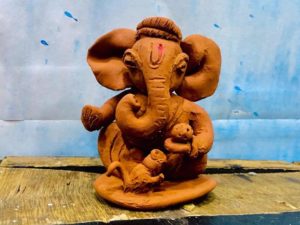 Swapnil Nag on the other hand improvised his own version of Sidhidata, as he painted the form with gold to indicate prosperity.
He worked on the form with craftsmen clay, giving it a basic coat of white, to be covered with gold once it dried up a little.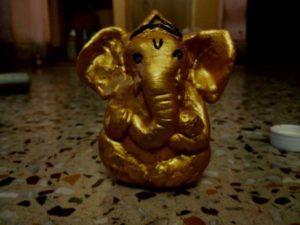 Suman Kundu also created a new form to signify celebration in all forms, the Ganesha covered in multiple colours gave off the celebratory mood of existence.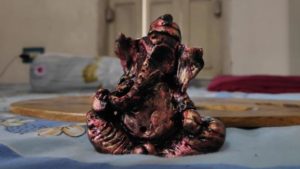 Sunil Samanta created a mini version of the Ganesha much alike his very own beloved mouse.
With colours like pink and yellow he signified he gentleness and freshness of his and also with mud colours brought out the strength he possesses.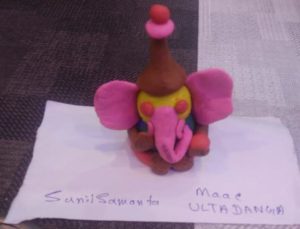 Pragya Nahata, adorned her Ganesha with shining kundan, evident of the love that is bestowed upon the deity by his followers, who worship him in a child like form.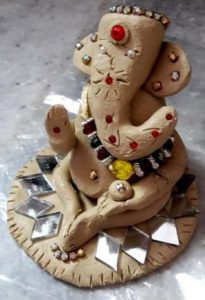 Saurav Sil, started out with a green finish for his Ganesha and adding to it he came up with a sleek minimalistic design which was as decorative as was it meaningful.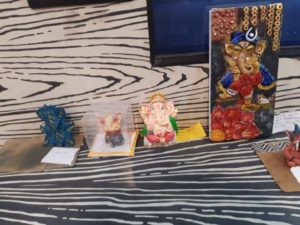 Arpita Hazra, gave a very prominent design to Ganesha, with bold colours depicting merriment and his majestic appeal.
She added a lotus in full bloom as the carrier of good fortune, prosperity and strength to stand against adversity and be victorious.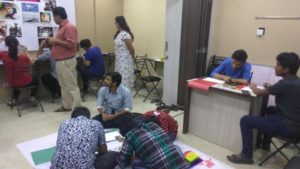 With such beautiful creations, colours, concepts, brilliant ideas and wonderful designs we sure are elated and basking in the paradise of creativity.
The Creative genius in our students is slowly but surely growing by leaps and bounds.
If you also possess such a creative streak and wish to nurture it further, please fee to drop by or get in contact with us.