If one is trying to become a freelance designer one must put oneself on the back as it is a very bold decision. A strong and confident person might take such a bold decision. Even though one might make his own schedule and make money doing by what one loves doing, one is planning the path less trolled nowadays. A freelancing career has its own set of problem and consequences. Some problem may include difficulty in finding steady client, which might affect income and lack of health benefit. 45% of freelancers make more money than those who are employed. If one has the motive one may make a successful career out of freelance designer. When this happen it might be a lot of rewarding despite a lot of challenges. Taking a leap into freelance and actually doing it are two different things. This may be scary and crippling.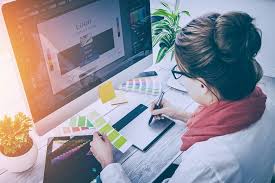 There are mainly five reasons to become a freelance designer.
It allows one to embrace creativity:  In freelance designing specially with writing editing and photography one will have the scope to be truly creative. One will have the opportunity to personally shine. This is a reason that is not available in normal jobs. Traditional desk job never gives the opportunity to encourage creativity; they never allow to show personal talent. The way personal talent may be shown in freelancing may not be so much revealed while one is working under an employer. As a designer one may be interested in designing an interesting design but one may be bound to follow the requirements set by his client or manager. As a freelance designer one may have the chance to work on it. One may work for clients to make a design work for them. In other ways one may have a very much freedom to try it and one may work for clients to just make a design fruitful to them. In other words one needs to have a lot of freedom when it comes to the point of utilizing ones creativity. Needless to say it is a great opportunity for people who love to experiment with new things.
It opens up new Avenues and Opportunities- Ones earning opportunity may be by working as a designer. By working as a freelance designer one may have the opportunity of developing one's own skill. One client may ask a designer to learn a new programming language. Other may ask one to produce copy for a site. In freelancing one may have the opportunity to grow. This is the ideal for independent and entrepreneur types.
One might set his own schedule– A freelancer may have the opportunity to choose one's own client. The amount of work one takes and the time a designer wants to invest in ones career also might be taken by the freelancer designer. One becomes the sole owner of one's own schedule. One may choose to work part time full time or something on one own will. If one needs extra money one may work extra time. If ones financial condition is going well one may enjoy more free time. In a fulltime job under any company one may have to work in specific schedule, one may work whenever one wants. This might be difficult for a person who wants to manage his time wisely and who wants to stay productive.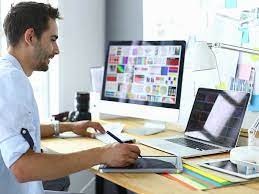 Your success is your Owns – In a designing company, a boss may keeps handing a good designer more work while the rest of the colleagues waste their time If a designer is too good in doing whatever he is doing, and the rest of the people are lazy everyone else ride on coattails to gain success. In freelancing this is not the case. Ones success is one's own. The only person who is held responsible when one fails is oneself. So if one lags behind one is going to suffer in the end and so one might also suffer financially. If one works hard and really pours his mind into something, and if he is himself, its he who will be going to get all the benefit of success. There is nothing more rewarding than success of one's own blood sweat and mind.
One get to work from home or wherever he wants– One of the first and foremost benefit of freelancing is one gets to work from home or from a place which he thinks suitable. If one is comfortable to work in office setting then one may head to a local library or rent a office. One may also choose to keep a separate space for working at his or her own home in a personal space. It keeps a designer more productive. But it is no doubt very much comfortable to be at home. This in fact helps to save the time we spend on commuting. For a woman designer it is very helpful as it helps them in taking care of their child. It helps them to save money that might be spending on crèche. It is very much helpful in case of emergency, when for some reason one need to attend his or her family.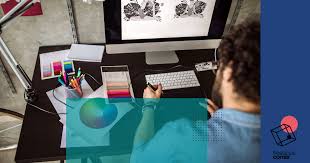 You will be your own boss– A freelance designer will not have a manager directing and him or her always, and always pressurizing him or her for work. A freelance designer will be her own boss or manager. A freelancer won't feel getting the work done according to the owner's satisfaction. One won't be spending time in useless meeting, just be pressurized by impossible target or setting target that will be changed next week. Designing is an art and web and graphic designing is not a very easy work. One need to be a creative person, as designing company is always in need of a creative person. With creativity one needs to impress others.
The demand for freelancer designer is increasing day by day because some companies prefer freelancers for their work. So the career of freelance designer is very lucrative career. So come join a course to be freelancer designer.
Maac institute located in Park Street provides courses on designing. The institute has good faculty good lab facility, it provides placement assistance. Walk in to our centre or give us a call our counsellor will get back to you.
Call us in our number , or walk in a counsellor is there to help you!
@9836321595 MAAC CHOWRINGHEE
@9836321789 MAAC RASHBEHARI
@9830390356 MAAC ULTADANGA