Today in this blog we will focus on how VFX has forced Screenwriters and Storytellers to be more imaginative.
The term VFX (Visual Effects) is not new to the movie lovers any more.
With VFX or Visual Effects filmmakers can create magic on the screen; filmmakers can give life to strange, super-powerful characters and can create stunning world with the aid of visual effects.
VFX allows filmmakers to attain difficult stunts that would be impossible to capture in the real shooting scenario. Visual Effects creates more appealing visuals for the audiences worldwide through advanced technology.
But VFX aren't restricted to blockbuster feature films; filmmakers use very sophisticated visual effects in all genre films to enhance their stories more effectively.
VFX has opened up huge possibilities for the storytellers, screenwriters and filmmakers as any character sketch, visual background and storyline is possible to develop now seamlessly.
VFX artists along with filmmakers are pushing their limits and coming up with more imaginative and mind-blowing visual contents.
Audiences around the world are getting more susceptible to Visual Effects based action-packed movies and that is why Screenwriters and Storytellers are facing challenges to come up with extremely innovative contents.
IMPACT OF VFX ON STORYTELLING AND SCRIPTING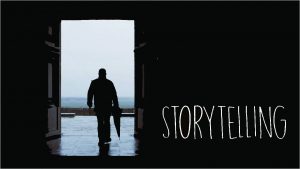 The effect of VFX technology on modern storytelling in film and television media is impressive.
The experts are suggesting that the happy amalgamation of technology and storytelling is the reason for the astonishing new content that is keeping the audiences glued.
Screenwriters and Storytellers of entertainment industry are no longer stick to traditional ways of script writing techniques. Instead, they are modifying the writing techniques according to the VFX technology.
Storytellers or Screenwriters now can prepare/build script around more complex and complicated character such as Gollum of the movie The Lord of the Rings.
Hollywood VFX Industry has gifted its audiences many ground-breaking unbelievable characters with the help of modern VFX gadgets like Motion Capture Camera, 3D Modeling devices and others.
Bollywood VFX Industry is not lagging behind. In movies like Ra.One, 2.0 and Zero we have witnessed unique characters which was not possible to create before the introduction of VFX technology.
Not only amazing Characters, Visual Effects makes unrealistic world look like real with highly-sophisticated technology.
As a result, VFX industry is pushing storytellers and screenwriters to bring new, fresh and exciting contents which will get larger than life touch on the movie screen.
Screenwriters are working on thrilling storylines and have delivered heart-winning VFX loaded Bollywood Movies in the recent times that has given jaw-dropping experiences to the audiences.
Even for the Virtual Gaming World, a lot of work goes into preparing the right advanced contents along with amazing CG environment.
VFX INDUSTRY LEADERS VIEWS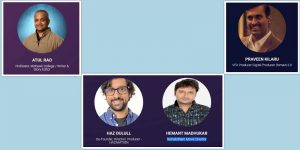 According to VFX industry leaders like Haz Dulull, the Director/ Producer of Hazimation, Nishabdham, Movie Director Hemant Madhukar, Professor Atul Rao of Mohawk College and VFX Producer Praveen Kilaru of Digital Domain 3.0
"With the advent of OTT Platforms and Technological Innovations Storytelling has changed"."Storytelling has improved a lot in terms of craft. The bar is high for visual and storytelling; today's content has to be engaging and visually appealing" said Professor Atul Rao.

Professor Atul Rao who is known for Marvel Animation Series Wolverine and the X-Men further says that "VFX has forced Screenwriters and Storytellers to be more imaginative".

Giving weightage on the importance of storytelling Professor Atul Rao added that "when I see a film with beautiful special effects and bad script, it breaks my heart. I feel that a lot of good things could have been done with the money spent."

Focussing on how technology has aided Marvel Films, Director of Hazimation Mr. Haz Dulull pointed that "The entire Multiverse of Marvel, Animation with Live-Action all were scripted in the writers' room. This level of Marvel's Universe building was quite impossible in 90s or 80s". Because of technology and as we can visualize things quicker; developing huge complex content is less difficult now.

Mr. Haz Dulull further said that "Netflix Show Squid Games did really well because people haven't seen anything like that before; people are taking more risk now".

About drama series Squid Games, VFX Producer Praveen Kilaru added that "Even if we keep aside the VFX; just the way of Storytelling is very engaging, new and very modern way of telling a story".
As VFX offers huge scope hence filmmakers can fix or manipulate visuals at the post-production stage.
Director Haz Dulull pointed that "Visual Effects or VFX should be utilised as an extension of the creative process and a certain level of education is required to highlight this creative process".
When VFX artist works closely with the Filmmaker then both of them together take the story of the movie to a different level.Budget regarding VFX has great role in film industry.
Increasing demand for virtual production has convinced the filmmakers to finance the VFX or Visual Effects in advance.
Filmmaker like S. S. Rajamouli from South Indian Film Industry invests 2-3 years in making one film. But young filmmakers generally write a script and then think about adding VFX in later post-production stage depending on the budget.
Director Hemant Madhukar feels that "there is a lack of awareness about how to utilize visual effects at the right budget".
Therefore, correct budgeting and proper implementation of VFX is mandatory along with the necessity of good story and screenplay.
VFX technology bridges the gaps in the whole filmmaking process. Hence Screenwriters must know or learn to get benefit from this superlative technology to make the movie visually appealing for the audiences.
STUDY VFX WITH MAAC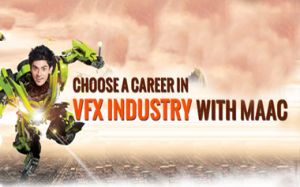 MAAC Institute in Kolkata is one of the best institutes for VFX Courses.
MAAC Academic Courses are verified and approved from the recognised educational institutes and they are taught by industry professionals under the roof with modern infrastructures.
ADVFX Plus and VFX Plus Course has vast content from Pre-production, Storyboarding, Advance Compositing, Camera Tracking, Realistic Digital Environment, Fluid Simulation to VFX Case Studies.
Aspiring candidate can get thorough knowledge about every aspect of VFX technology under MAAC Institution.
Contact us to explore your career into Digital world.
Call For Expert Advise Connect to Your nearest MAAC Center in Kolkata.
@9836321595 MAAC CHOWRINGHEE
@9836321789 MAAC RASHBEHARI
@9830390356 MAAC ULTADANGA