Today in this blog we will discuss about recent launching of Sony Yay!'s very popular animated show Taarak Mehta Kka Chhota Chashmah which is based on the original series.
The popular Hindi sitcom Taarak Mehta Ka Ooltah Chashmah created by Asit Kumarr Modi has made us laugh over the years since its launch in the year 2008.
The original Taarak Mehta Ka Ooltah Chashmah series is based on weekly column "Duniya Ne Undha Chasma" by the columnist Taarak Mehta.
Sony Yay! Channel is aimed at children and operated by Sony Pictures Networks India; it launched Taarak Mehta Kka Chhota Chashmah the animated show version on 19th April 2021.
Based on the popularity of other Indian Cartoon Programmes like Chhota Bheem and Motu Patlu Sony Yay! Channel decided to start Taarak Mehta Kka Chhota Chashmah to mark Channel's Fourth Anniversary.
Popularity of home-grown animated content is taking the place of foreign anime like Shinchan or Doraemon.
The purpose of this new animated show is to entertain both parents and kids during Covid lockdowns.
Lets Understand The USP of Animated Show:-
HILARIOUS CHARACTERS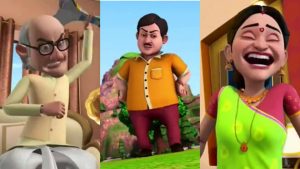 As an audience you can find all the original characters in the form of cartoons in the animated version of Taarak Mehta Kka Chhota Chashmah.
This show airs on the Sony Yay! Channel throughout the weekdays from Monday to Friday at 11:30 a.m.
Daya Jethalal Gada or Dayaben and Tipendra or Tapu are in the lead role along with Jethalal Champaklal Gada and Dadaji.
Comical figure Bapuji and Jethalal will keep the kids on the edge of their seats as they will witness more hilarious dramas and actions.
Colourful and bright 3D animated characters of this series are purely made for entertaining purpose of young fans.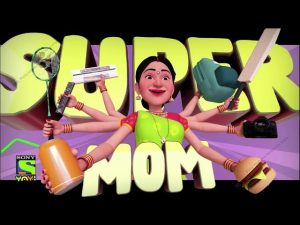 Dayaben's journey from Simple Mom to Super Mom is quite interesting, she is lively, cheerful, multi-tasker and well-liked in Gokuldham Society.
Like the original version this animated version also focuses on Jethalal Gada's family and his neighbours from different background and culture who lives in harmony instead of turmoil and conflicts.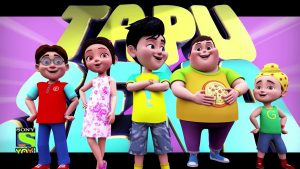 Tapu along with his four friends get involve in adventurous and mischievous activities in daily life.
Tapu Sena's members like Gogi, Sonu, Goli and Pinku are best friends and help each other during crisis.
Along with these characters Taarak Mehta Kka Chhota Chashmah have Taarak Mehta, Aatmaram Bhide, Babita Iyer, Dr. Hathi, Roshan Sodhi and others as similar as in the original version.
Voice-over of this animated series has been done by different voice artists except Bapuji's voice which has been dubbed by original character Amit Bhatt himself.
The accent and style of dialogue delivery is very impressive especially Dayaben's Gujrati accent is heart-touching.
Here in this new universe of comedy the iconic characters are teamed up to create endless fantastical adventures.
NEW EPISODES WITH A TWIST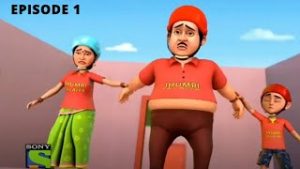 Storyteling technique of the episodes are not exactly same as in the original version.
In the 1st Episode Gada Family participates in the game show called Takeshi's Castle.
Jethalal tries to win the game show with the encouragement of his wife Daya and son Tapu.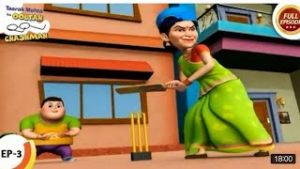 Second Episode is all about a Fan from Mr. Iyer's laboratory which makes every member of the Gokuldham Society float on the sky .
Episode 3 is about Dayaben who participates in the cricket match with the children of the society and creates havoc all around her.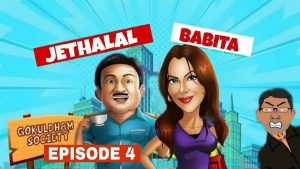 Episode 4 will give you the taste of comedy in between Babitaji and Jethalal.
All episodes have something new to offer through funny and gripping story board and the title track of Taarak Mehta Kka Chhota Chashmah narrates amusing behaviour of the characters.
RATED AS TOP SHOW IN 2021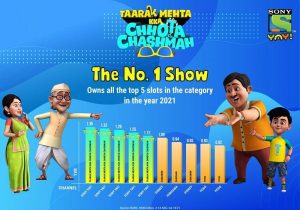 Animated Taarak Mehta Kka Chhota Chashmah is the Sony Yay!'s biggest offering of 2021.
It has already secured top five slots on the BARC (Broadcast Audience Research Council) rating charts.
This is the most loved show in the kids' genre and it is ruling the heart and screen across the country in this year and Sony Yay! Channel is giving tough competition with other cartoon channels like Pogo, Disney, Hungama and Nick.
The show has achieved slot leader position in original and repeat time bands by gaining 16.5 per cent slot share growth in original time band and 9.7 per cent slot share in the repeat time band.
The makers have tried to capture the best moments from the original sitcom show Taarak Mehta Ka Ooltah Chashmah which has completed more than 3,000 episodes till now.
Fresh, Innovative and Light-Hearted Contents of this programme has made it demandable among young viewers.
FROM THE PERSPECTIVE OF THE MAKERS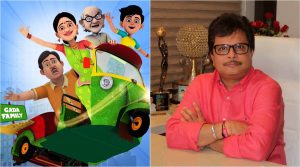 Mr. Asit Kumarr Modi Director of Neela Tele Films Private Limited always wanted to make this animated version of the show and Taarak Mehta Kka Chhota Chashmah has been jointly executed by Neela TeleFilms and Sony Pictures Networks India.
Mr. Asit Kumarr Modi's team handled the creative storyline in well- crafted manner so that it can reach out to all age group.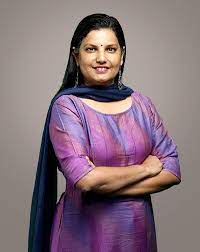 According to Ms. Leela Lele Dutta Business Head –Kids-Sony Pictures Network Limited "With the animated version the challenges are different"; the makers had to work on retaining the authenticity of the characters while making it enjoyable.
Animated Taarak Mehta Kka Chhota Chashmah has already reached out to 22.7 per cent of children's population in India which is a big leap when compared to the other top shows in the kid's category.
Ms. Leela Lele Dutta informed that many advertisers are showing interest in this animated series and brand Colgate has already associated itself as Title sponsor.
Makers of Taarak Mehta Kka Chhota Chashmah hope that this show will also receive same love and affection as the live-action series Taarak Mehta Ka Ooltah Chashmah.
Hence we saw animated series based on live-action show are gaining viewership as both young and old are watching the television together in this lockdown.
MAAC is one of the renowned Animation Institutes in Kolkata where every year hundreds of students get enrolled to gather in-depth knowledge and career in animation.
Every student learns here to make short animation film for their project assignment which helps them to get job in future.
Come and join MAAC to know more on Animation. Call For Expert Advise @9836321595