Hello, Today in this blog we will take you to the fun-filled tour of cartoon character Chhota Bheem from Television Channel to Commercial products.
Chhota Bheem is an animated comedy television series created by Rajiv Chilaka.
It was premiered in 2008 on Pogo TV.
Chhota Bheem is inspired by the legendary Bheem from the Mahabharata and it's an original co-production between Turner International India and Hyderabad-based Green Gold Animation Studios.
Pogo channel's cartoon series Chhota Bheem focuses on adventures of a boy named Bheem (wearing orange colour Dhoti) and his friends in the fictional kingdom of Dholakpur.
Bheem and his friends Chutki, Raju, Jaggu, Kalia and Dholu-Bholu are usually involved in protecting Raja Indravarma (king of Dholakpur) and his kingdom from evil forces.
Chhota Bheem is one of the most popular, entertaining cartoon animated series for children in India.
Chhota Bheem won the Best Animated TV Series award at the Golden Cursor Awards 2009 held in Mumbai, India.
Chhota Bheem In The Advertisement of Savlon, Dettol, Parle-G and Kellogg.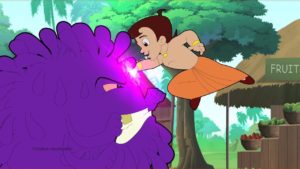 Chhota Bheem character has become a phenomenon in India and it is Kid's favourite cartoon character.
Bheem is fun-loving adventurous boy, gifted with extraordinary superhuman strength.
In the advertisement of Savlon Fresh plus Protect Soap from ITC, Bheem fights with the purple Germ.
When the villagers of Dholakpur feel uneasy by the bad smell of the germ at that time Bheem appears and gives a strong punch of Savlon on the face of Purple Germ.
With the slogan "Ab Germs Nahi, Freshness Failega" (No Germs only Freshness)Bheem kills the purple germ.
In Savlon Handwash 10 second advertisement, Chhota Bheem along with Jaggu and Chutki fights with Germs, as the slogan says "Savlon protects from 1 million germs".

Kids love to see their favourite cartoon character in the advertisements.
Theme of Chhota Bheem is very much universal and is being liked by all kids irrespective of their religion and region.
As health and hygiene is much important issue, kids need to be educated regarding cleanliness.
When Chhota Bheem fights and kills the evil that brings joy and fun within children.
Children are quick learners, when it comes to teach any good habits to children Audio/Video medium plays a great role.
Through colourful illustrations, music and animated figure message can easily be delivered to the young kids.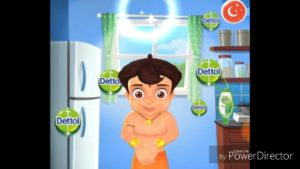 Brand Dettol was also keen to run a campaign to reach out to kids and educate them about the importance of hand wash and hygiene.
Dettol did not want kids to watch a simple video; they wanted to engage the user.
GreedyGame Media offered a solution which allowed Dettol to push the product functionality at real life incidents.
Dettol reached out to kids through mobile games.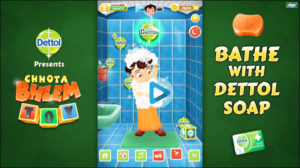 Dettol joined hands with GreedyGame, an in-game native advertising platform and Nazara Games, one of the largest mobile game publisher in India.
Dettol with GreedyGame and Nazara launched hygiene products hand wash and hand sanitizer.
Dettol's campaign was successful in building a strong brand affinity.
In 30 days campaign, 1.7 million unique users were reached and the jingle was played around 131 million times.
Dettol team along with Nazara Games created 3 games Chhota Bheem –The Hero, Chhota Bheem-Jungle Run and Chhota Bheem-The Race.
In the Mobile Game Chhota Bheem –The Hero, Dettol Power was initiated, by accumulating the brand logo, the player would turn resistant to attacks by germs and ugly creatures for a couple of seconds.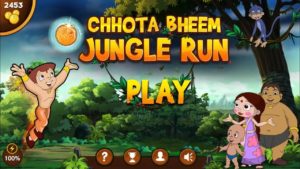 In Chhota Bheem –Jungle Run, the theme song was played each time Bheem would have needed to sanitize his hands when he was attacked by a monster or when he was fell down.
It showed Bheem using Dettol sanitizer to clean his hands.
This game also shows Bheem collecting Laddoos which is his favourite food.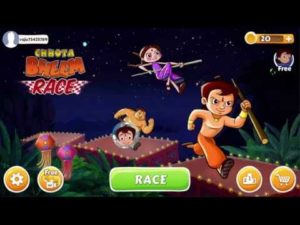 In Chhota Bheem-The Race, has Dettol power ups which give Bheem super powers to run faster and attack opponents.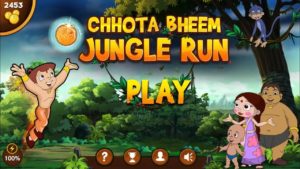 Nazara Technologies previously integrated Dabur Real Juice with its game Chhota Bheem.
As Manish Agarwal CEO, Nazara Technologies says Mobile gaming platform is a medium that is highly interactive, one can create own brand proposition in a very non-intrusive contextual manner.
Nazara Technologies has 12 million monthly active users out of which 8 million are kids.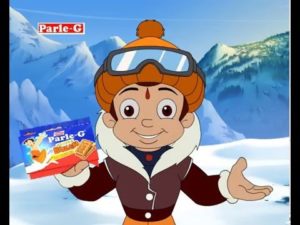 Chhota Bheem Himalayan Adventure –Parle G Ad shows Bheem along with his friend climbing the mountains and when Kalia says that it is impossible to climb anymore, Bheem takes out Parle G biscuits and says everything is possible with Parle G.
This advertisement was made for the publicity of the movie Chhota Bheem Himalayan Adventure (2016).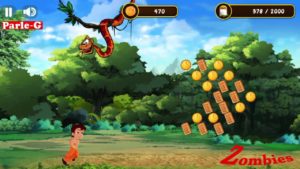 Nazara Games also launched Parle-G biscuits in the Jungle Run Games.
In this game Chhota Bheem's Laddoos had been replaced by Parle-G biscuits and when the player wins the game a special jingle is being played.
The idea of introducing Parle-G biscuits along with Laddoos provided consumer to interact in an interesting way.
According to the report around 1.2 billion virtual Parle-G Biscuits were consumed on the Chhota Bheem Mobile Game.
The brand's tune or song is being played as jingle in these games.
Chhota Bheem Mobile Games has been experienced by over 3.4 million gamers since its launch in November 2015.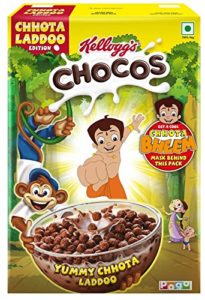 Kellogg also signed unique promotion deal with Chhota Bheem TV series.
This advertisement shows Chhota Bheem in the Chocoland which is surrounded with river of milk, chocolaty waterfall and volcano.
There is a character Coco, the Kellogg Mascot.
In Rs 800 Crore organised Indian breakfast cereal market, Kellogg holds a more than 60% share and the competition is tough as companies such as GlaxosmithKline and others push products oats, Muesli etc.
Kellogg is also promoting its product in a unique way to give better experience to the children.
Therefore here we got to know how children's favourite character Chhota Bheem has come out of the television box and reached to the breakfast table.
Our MAAC Institute offers Courses on 2D–3D Animation, VFX and Designing.
If you want to be a part of such magnanimous then join us and pursue your career in Multimedia.