Hello Viewers, today in this blog we will discuss about mobile gaming app based on Hindi movie that turned popular in mobile App Stores.
Here we will focus mainly on Krrish 3, Dhoom 3, Chennai Express and Race 2 Hindi movie based Indian smartphone games of this year.
Every day hundred of games are uploaded to the different app stores.
But exciting and interesting games only sustains in the market.
Every year millions of smartphones are being sold in India and the gaming is very popular in smartphones after Facebook and WhatsApp.
People play games and download games at every second; about million of games are downloaded every month.
Keeping in mind the ratio of younger generation Indian game developers are building games around Bollywood films and actors to attract the number of users.
Here are Popular Mobile Gaming App
Krrish 3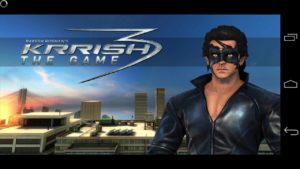 Bollywood blockbusters are growing rapidly in the world of mobile phone gaming.
Super hero Krishna fights with the villain Kaya and other mutants not only on the big screen but on thousands of smartphones.
Krrish 3 game made for Android and Apple app stores received over 2 million downloads globally immediate after its launch.
Bollywood Games in India plays a major source of income.
Gaming has become another platform for the Bollywood industry to earn money as well as promoting their movies.
Now days major banner movies promote their movies by releasing game either on the console, PC or mobile platform.
Managing Director and CEO of Hungama Digital Media Entertainment Neeraj Roy say that "Games based on Bollywood movies have started to pick up the speed because of affordable smartphones".
Hungama Digital Media Entertainment has created the Krrish 3 game in partnership with Gameshastra.
As gamers are exposed to high-quality international games, they expect the same quality of service from Indian games also which resulted in the increase in the cost of Indian games compared to few years back.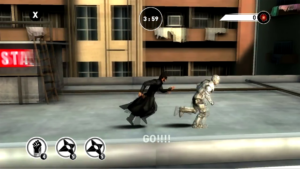 This Krrish 3 game puts the gamers behind the superhero's mask as they battle with the enemies.
The player can choose between four characters such as Krrish, Kaya, Kaal and Frogman.
The objective of the game is to win a race in the minimum possible time by crossing the obstacles, leaping buildings in Mumbai while battling with enemies.
Beside the game, the makers have also provided the wallpapers and Krrish 3 augmented reality mask.
By wearing the Krrish mask the user can take the pictures and share it with friends.
This game is free and available on iOS, Android and Window Phones.
The game play is very similar to Mortal Kombat video game.
Dhoom 3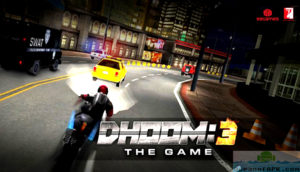 The most attractive factor about these Bollywood games is that Indians can identify with these games characters.
Mobile gaming from abroad don't have storyline that are relevant to India.
In India there are millions of Android and iPhones users who spend an average 15 minutes a day on gaming.
Bollywood is the only source of heroes and villains and it holds for nearly 15% of the Rs 1,500 crore gaming business in the country according to the recent KPMG-FICCI report.
This Dhoom 3 game allows the user to take the role of an anti-hero originally played by Aamir Khan in the movie.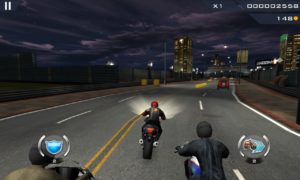 Dhoom 3 is basically a racing game where one can zoom through the streets of Chicago.
It's about a thief evading cops using his skills and it follows the storyline of the movie.
The game has power controls and can be played with simple tilt and tap from the phone.
This game is about an endless bike ride and very similar to the popular Temple Run.
Like most game one can use the in-game currency to buy cool stuff from the in-game store.
The cost of a quality game is very high; Dhoom 3 game cost nearly 40 lakh to develop.
Mobile games are like marketing tools for the animation studios.
The graphic quality decides the cost of a mobile game, to develop a mobile gaming app the cost may vary from 5 to 20 lakh said Sameer Ganapathy, Chief operating officer-digital at Disney UTV.
Chennai Express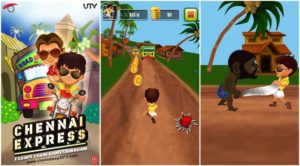 The managing director of Nielson India Mr. Prashant Singh said that "Companies makes the publicities for the movies by launching games just before the release of the films".
Chennai Express is another very popular mobile game in India.
It is a running mobile game where one has to overcome obstacles to win points.
Mobile gaming app  Chennai Express is based on Shah Rukh Khan featured movie and it became immediate hit after its release.
One can download this comedy filled game free of cost.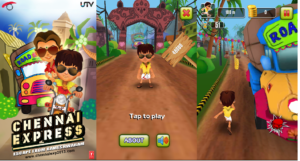 Chennai Express game has unique Indian flavor where one can take the role of Rahul and Meena two protagonists from the original movie and get involve in colorful and exciting running adventure.
This game has obstacles like trucks, buses, cars, coconut, manholes, carts etc.
In this game the army of enemies will drop from the helicopters.
According to UTV Chennai Express received 3 million downloads across all platforms immediately after its release.
Generally filmmakers license their titles and characters to the game enthusiast on a revenue-sharing basis.
Bollywood games usually follow the format of popular American endless games.
Race 2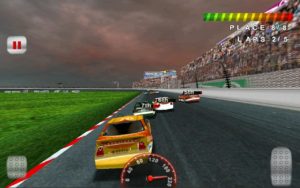 This Race 2 game is a fast paced car racing game based on thriller movie Race 2.
One can take part in dangerous races which will check not only the skill of driving but also the strength of mind.
This game puts one in race against Armaan Malik (John Abraham) but who will win is totally depends upon how one will drive.
By following the cars one can get nitro boost to drive past cars and a protective shield to make one unbeatable.
This game also received millions of downloads in smartphones.
One can download it free without any payment.
Mobile Gaming companies are involved in making more games based on the popular Bollywood movies.
Interesting and Thrilling plots of Bollywood movies will attract the game developers in the near future too.
Interested about Gaming Industry? Then get in touch with us amazing course on gaming.