The Computer and video game Industry has grown in the past few years.
Not only children and teenagers, Adults also play video games now days.
Anyone can download games on their phone, tablet or laptop anywhere in the world and can fill their time with fun and entertainment.
With the arrival of Smart-phones, people of the remote villages can download games to play. Gaming Industry in India cost over $300 million and becoming world's leading market in gaming sector.
Gaming Industry is growing very fast globally and is offering many openings to the game enthusiasts.
Lakshya Digital is the largest Game Art, Animation and VFX service provider in India with development studios in Gurgaon, Pune and Seattle.
Let's have a look on the opportunities that a game enthusiast can choose: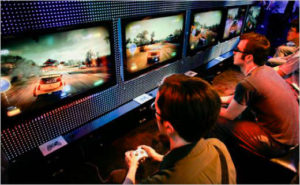 Game Tester
Before launching the final version of the video game to the market, a Game Tester properly tests the Video game.
A Game Tester receives a version of game that is close to its final stages.
They must play the game a number of times in order to detect bugs or defects within the game.
It's necessary to check the quality before launching the games in the market.
Game developers depend upon highly technical and game savvy testers to find glitches and bugs in programming code or graphic layers.
Game Testers gain experience by playing variety of different games on huge platform.
Testers will play games on Xbox, Play-station, Nintendo Wii and PC platform.
Some genres of games are Massive-multi-player online games, action games and learning games that a Tester must play and check.
Tester must use all the menus to confirm game is working correctly and take the player to the correct stage in the game. A Tester must play each and every steps of a game from Start to Finish.
Game Testing is a full-time job for experienced testers but many employers are hired as temporary staffs such as Beta Testers.
If the Game Tester finds any problem in the game, they write a description of it to the programmers, Testers may have to test the revised editions of the game in order to create a stable version.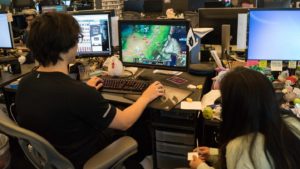 Game Designer
A Game Designer plays an important role in Imaging and creating Video Game World.
They create Game stories, Characters, Rules, Dialogue and Environments for different types of war game, casino game, card game and other.
The Game Designer works with Game Artist and Game Programmer to decide play sequence, player actions and how the game is going to start and end.
A Game Designer invents Game's concept, mechanism, theme and its rules.
Designing Games is a dream job for many Game lovers and video game industry is offering an enjoyable work environments and high salaries.
A Game Designer comes from the field of Computer Science and Programming, Creative Writing and Graphic Design.
The Game Designer may write code using various Computer Programming Languages like HTML 5.
A Game Designer must have the capability to organise, must have attention to details, clear writing and communication skills and knowledge of computer science.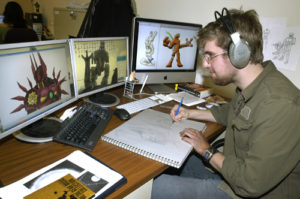 Game Artist
Artist who creates art for one or more types of games are the Game Artist.
Game Artists are responsible for Game Development and Visual art.
From Pencil drawings to ink illustrations or oil paintings or 3D models all are created with a computer.
Along with artistic ability one also need to be skilled in the use of digital tools like Maya, Max, Photoshop, ZBrush etc.
The Game Artist creates 2D art, environment backdrops, colours, texture, clothing, 3D art, models, animations and level layout. Their salary depends upon experience, talent and region.
They make artwork for packages, promotional materials and websites too.
Gaming Companies look for game artist who display exceptional style, talent and creativity.
Working in a big company provides more focussed and specialised work for the artist.
The Game artist must be up-to-date of the latest technologies. They must play Top International games and should be familiar with the International Pop Culture.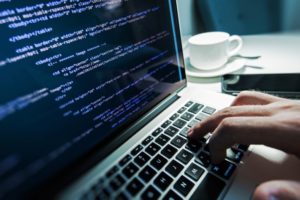 Game Programmer
A Game Programmer works in collaboration with Game Designer and Game Artist.
They write and code software for video games.
The Game engine programmers create the base engine of the game. A Programmer has to work on the Graphics, Artificial Intelligence advance physic aspect of a game.
For game like "World of Warcraft" one programmer is sufficient but a complex combat game like "Battlefield 1942" need team of programmers.
3D graphics programmer should have control over mathematical concepts such as Vector and Matrix Math, Quaternions and Linear Algebra.
User Interfaces programming allows scripting and special effects like transparency and animation.
An Artificial Intelligence is the most challenging aspects of Game Programming. It helps to programme Path-finding, Game plan and Enemy -tactic systems. Game like "Civilization III" uses Artificial Intelligence heavily but Puzzle Game does not use it.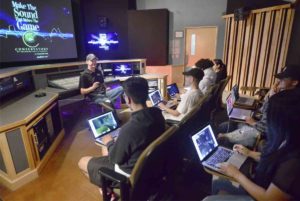 Audio Design Engineer
A Video Game Audio Design Engineer helps to add appropriate dialogues, music and sound effects in a Video Game.
The Audio engineer helps to add realism in-game world with sounds. Each and every game has its own Reality and Identity.
An Audio Engineer understands and add ups the game's essence in the audio they produce.
He or She creates the sound effects to support the game's action, provides necessary ambient audio and work on the character's voice, in this process sound recording and mixing takes place.
The Audio Engineer can take the auditions for the voice of actors and then modification of voice can be done over recording and editing to get the right style and tone out of the actors.
From the beginning to the final product, a Game's sound engineer plays an important role along with Visual designers.
An Audio Engineer needs to communicate with the Game Designers to evaluate the game and the type of Audio requirement.
Sound Engineers search the SFX Libraries for source material.
They need to have knowledge about Audio equipments and Audio software to process effects.
Waiting for what, take the quick decission and call us for expert counseling which career in gaming will suit you only @ 9836321595.