Today we will tell you about the stars of MAAC Chowringhee /Rashbehari/Ultadanga @ MAAC Kolkata who shine in Avengers: Endgame Movie.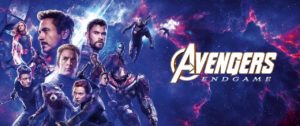 As we all know that Avengers: Endgame is a 2019 movie based on Marvel Comics superhero team Avengers and became the highest-grossing superhero film.
Here we will tell you how four brilliant students of MAAC Chowringhee /Rashbehari/Ultadanga have successfully earned their name in the credit list of Avengers: Endgame.
And those four students are Abhishek Ghorui, Nilesh Baid, Abhishek Bose and Ravi Kumar Tanty.
Let's look at the effort and journey of each of these students so far.
Abhishek Ghorui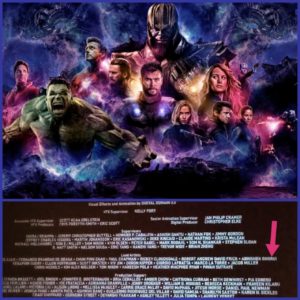 Abhishek Ghorui is one of the shining stars of MAAC Chowringhee who takes the credit for the VFX work of the movie Avengers: Endgame along with others.
Abhishek Ghorui was an ex-student of MAAC Chowringhee from the year 2009-2010.
As a MAAC student Abhishek was enrolled to ADVFX course.
Currently he is a Lead VFX Artist at famous Studio Digital Domain.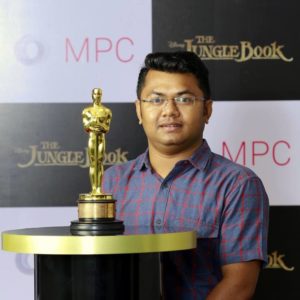 Before joining Digital Domain Abhishek Ghorui worked at award winning visual effect company MPC (Moving Picture Company) where he and his team delivered amazing VFX for the movie The Jungle Book and Life of Pi.
Avengers: Endgame movie has many CG (Computer Generated) characters, CG environments, CG modeling, CG lighting effects and compositing.
At Digital Domain VFX artist Abhishek and his team worked on Thanos and the other CG characters.
Digital Domain delivered a good amount of VFX shots in the movie Avengers: Endgame.
We at MAAC Chowringhee feeling proud of Abhishek Ghorui and we wish to see him more with such credits in future.
Nilesh Baid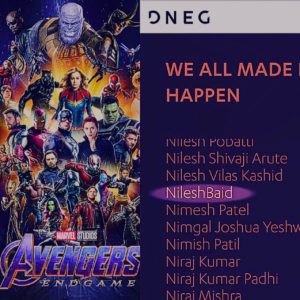 VFX played a big role in the making of this blockbuster movie Avengers: Endgame.
This movie has a huge list of credits for the VFX artist.
And among those many names you will find the name of Nilesh Baid who is also a shining star of MAAC Kolkata.
Nilesh Baid was an ex-student of MAAC Ultadanga Centre.
He completed the VFX Plus course from Ultadanga Centre between the years 2015-2016.
Currently Nilesh is working at DNEG Studio as a VFX Paint Lead Artist.
DNEG is a Visual Effect Company founded in 1998 with head office in London.
At DNEG or Double Negative Studio Nilesh has worked in Hollywood blockbusters like Avengers: Infinity Wars, Deadpool, Ant-Man and very recent one Avengers: Endgame.
As a VFX artist Nilesh's responsibility was to make the VFX shots stunning.
Avengers: Endgame movie carried lot of excellent VFX effects and there is no doubt that to create a movie with so much of VFX effects need good amount of man power.
In the VFX industry, Paint artist does the in-depth minute detail work on the visual contents.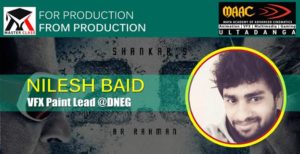 As a VFX artist in the film Avengers: Endgame Nilesh Baid and his team had the responsibility to remove unwanted elements from the scenes and to add something interesting elements within the scenes.
They worked on the removal of tracking markers, camera rigs, safety equipments etc from the scenes.
Avengers: Endgame had 3D generated visuals where Nilesh and the team did matte painting and added effects with the help of VFX software.
Nilesh's name in the credit list of Avengers: Endgame has made proud to all the MAAC Chowringhee /Rashbehari/Ultadanga students as Nilesh Baid belongs to this city of Joy.
Abhishek Bose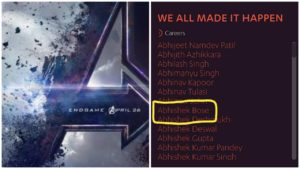 The second name in the credit list of Avengers: Endgame is Abhishek Bose.
Abhishek was a bright ex-student of MAAC Chowringhee Centre.
He studied ADVFX Course at this MAAC Chowringhee Centre and completed his course in the year 2018.
Under ADVFX course Abhishek learned about different aspects of VFX techniques.
In-depth training at this MAAC Kolkata Centre made Abhishek Bose a skilled Roto Artist at Double Negative Studio (DNEG).
DNEG Studio helped him to evolve as a better artist.
As a successful Roto Artist; Abhishek has worked in many Hollywood movies along with Avengers: Endgame.
Rotoscope is an important part of VFX where the artist can change the background of a visual without altering the foreground or vice-versa.
In Avengers: Endgame Abhishek and his team member's task were to place Tony Stark or Iron Man in the digital environment with CG characters.
Abhishek's name in the movie credit list will give strength to the MAAC Kolkata students to dare to dream as nothing is impossible to achieve.
MAAC Kolkata teaches its students with extra care and love so that they can shine in future wherever they go.
MAAC Chowringhee is feeling proud for Abhishek Bose and wishing him all the best for future.
Ravi Kumar Tanty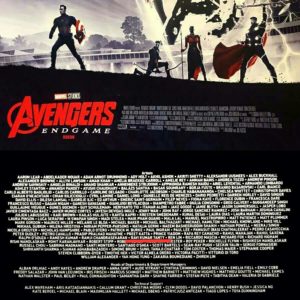 From the above picture of big credit list of Avengers: Endgame; you can understand the amount of VFX work that has been handled by the large team of artist.
Ravi Kumar Tanty is one of them who worked with other VFX artists from other VFX Studios.
It feels wonderful when we see the name of Ravi among many VFX artists of the movie.
Ravi is currently working at DNEG as a Senior Paint Artist.
Ravi Kumar completed his ADVFX or Advanced Program in Visual Effects Plus at MAAC Ultadanga Centre in the year 2015-2016.
With the other VFX artists Ravi Kumar worked on this movie's matte painting, texturing, grooming, lighting and other effects.
Other than DNEG Visual Effects for Avengers: Endgame was created by studios like  ILM, Weta Digital, Framestore, Cinesite, Digital Domain, Rise, Lola VFX, Technicolor VFX, Territory Studio, Capital T and Cantina Creative.
All these studios worked together to deliver 3,000 visual effects shots in the film.
We are happy to see our shining star Ravi Kumar Tanty among those excellent VFX artists who did incredibly painstaking VFX work for this movie.
It is a moment of joy and celebration for us.
MAAC Kolkata is feeling proud for all the four shinning stars of MAAC Kolkata Centres.
We are very much sure that MAAC students will create history wherever they will go.
Very big congratulations to VFX team artists of Avengers: Endgame.
Dear aspirant if you dare to dream big then join our MAAC Chowringhee /Rashbehari/Ultadanga.