Maac Chowringhee, Rashbehari, Kankurgachi has been the oldest and pioneer training institutes in the heart of Kolkata for Animation, Visual Effect, Multimedia, Gaming,
This more than 15 year old institute is all its way to take an initiative to bring back old Maacits.
Maac Chowringhee wholeheartedly invites all its old students in the upcoming gathering called BACK TO MAAC.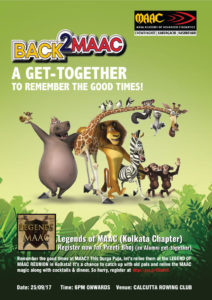 An exclusive initiative by Director Mr. Naveen Choudhary making its old alumni met first time ever in the history of Maac Kolkata.
Holding over 2000 plus pass-outs from its different centres Maac Chowringhee Maac Rashbehari and Maac Kankurgachi we are here to witness a gala event.
This initiative is taken to strengthen and showcase the rigorous training imparted by the institute to all its students so that they can become a part of huge animation, vfx, gaming, and multimedia industry.
Institute happens to be the Best Animation, VFX, Graphic Design, and Web-design Training Institute in Kolkata offers quality education using state-of-the-art Infrastructure.
Our Research & Development team consisting of industry professionals, or experts who prepare the detailed curriculum for each course to provide our students a solid foundation for learning.
As a part of this endeavour, hi-tech labs with wi-fi enabled campus act as ideal training ground for budding professionals that allow them to experiment and practice to enhance their skill sets.
The Academy conducts faculty training programs to ensure high standards of teaching in the classroom.
Centre faculties are regularly exposed to all sorts of industry updates which help to sharpen their creative and technical skills.
At every centres' of our we use high-end computers, Wacom tablets & other equipment to train students.
The infrastructure is similar to that used in the global Animation & VFX industry.
This helps create an 'on-the- job' environment in the class. As a result, our students often win many Awards for the films they create.
We also specialize in Web Designing Courses and Graphic Designing Courses.
The said courses are best for students who are willing to join IT Industry but have no professional degrees.
Our Web and Graphic Designing Training Course has been designed keeping in mind the current Industry and Technological requirements.
MAAC Chowringhee, MAAC Rashbehari and MAAC Kankurganchi are surely the best web designing, vfx, 3d, 2d animation, gaming and multimedia institute in Kolkata.
The event will be held at CRC Calcutta Rowing Club on 25th September from 6.00PM onwards.
All excited!!!
What are you waiting for Maacits?  Come and join us and make the event rocking with all your presence.