No 1 MAAC institute is located in the Heart of the city of Kolkata. The name that comes to our mind  when we speak about the Best 3d animation and visual effect , gaming  graphic and web design  training institute is no other institute only MAAC Chowringhee. MAAC Chowringhee has high end experienced training team who has expertise in 3d and 2d animation, VFX, gaming, graphic  and web design courses. MAAC Chowringhee helps to enhance our skill and helps one to build a good career ahead. With 100 percent placement assistance and high end industry standard curriculum one will make ready to become carrer oriented.
MAAC is very much proud to introduce oneself as one of the best and oldest MAAC centre in Eastern India. One is proud to become a part of the best and oldest MAAC centre in Eastern India . MAAC Chowringhee is  apart of MAAC family since its  inception in Kolkata . One have three branches  in Kolkata Maac Chowringhee, MAAC Rashbehari,Maac Ultadanga. The other branch is in Delhi. With more than 3000 students taught  and over 1000placed, MAAC one of the leading  3d animation institute in Kolkata and India too.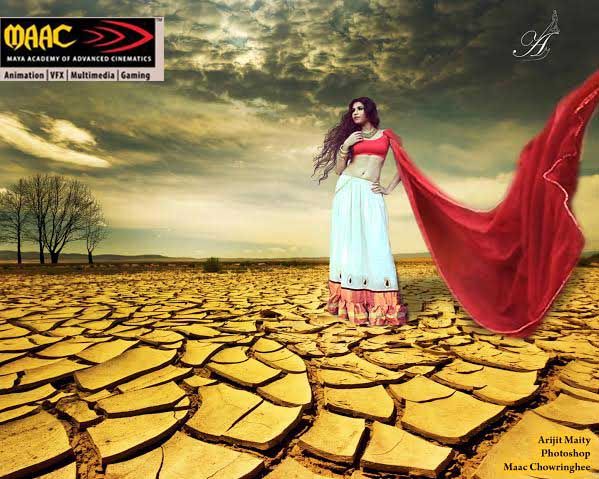 Maya Academy of Advanced cinematics  which is the best animation institute in Kolkata  was started in the year  2001 and within a span of 12 years has established 84 academic centre in different parts of India. The dedicated research and development team consists of industry professionals . The team is responsible for planning a detailed curriculum for each course. The Academy conducts faculty training programme to ensure high standards of teaching in classroom. MAAC institute is regularly exposed to all sorts of industry updates which helps  them to sharpen their creative and technical skill. At every centres high end computer , Wacom Tablets  and other equipments are used to train students.
Wacom Tablets are used  to train students. The infrastructure is similar to that what is used in global Animation and VFX industry. This helps  MAAC to create on the job environment in class. Students win many awards for the film they create. One specializes in web-designing courses and graphic designing courses. The provided courses are the best courses that are provided for students  who are willing to join IT industry and no professional degree. The web designing course is designed keeping in mind the IT students who are willing to join the IT industry but actually doesn't have any professional degree. The web and graphic designing training course  has been well designed keeping in view the current industry and technological requirement.
MAAC Chowringhee, MAAC Rashbehari and MAAC Ultadanga  are the best  web designing institutes in Kolkata . The number of people who  are planning to design their website  day by day ,the requirement  for web designers and graphic designers  are increasing day by day. So there is a great scope for web designers and graphic designers. There is a huge possibility for web and graphic designing training program in India. There is an immense scope for web and graphic designing training program in India. There is  a huge opportunity for them to work on freelance basis as well as there is a huge  requirement for knowledgeable web designers.
MAAC Kolkata  has been ranked as the most preferred web designing institute in Kolkata. There is a huge scope for them to work on freelance basis, as well as there is a huge dearth of  knowledgeable web designers. MAAC Kolkata  is regarded as one of the best web designing and graphic designing institute in Kolkata. The courses designed by MAAC  includes 3d animation courses Architectural design, visual effect , graphic design and multimedia, game designing courses, broadcast media , media and entertainment, short term courses.
MAAC Kolkata ie, MAAC Chowringhee , MAAC Rashbehari  and MAAC Ultadanga is better kown for its 100 % job oriented Practical Training programme and thus it is 100 %  job ready when the course gets over. The faculty is by leaps and bounds  far better than other institutes  and the institute offer the best infrastructure which is far more ahead of other institutes in Kolkata. The students in this institute are given jobs in the best reputed animation companies of India. According to Syed Nadim Akhter co founder of Digi Tonnz , MAAC is the right destination to prepare  creative aspirants for the future. The students of MAAC are well placed in various institute in Kolkata .
Bhavnesh   is working as  graphic designer and is earning Rs 60,000 per month.
Parmveer is working as a video editor . He is  earning as salary of Rs32,000 per month.
Sakthi Nandan  works as a CTO and earns a salary of Rs60,000 per month.
Sourabh Bismt works as a compositor . He earns a salary  Rs45000 permonth.
Bradely Rodrigues works as a Junior Artist works as a Technicolor games and earns Rs30,000.
Deepthi works as an associate Animator for Rockstar games India and earns Rs 40,000 per month.
Siddi Sharma  works in Motion graphics techno India private limited  and earns RS 39000 permonth.
Subham Gorgate is a match move and rotonian artist  who earns Rs30,000 per month.
Animesh Mandloi earns Rs 26,000 per month.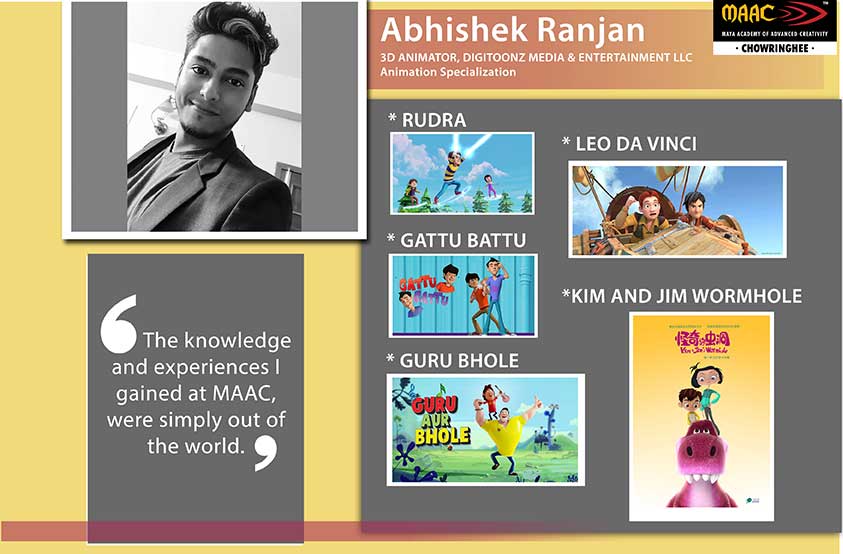 Over 135 entries and over 675 participants from MAAC centre pan India participated in this movie making marathon. 100 hours is aTech Challenge in 3d Animation film & mobile film making for students of MAAC pan India. The theme for 3d animation movie was cleaniliness and skilling for Mobile filmmaking, in a creative movie making marathon. Students in teams work uninterruptedly for 100 hours  and create 30 seconds of animated short movie  and mobile film using their android. Various Challenges and contest in 100 hours are organised for students to participate and win exciting surprises. The 100 hour Golden ticket contest was announced in 5 catgories Team name team formation team logos teamposter team unreel challenges.
Various awards were announced by MAAC which includes first milestone award for best background  pictorial  character modelling, layout . Some other celebration includes mid night celebration of 100 hours , glimpses of students working for  100 hours, 100 hours race against master class schedule which includes mobile film making, 3d animation film. Master class schedule includes story telling in digital medium, digital film production. Concepts of editing and look development, modelling and shaping for 30 mins  and look development for 3d films.
Craft work competition was also held over there. The Big picture discussion was presented by two powerful ladies from media and entertainment industry who shared their views and journeys and some inspiring stories with us. The big picture was in form of panel discussion. They also participated in seminars and sessions at various centres . A quiz programme was also held on April 2023. One may win exciting prizes by participating in quiz. So aspiring students if they want to dive into the media and entertainment industry  they should call MAAC to register today .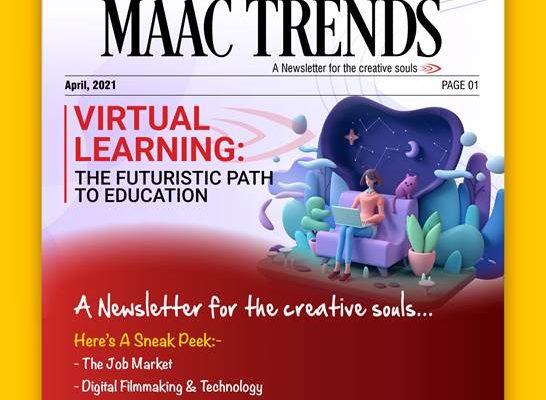 MAAC gives its  students industry exposure and unlimited opportunities . Online varsity – MAAC has an online varsity that lets MAAC students access their courses 24*7 that helps them learn anytime any where . Through special individual training and knowledge sharing platform students groom into career ready versions of themselves. MAAC provides placement assistance.
Call us 9836321595 to get best career guidence.