Thank you participatent and maacits to make the event successful, it gives us immense pleasure to welcome all……. The Legends of MAAC……Kolkata Chapter to the first ever MAAC Alumni Meet…… Back To Maac.
MAAC Chowringhee, Rashbehari, Kankurgachi, has taken this first ever initiative to stay in touch with their pass out students and  organised this Alumni Meet "Back to Maac" at CRC in Kolkata dated 25th September 2017 on the eve of "Subho Panchami"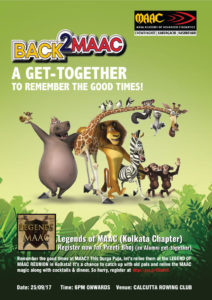 A day like this is very important for us, as it provides us with the opportunity to meet with many of our pass out students…. our Maacits, some after a very long time, as well as provides our maacits chance to catch up with their faculties, trainers, colleagues, friends and other staff members.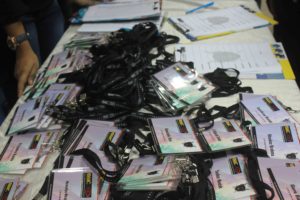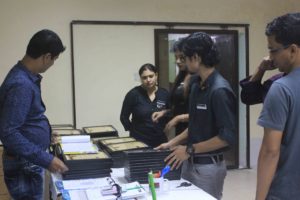 "Ganga waise to gomukh main shuru hoti hai aur bangal ki khaari main aa kar sama jaati hai aur apne raaste main sampannata aur khushhali bikherte hue jaati hai. Par doston ek aisi ganga bhi jo ulti behti hai. Jo bangaal se nikalti hai aur poore hindustaan poore vishwa main faili hui hai….kya aap us ganga ka naam jante ho….wo hai kala ki ganga…..creativity ki ganga…..jiska aap bhi ek hissa ho…..Aur aap logon ke kan kan se woh ganga bani hai". The opening speech of Director Naveen Choudhary.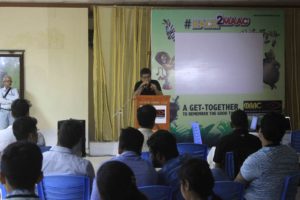 He applauded the multiple roles played by maacits in the media and entertainment industry.
Many of them hold the key positions in major animation, vfx studios' in India as well as abroad.
Maac applaud the efforts being done in area of animation, vfx, gaming multimedia and justifying the years spent by student at Maac Chowringhee, Kankurgachi and Rashbehari.
Our student has made us proud.
MAAC is the number '1' training institute for animation, vfx, gaming, and multimedia.
And its the student who have made it No. 1.
Naveen Choudhary expressed his gratitude towards each attendee present there for taking out time to be in the event and he believed that the experiences of this evening which maacits will take back home… will be worth the time, maacits have spared.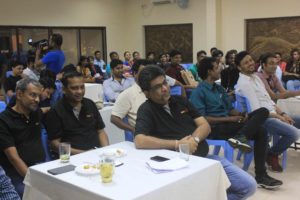 Mr. Choudhary talked about the growth of the Indian animation industry.
Indian animation industry is moving up the value chain from an outsourcing hub to creating their own IP content.
India has moved ahead….
He questioned is whether The IP's that we are creating, do they have international acceptance? Or are we catering to the domestic market only?
He  agrees that the Indian market is so big that we need not look outside…. but when a movie from Hollywood can do a business of 3000 crores, why can't we?
According to him why Can't we have our own Walt Disney the way we have found our James Cameroon in Mr. S. S. Rajamouli.
India has seen some success in the animation characters like Chota Bheem and digitisation of characters like motu patlu etc.
But they do not have any international appeal and a lot remains to be done in this field.
Mr. Choudhary appealed why Can we not do it….have our own walt Disney……
Which we can guys, it can be done by  maacits sitting right there in the middle of event.
Have we ever thought in that direction?
If not, then start thinking. What do you lack? Nothing? If we lack anything then it is the capacity to dream…. dream big with our eyes open and we can do it.
And if we don't make it, at least we will not blame yourself for not having tried…. and  he assured that if we do it then it we will enjoy the journey.
"Manzil unhi ko milti hai jinke sapno main jaan hoti hai Pankh se kuch nahi hota hoslon se udaan hoti hai"
We all have it in us and we just need to bring that dream alive inside us ….so go ahead what stopping
Maac Chowringhee, Kankurgachi and Rashbehari will never leave the hand  of our maacits and will support them all out.
How?
Well Institute has decided to give it a shot and enjoy the journey.
Your institute has started an incubation centre where one can do one of the following things:
Join our production team…details you can discuss with your faculties who will lead you up to the right person on our team
Open your own studio and we try to arrange for work for you
If you have some work and you want it executed we can do it for you
And last but not the least…if you have some idea for an IP, be it a feature film or a television serial or any other digital content that can be monetised, we are ready to take a look at it and back you up to achieve your dream.
We do not need magic to change the world; we already carry all the power and magic we need inside us : we just need to explore it and discover it.
Life is all about exploration and discovery…..about the journey……….
We are always there with you if you think big —bigger…. creating your own studio, your own Mickey-Donald, Tom –Jerry whatever.
"Kaun kehta hai ki aasman main ched nahi ho sakta…Zara tabiyet se patthar uchaal ke toh dekhiye"….
Maac from its inception has helped the aspirants to make their dream come true and now we will continue to do so even after you have finished your course with us.
Friends, like any alumni get together, Maac also plan to hold this event every year.
We have taken the initiative to start this and now we would like you to take it over and run it from this moment onwards.
We will always be there to support in all ways, but maacits need to run this like any other alumni.
We need some people from this group to come forward and volunteer to be a part of the managing committee and interested persons can give their names now or call us or mail us of their interest later.
It will be great to have at least two persons from all the major cities of India where we have our students.
He thanked the whole team for their untiring effort that they have put in to make this event memorable for all of us.
Also a big thank you to Ram Warrior Head of Maya Academy Of Advanced Cinematics for taking out time from his busy schedule and coming to Kolkata especially for this program.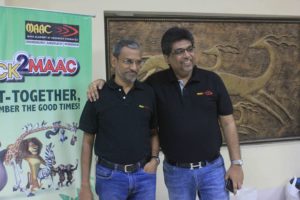 Last but not the least; we would like to thank all for your keen participation as well as the support you have always extended towards your institute….. its is truly wonderful to have you all.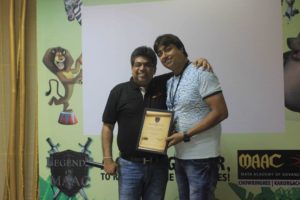 Wishing everyone a wonderful evening & memorable moments.
Enjoy the food the drink the music
Have A Good Time Ahead.