Visual Effects is the process of making real life world footage appearing bigger than life.
We have uncountable examples of Visual Effects implementation that have left viewers spellbound with an ever-lasting impact.
Visual Effects has not limited its boundary to feature films but is extensively used in television commercials, broadcast series, architecture, advertising & more.
It is predicted that the global VFX industry will flourish in leaps and bounds by 2025, accounting for a whopping 23.85 million dollars.
But the question remains, why is the industry is growing beyond leaps and bounds.
Higher budget allocations to the VFX department.
Film Makers had already realized the importance of Visual Effects in the success of their films which has resulted in huge budget allocations for VFX.
Integration of OTT services across subscription based streaming devices has raised the demand for content across platforms. Smart-TVs, Mobile applications & casting options have played a pivotal role in this demand surge.
As the need for content increases, the need for VFX also increases exponentially.
Technological Advancements are also playing a pivotal role in making it easier to implement Visual Effects on the projects.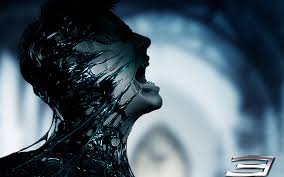 A career in Visual Effects involves the perfect blend of story-boarding, technology & creativity.
It involves being able to visualize and create things to turn imagination into reality.
It is an industry where there is always a need for fresh talent and one particular field where you may gain huge success based solely on your personal skills.
Here are a few career options that will be open for a candidate who has studied Advanced Program in VFX with MAAC.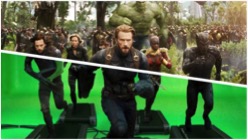 Compositor Matte Painter, Depth Artist, Camera Tracker, Clean-up Artist ,Video editor ,Match Moving Artist, BG Prep Artist ,Pre-Viz Artist, FX Artist VFX Generalist ,Roto Artist ,Motion Graphics, Artist Stereoscopy ,Artist Paint Artist are just some of the career one may chose.
Influencer is a keyword in today's industry. Influencers are people with a large fan following on social media platforms.
There are hundreds of influencers spread across various segments and it's become the main source of livelihood for many people.
Influencers main source of income are brand collaborations and campaigns.
Here are a couple of points that might help you make it big.
Select your niche (interest area)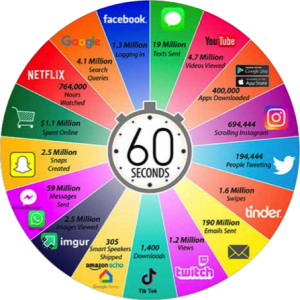 It is important to decide your point of interest in any particular field so that you can create content on the basis of his interest in that particular area.
You don't have to limit yourself to just one of the categories, you can virtually mix two or more of the niches. It has to be something that is your passion and will enjoy working on it.
It's important to have visually amazing, relevant content to get people inclined in your channel.
To create captivating content, it is also important to have the knowledge of the right tools. For example, if you have a Youtube channel, one may have an idea of video editing softwares and image editing softwares.
This will ensure that the content is not in average level. If your content is image based, it is important to have some notion about photo editing softwares to create amazing visuals.
To create great social media videos, software's like After Effects and Audition are frequently used.
After Effects is mainly for motion graphics animation and Audition is mainly for voiceovers and music.
These tools are the generally used tools for motion graphics and sound design, but there are other options like Premiere and Final Cut Pro .
GRAB THE ATTENTION OF YOUR AUDIENCE BY VISUAL EFFECTS
Keep on building rapport with your audience to create your brand and enter into the 'influencer' league!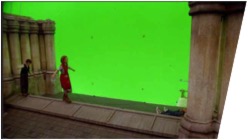 With MAAC, one may have a clear idea all the software's needed for you to get start ones journey on social media and create amazing visuals and videos. Contact your nearest MAAC centre to get started!
SOLUTION FOR 3D ANIMATED FILMS
Epic Games produced the Unreal game engine the world most open and adventurous video game.
It was first showcased in the 1998 first-person shooter game named Unreal.
The Unreal Engine which is written in C++, featuring a high degree of portability, supports a wide range of platforms.
Unreal Engine is a total set of development tools made for someone who wants to work with real-time technology.
Unreal Engine gives one everything one need to start, ship, grow, and stand out from the crowd. It gives everything from design visualization and cinematic experience to high quality games across Pc, Console, mobile , VR, and AR.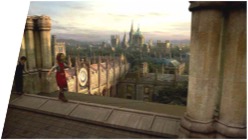 The Unreal Engine is an extremely all rounder game engine and has capability of creating anything from FPS to TPS to top down strategy to a very stylized fighter to photo realistic games.
We are all familiar with popular games like Dragon Ball FighterZ, Bioshock Infinite, Unreal Tournament, Borderlands, Gears of War, XCom: Enemy Unknown, Batman Arkham series, Darksider 3, Splinter Cell series, Injustice and many more games.Fortnite and PUBG mobile are hugely popular video games. These all are developed using the Unreal Engine.
The Fortnite brought Epic Games to the forefront of the video game world. The company's Unreal Engine soon started transforming various industries like animated film production, visual effects, architectural development to interactive visualization by its remarkable visualization technology as with the fourth replication of Unreal Engine.
It can produce real-time, visualizations and animations, with extreme realism.
Epic games – Unreal Engine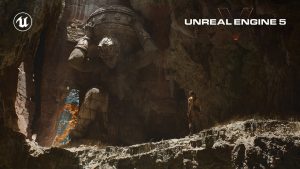 From high-quality previsualization, to virtual production, to in-camera visual effects that take the post out of production. Unreal Engine has initiated a new era of storytelling.
Whether one is working on episodic animation, live-action blockbusters, or short-form content, real-time workflows are absolutely changing established pipeline and delivered renewed creative control.
Back in 2015, Epic Games inspired artists to use its Unreal Engine for animation projects.
What are the advantages of doing large-scale 3D animated movies in Unreal Engine?
Unreal Engine provided us the one and only to all our required needs.
Super high-poly meshes with all materials and lights could be worked on in stipulated time.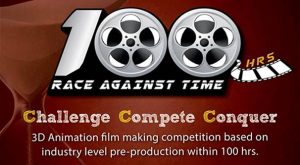 Landscape sculpting tools were also very much technically sound. You can alter the structure of the fly – even when you're working on the final scenes.
UE4 Content Browser filters are really fruitful things in managing long lists of folders, files and items.
The Material Editor with its powerful shading nodes is really useful to work with.
Sequencer has developed a very fine toolset for controlling scenes, sequences and the timelines.
On the technical side, Blueprints have been very useful as well.
Since then several big and small studios started utilizing the Unreal Engine in their 3D animation pipeline to generate the high quality 3D animated content to be used in animated short films, animated series and even for completed animated feature films.
At MAAC KOLKATA 100 HOURS: CREATIVE MARATHON Compitation was held to boost the student to create animation and Visual Effects contents.
100 Hrs –It is a film making competition where students from different MAAC centers work forming a teams to create 20-25 seconds short 3D animated films in a span of 100 hours at a stretch.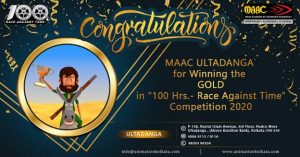 Usually the teams generally works from their centres but due to the pandemic the idea changed and our teams ended up working remotely!
Around 280+ students working in 57 teams participated in the race against time which was more than 4 days of work shop to get complete idea in the field of animation film making!
Each of the event revolves around a theme.
A theme serves as a guideline for the teams over which the story is to be built. This year's theme was the iconic 'Indian Railways'
The short films were made for exhibiting various aspects that make the Indian Railways unique & salute to the infrastructure that supports millions of travellers each year.
The students are given a pre-production kit with detailed instructions to ensure that all the teams have the same start. 24X7 support was given to the students to solve any quaries they may have.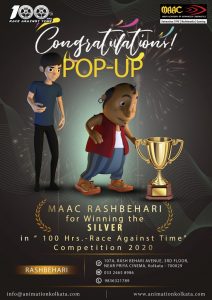 MAAC Ultadanga bagged the Gold Award for Best Animated Short in the East Region.
MAAC Rashbehari got the Silver Award for Best Animated Short in the East Region.
Overall it's an marvellous opportunity for the students to apply the concepts they have learnt through their course with MAAC.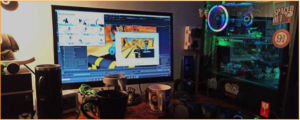 MAAC PATHWAY TO STUDY ABROAD
We at MAAC always try to give our students the best possible opportunities in the Media & Entertainment Industry to build a promising career.
Our recent collaboration with the Vancouver Center for Entertainment Arts – Langara College, Canada is another step to do just that!
MAAC students are now eligible* for getting an Advanced Diploma in 3D Animation, VFX or Game Design from Vancouver Center for Entertainment Arts – Langara College in Canada after finishing an exclusively designed course from MAAC
EXCLUSIVE BENEFITS FOR MAAC STUDENTS:
1.Certification from MAAC and Advanced Diploma from Vancouver Center for Entertainment Arts – Langara College, Canada.
2.After completing certification from MAAC one is eligible to get scholarship for a 3-years Post- Graduation Work Permit (PGWP)* post completing the Advanced Diploma from Vancouver Center for Entertainment Arts – LangaraCollege .
3.Eligible to work part-time for20 hrs/week while studying at Vancouver Center for Entertainment Arts – Langara College
4.MAAC Students are eligible for a scholarship of CAD$ 19,500 for the Advanced Diploma at Vancouver Center for Entertainment Arts .
5.Langara College assists for placement service by VCEA, in some of the leading Animation, Visual effects & Gaming studios after completion of the course.
VCEA Langara College is located on a sprawling campus with the best of facilities for you to start your global career.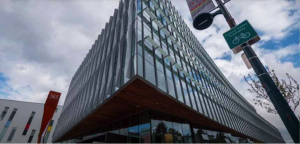 VIRTUAL JOB FAIR!
MESC in collaboration with APTECH, has launched Virtual Job Fair, a good opportunity for the skilled job seekers looking for the perfect boosting career.
It's a platform that is aimed at connecting the job seekers with the companies in the Media & Entertainment Industry.
It also helps the job seekers with exercises that will get them ready for the industry through online sessions.
The Orientation Program held on 21st October, where more than 650 participants attended the programme where a wide range of topics were covered which helped them to value skill based education.
An insightful session on Resume & Interview Tips & Tricks held on 27th October, gave the more than 620 attendees an in-depth view of how to make a resume that is extraordinary followed by interview tips and tricks.
Communication is the most vital thing to get hired. A session on Effective Communication Skill on 29th October gave the student an idea of productive communication skill for more than 600 attendees.
The sessions have seen an effective response so far.
As on 30th October, there have been around 1194 registrations out of which 542 have been from MAAC.
It's an experience of a lifetime where careers are being made!
During the past 6 months, when things were uncertain in the job market; MAAC students had a surprise!! Here's a snapshot of placements at MAAC during April to September 2020, when our students were getting hired in some of the biggest studios !!
330+ MAAC Students Placed Average Highest Monthly Salary ,
21,000 INR 60,000 INR
MAAC students got hired in various companies like MPC, American Express, Technicolor, Probability Gaming, Pixel frames VFX, Power exchange, Pegasus Design Studio, Fourth Dimension Visual effect Pvt Limited, Digitoonz Media and Entertainment, Mango Production, Ad Geeeko Digital Agency, Franchise India Holding Ltd, Quinoxx Design Studio and many more.
THEY GOT SKILLED, THEY GOT HIRED. WHAT ABOUT YOU?
#MAACMakesItPossible Call us @9836321595