In today's blog we will discuss about the use of CGI or Computer Generated Imagery in the Bollywood Movies.
How these CGI techniques provides larger-than-life experience to the audience.
There are many Bollywood Movies today which make use of CGI techniques.
With the advent of Computer Graphics in the year 1970s in Hollywood, Indian film industry also got influenced by computer generated techniques.
From the early 2D animated films, Bollywood industry has progressed to an age where video editing and CGI Software usage has become very approachable.
Indian animation industry has come a long way since the first Indian stop motion film by Dada Saheb Phalke about the growth of a peapod into a plant in 1941.
Movies like Indian and Enthiran pushed Indian Cinema to next level in VFX/ Computer Generated Imagery technology.
Implementation of CGI in Bollywood Movies
By the 1990s television shows like Captain Vyom and Captain House used CGI techniques.
VFX, sound effects, computer generated Imagery are used heavily in almost every film and film Industry is focussing on perfecting the technology and importing better resources.
With Hollywood collaboration, Indian production houses are coming up with Bollywood movies with excellent visual effects and CG images.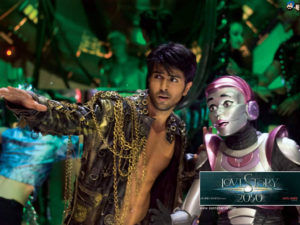 Love story 2050 (2008) directed by Harry Baweja is one of the early Bollywood Movie to use CGI techniques; it is a Science fiction-romance film.
It is Bollywood's first futuristic film and had 1200 computer generated shots.
Along with main protagonists a robot played a major role in this film.
Four international firms contributed in creating CGI effects of this movie.
Among four special effects houses Weta Workshop located at New Zealand and John Cox of Brisbane, Australia won an Academy Award for their work on International projects.
Actress Priyanka Chopra played double role in this film, to portray the girl from future she coloured her hair red and black to portray present.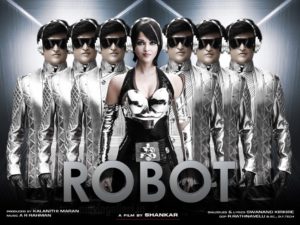 Science fiction action film Enthiran or Robot (2010) directed by S. Shankar is another very popular film that used stunning visual effects to spellbound the audience.
Hong-Kong based visual effect companies Kinomotive Studios and Menfond Electronics along with Legacy Effects took responsibility for the film's CGI work.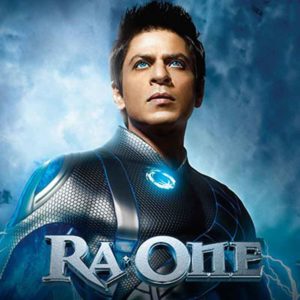 Prime Focus Company carried out Ra One's 3D conversion with London based colourist Richard Fearon performing the colour grading.
Ra One had more than 3,000 CGI shots compared to other Bollywood films which use 100 to 200 CGI shots.
The 3D conversion process required 2,600 artists to convert 4,400 shots of the film.
Ra One had more CGI shots compared to Enthiran.
Artists took 2 and half years to complete the visual effects work.
Nvidia technologies provided the information technology based software utilised for the effects and Edwark Quirk supervised the Computer-generated imagery used in the film.
Made with the budget of rupees 150 crore, Ra One was the most expensive film at the time of release defeating the budget of Enthiran which was rupees 132 crore.
Directed by Anubhav Sinha, Ra One (2011) featured Shah Rukh Khan in the lead role along with Kareena Kapoor and Arjun Rampal.
Ra One is the example of Indian Cinema's increasing use of CGI technology.
They used Dolby Surround 7.1 system for sound enhancements.
Shah Rukh Khan starred other two films Fan and Zero also used CGI techniques to create the storyline.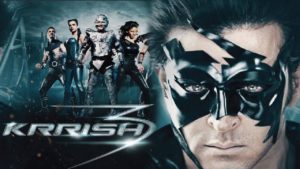 As the usage of CGI shots within the films are increasing, the demand for skilled professionals is also increasing day by day.
Superhero film Krrish 3 directed by Rakesh Roshan received appreciation form the critics for its visual effects, cinematography and entertainment value.
Red Chillies Entertainment worked on the CGI effects worth Rupees 260 million for Krrish 3.
Creating seamless CGI was the main focus of the Red Chillies VFX.
In the film Krrish 3, Hrithik Roshan could fly on rooftop, jump from the 80 storey building, walk on water and run through hot molten metal and all these actions were made possible through CGI.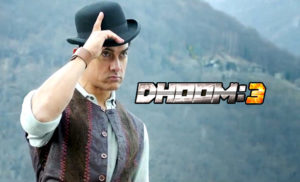 Directed by Vijay Krishna Acharya and produced by Aditya Chopra Dhoom 3 is a 2013 Indian action thriller film.
Tata Elxsi-Visual Computing Labs (VCL) worked on the CGI shots of this film; they delivered 1500 VFX shots with a team of 100 artists in a span of 11 months.
The action sequences of the film demanded a high number of VFX shots and Visual Computing Labs helped to achieve that demand.
Visual Computing Labs or VCL offered larger-than-life experience to the viewers.
Along with Award winning senior VFX Supervisor Joel Hynek, Creative director Pankaj Khandpur and VFX Supervisors Sherry Bharda and Vishal Anand action sequences were planned and storyboards were structured which were elaborated further using pre-visualization.
For Dhoom 3 VCL created digital characters, vehicles, two-Wheelers and 3D water Jet Ski using CGI techniques.
VCL also worked on interior and exterior of the film's set for specific sequence and created accurate CGI lighting and reflections on the helmet visor.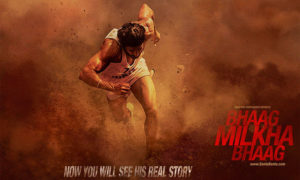 Bhaag Milkha Bhaag is another film where lots of CGI shots were created.
A team of about 50 artists worked and delivered over 150 CGI shots, covering races of Rome, Tokyo and Commonwealth with 2 months.
The team created CGI crowds in CGI stadiums and gave complete freedom to the director to move his camera freely.
VCL or Visual Computing Labs relied on stock footage to get the correct picture of the crowd of 1960s, they used art crowd generating software: Massive.
Bollywood is making use of CGI in almost making all films.
Films like Chennai Express, Wanted, Ek Tha Tiger, Tiger Zinda Hain, Om Shanti Om, Robot 2.0 and many more movies have CGI shots to heighten the viewing experience.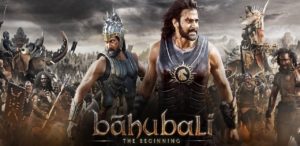 Indian epic action film Baahubali: The Beginning (2015) has CGI shots around 2500 and till now Ra One has used the maximum number of CGI shots among all Bollywood Movies.
No doubt in future more Bollywood movies will be made using CGI techniques to compete in the International market.
So, Dear Readers and Aspirant our MAAC Kolkata Centres provides various courses on VFX /CGI Technology and Animation.
Join Us and pursue your career in CGI.