S. S. Rajamouli Directed movie Baahubali, a Telugu action movie, was the highest grosser Indian movie. INR 120 Crore budget movie earned over INR 600 Crore and became the highest grossing telugu movie of all times. Apart from an interesting story line and strong characterization with combination of the real life and reel life effect turned  Baahubali into a  mind blowing visual effect movie of its time.. The movie had one year pre-production work where in 15000 story board sketches were created which is the highest for any Indian film till today. More than 600 VFX artists worked (which includes Makuta VFX, Prasad EFX, Firefly in Hyderabad, Tau films from Malaysia etc.) for the film to create more than 90 percent visually enhanced shots. V. Srinivas Mohan, a National Award Winner headed as the VFX supervisor. The film boast of 90 percent Computer Generated Imagery works which accounts for 2500 VFX shots. Makuta VFX was chosen as the main visual effects studio and was responsible for more than 50 percent of the CGI in the film.
This is the VFX breakdown of the Movie Baahubali- The Beginning by Makuta VFX: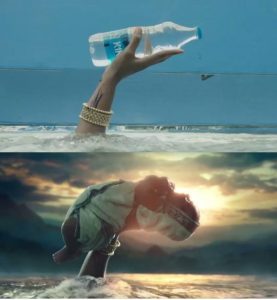 In this shot Shivgami is saving the baby, the water has been enhanced by VFX generated waterfalls. This famous shot was originally shot with a bottle of mineral water in Shivgami's hand above the water.
This heart dropping shot in which Prabhas is hanging from the rock was actually VFX generated. Originally Prabhas was lifted by crane to give a shot of rock climbing.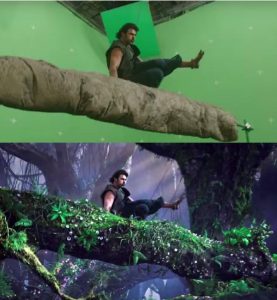 While we saw Prabhas hoping and jumping over the branches in the jungle on big screen, in reality Prabhas was just hoping over a giant log with green screen in the background.
Feeling very honored to say that we at, MAAC Chowringhee, MAAC Kankurgachi, MAAC Rashbehari welcomed Mr. Sanath P. C., the founder and VFX supervisor by profession of The Firefly Studios, whose special effects are also seen in the Movie "Baahubali – The Beginning", visited our center in the month of July 2015. A grand Seminar was organized by our director, Mr. Naveen Choudhary in honour of Mr. Sanath P.C so that he can discuss and shre his experience with students of Maac Kolkata. He discussed many things with us regarding the making of Baahubali and Magadheera.
He ended his discussion with a note of appreciation saying"A big thanks for inviting me. It was wonderful to spend time with MAAC  students and the team here" – Mr, Sanath P. C. We felt  truly blessed.