VR Games brings the virtual world to reality with high engaging games.
There is no doubt that Virtual Reality (VR) has revolutionized the gaming industry.
Today here in this blog we will take a look on VR (Virtual Reality) Gaming Scenario in India.
Over the years demand for VR Games has increased and this demand has pushed the VR Game development companies to meet the challenge.
Up-gradation of technologies has made VR gaming more accessible; one can easily afford to buy gaming devices according to their budget.
VR as a medium delivers most powerful and unbelievable gaming experience.
There are good qualities of VR Games available in the market.
Different genre of VR Games is presents such as horror, action, sport, adventure and many more.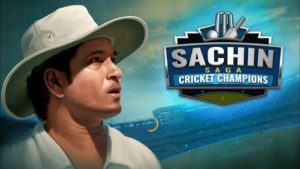 India has a large appetite for VR Games.
Lot of money moves through the Indian gaming industry with increased overseas investment and partnership.
VR Sports gaming remained unnoticed in India as the developers struggled to figure out how to adapt popular PC sports game and console games for VR platforms.
But recently gaming company JetSynthesys has launched India's first multiplayer VR cricket game called Sachin Saga.
Sachin Saga is based on worldwide sports icon Sachin Tendulkar as he is the God of Cricket as cheered by his Indian fans.
Sachin Saga is the VR version of the popular android and IOS game Sachin Saga Cricket Champions.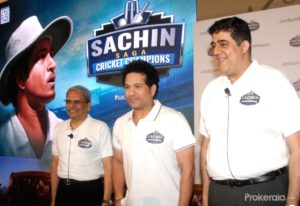 The VR game Sachin Saga was launched by non-other than cricket player Sachin Tendulkar where some of the lucky fans also got headsets signed by the master-blaster.
JetSynthesys has launched limited edition of VR headset for the cricket fans at the affordable price.
The headset supports 100degree view which allows gamer to evaluate the field placement by moving their head to look all around the ground.
JetSynthesys managing director Rajan Navani said that they are revolutionising the VR gaming scenario in India with the new launch of Sachin Saga.
Sachin Saga VR headset uses 42mm diameter HD Optical Lenses.
It also has adjustable 60-70mm inter papillary distance.
JetSynthesys managing director and vice chairperson Rajan Navani said that we are tremendous happy with the success of the game.
This game has provided cricket game fans an opportunity to play the legendary cricketer's game and feel his cricketing moments.
Sachin Saga after its launch has successfully attracted lot of new players.
This game is a thrilling experience as one can play cricket in world stadiums, can face fast bowlers at over 90 miles per hour and get a chance to prove himself/herself in multiplayer.
Other Genres Of VR Games
One can play any genres of VR games in Sony PlayStation VR, Oculus Rift or Samsung Gear VR.
All of these headsets provide very good quality of virtual reality images.
Interested person can buy the headsets from online site.
Loaded with action and horror games VR headsets are high in demand.
VR In Horror Genre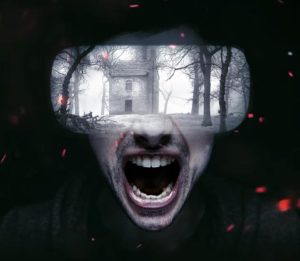 Under this we have Resident Evil 7 VR Game.
Resident Evil 7 has horrific figures, dark rooms, blood stains, weapons, horrific sounds and what not.
Developed by Capcom, it has other sequel also such as Resident Evil 5 and Resident Evil 6.
In this game player controls Ethan Winters the character who searches for his wife in area occupied by cannibal family.
This game has first-person view.
This horror game will definitely provide the chilling effects to the gamers.
In Resident Evil 7 Kitchen demo things comes out suddenly, from ugly monsters to killer humans.
The horrific visuals create more impact in Virtual Reality.
Alien Isolation is another horror VR Game.
VR surrounds the gamer in the 360 degree environment and provides the sense of immersion.
Alien Isolation is developed by Creative Assembly and based on Alien horror films.
The game follows Amanda Ripley as she searches for her mother.
The player will explore the space station and confront the alien creatures throughout the game.
It got positive reviews for sound design, art decoration and artificial intelligence.
VR In Action Genre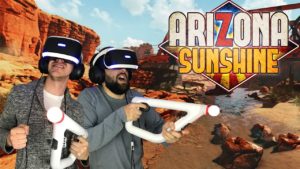 Arizona Sunshine is a first-person shooter action VR Game.
It is available in Oculus Rift, Play Station VR headsets.
This game requires controllers for play; controller helps to manipulate virtual weapons.
Controllers also help the player to interact with the environment.
The action takes place in the Arizona river valley surrounded by zombies.
Star Trek: Bridge Crew is another VR action game developed by Red Storm Entertainment.
It is inspired by Star Trek film.
This game has four roles captain, engineer, helm officer and tactical officer.
Captain's role is important in this game, helm officer controls the ship.
The tactical officer is in-charge of weapons.
Echo Combat is another action VR shooter game where the player can play the game in zero-gravity.
The first-person shooter game Sairento VR is developed by Singapore Company Mixed Realms and Swag Soft.
This game takes the players in the Tokyo Cluster megacity.
The player becomes the cyber ninja agent and takes a journey into high tech future.
Horror as well as action oriented games are available to us through the Play Station, Oculus Rift, HTC Vive and Samsung Gear VR headset.
VR In Adventure Genre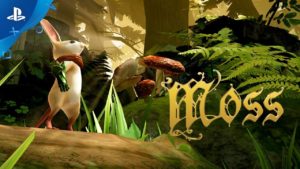 VR adventure Moss is a first-person perspective adventure game.
It a puzzle game developed by Polyarc.
In this game the player can manipulate the surroundings to navigate obstacles and solve puzzle.
The player can control the quill and battle enemies.
This game is very popular in recent time.
Xing: The Land Beyond and Robinson: The Journey two other VR games.
Xing: The Land Beyond comes in HTC Vive and Oculus Rift headset.
Robinson: The Journey comes in Oculus Rift and Play Station headset.
The reason for the popularity of VR or Virtual Reality Games not only in India but all over the world is the high quality of visuals and sounds.
VR Games are created with the help of multimedia technology such as animation, visual effects, graphics and lots more.
We at MAAC Kolkata provide in-depth Multimedia courses to the aspirants, be a part of us.