Who can forget the marvellous performance of Julie Andrews in the film Mary Poppins made in 1964.
But today we will look upon the recent musical fantasy film Mary Poppins Returns released in 2018.
Mary Poppins Returns stars Emily Blunt as protagonist.
The plot is set in 1930s London, twenty five years after the events of the original film; it follows Mary Poppins the former nanny of Jane and Michael Banks returning after a family tragedy.
Directed by Robert Marshall and distributed by Walt Disney Studios Motion Pictures this film has grossed over $318 million worldwide.
Mary Poppins Returns is a beautiful blend of musical and fantasy with dash of vfx.
Magical World Created By VFX
Visual Effects for the movie is provided by Cinesite, Framestore, Luma Pictures and TPO VFX.
The VFX team created a combination of many styles of beautiful effects that looked fresh to contemporary audiences.
Similar to the original film, this film includes a sequence combining live-action and traditional hand-drawn animation.
Hand-drawn animation was created by Duncan's animation studio, Duncan Studio, in Pasadena, California.
The overall supervision was handled by ex-Pixar veteran, Jim Capobianco and ex-Disney animator, Ken Duncan, supervised physical animation production at his studio in Pasadena.
VFX companies like Framestore, Cinesite and Luma Pictures worked on everything from digitally erasing any modern structures visible in the background of the London exterior shots to digitally creating period London landscapes and extending Cherry Tree Lane.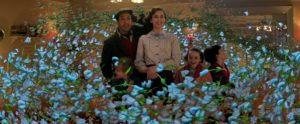 In the Royal Doulton bowl scene when all the characters interact with the animals, a 20 feet giraffe was used during filming to give children a point of reference.
Animated background environments were inserted later in post-production.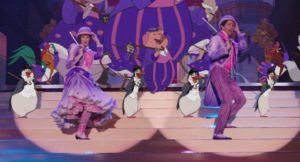 In the magical world where Blunt and co-star Lin-Manuel Miranda performs song and dance; traditional style of hand-drawn animation with fully digital environment was used.
More than 70 animation artists specializing in hand-drawn 2D animation from Walt Disney Animation Studios, Pixar Animation Studios, and other animation studios were engaged for the sequence.
Artists created the music hall as a Computer generated environment and texture it with authentic hand-painted artwork to make it feel Disney cartoon word and it took 16 months to complete all the animation.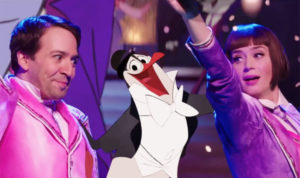 Framestore is the lead VFX Company on the film with visual effects, animation and musical numbers.
The animated drawings were created using pencil and paper; then scanned onto the computer to be digitally inked and painted.
Designer James Woods and animator James Baxter also helped to re-design the penguins from the first film.
Advancement in technology allowed the filmmakers a chance to blend 2D animation with 3D modern tools and allowed the camera to move all throughout the hand-drawn and digital CG environments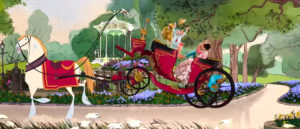 Marshall's steady-cam worked with fluid cinematography helped to render the flatness of the Royal Doulton's cartoon bits within their three dimensions.
They created a living style that harmonizes the live-action performance, the cartoon penguins and the computer-animated stuff.
Carriage ride environment was made up from traditionally painted artwork; projected in 3D space.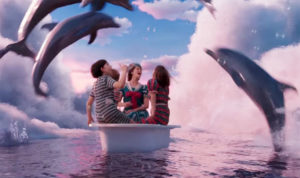 In the bathroom scene Mary Poppins pulls impossibly large objects from her carpet bag and to give total freedom of movement to Emily and camera artists created a digital bathroom.
A specially constructed SFX rig helped Mary and children slide into the tub and taken beneath the Magical Ocean.
Children in the film were shot in SFX bubble rigs that allowed them to twist and tumble safely as the bubbles breaks; they find themselves on an ocean covered in huge mountains of bath foam.
According to the CGI artist each of the bubble spheres needed to be accurately reflect and refract its environment; the combination of the motion of the ocean surface and the particle effect foam break up made this effect hugely challenging.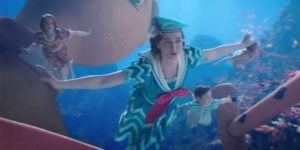 The biggest challenge of Framestore's London team was creating a unique dry look for the undersea adventure by shooting on chroma screen and then finding a balance between photorealistic environments.
The CG artists created simulated water, foam and bubbles all with individual movement.
The fantastic underwater world was fully 3D environment and animals were created from scratch.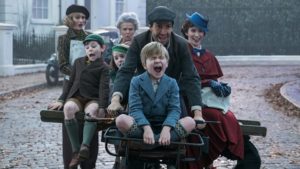 The VFX team re-created 1934 London and extended the Cherry Lane Studio Set.
Film's Cherry Tree Lane was re-imagined as a more humble place.
As there was a lot of expectation from the team of Mary Poppins Returns to not just pay homage to the original movie but to make it fresh, new and contemporary, Visual effects supervisor Matt Johnson used up-to-date technologies.
In the year 1964 Special effects god father Peter Ellenshaw used the most up-to-date technology to create the animated world in the old Mary Poppins film.
A fully digital house of Parliament and the surrounding was created along with Big Ben Clock.
At Shepperton Studios, eight soundstages were used to build and house the astounding practical sets for Cherry Tree Lane, Big Ben, enormous abandoned park and interiors of Banks home.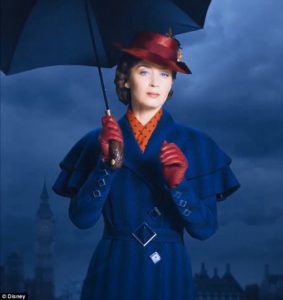 All effects were not computer generated, Poppins talking umbrella is a practical effect controlled remotely.
The parrot on the end of Emily's umbrella was built as an animatronic, so it could be practical prop on set.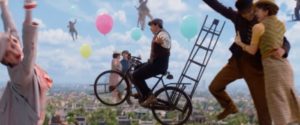 In the Spring Fair Scene where the cast floats into the sky with magic balloons.
On location and on soundstages with the actors wearing harnesses that could be hoisted upwards with huge cranes set against backdrops of actual period locations and blue screens.
The lampposts in the film were specially designed to facilitate a complicated dance number featuring Lin-Manuel Miranda and the crew.
The director chose to shoot on locations throughout London to give the film a more grounded sense of realism, so that the wonder that comes when Mary Poppins arrives are the perfect departure from the real-world issues.
Set included St. Paul's Cathedral, Buckingham Palace, King Charles Street, Tower of London and others and required detailed set dressing to obscure any modern touch.
Mary Poppins Returns film is an expertly crafted and hugely entertaining film.
It has received numerous award nominations in various categories.
Like Mary Poppins Returns if you want to be part of magical world of vfx then secure your future in just a click away.