In today's blog we will consider animated movies on Mythological hero Hanuman.
Lord Hanuman is one of the central characters in the ancient epic Ramayana.
Hanuman is the son of wind-god Vayu and an ardent devotee of Lord Rama.
Apart from being a popular deity in Hinduism, Hanuman is also found in Jainism and Buddhism.
Hanuman is a legendary character in legends and arts found outside the Indian subcontinent such as Myanmar, Thailand, Cambodia, Malaysia and Indonesia.
Hanuman is a brave, heroic mythological character.
Let us look at the animated movies that are made on Hanuman till date.
Computer Generated Movies on Hanuman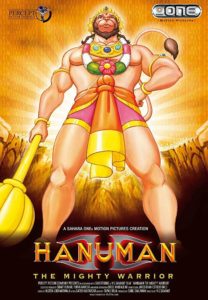 Released in 2005 Hanuman is the first animated feature film directed by Kshitij Singh and produced by Percept Pictures and Silvertoons.
The animation of this film was created by Kakarakaya Pulsu, 2D animation was used in this film.
Hindi dialogue of the film is written by Milind Ukey, Sulekha Bajpai and Shanthanu Rode where as English dialogues are written by Rajiv Gopalakrishnan and Neerav Ghosh.
Actor Chiranjeevi gave voice for the Telugu version.
This movie depicted Hanuman's life from birth and the narrator was actor Mukesh Khanna.
The story plot showed that Hanuman is naughty and used his powers to trouble the saints living in the nearby forest and when hungry he leapt to catch the sun thinking it was a fruit.
Lord Hanuman is the 11th Rudra avatar of Shiva and possessed supreme intelligence, and strength.
Blessed with divine powers Hanuman could overcome death and could transform his body to take the smallest form or attain the biggest form of life.
Once grown up Hanuman was reminded of his original purpose that is unconditional devotion to Lord Ram.
Hanuman helped Lord Ram and Laxman in their search for Sita.
With his super powers Hanuman burned the golden city Lanka and helped Lord Ram and Laxman to defeat Ravana.
Pleased with his devotion and love Lord Ram blessed Hanuman with the immortality.
The music of this film is composed by Tapas Relia and the film is edited by Huzefa Lokhandwala.
Sahara One Motion Pictures is the distributor of this film.
This film is India's first major commercial family animated feature which collected Rs. 8.18 crores and was announced a Hit at the box office.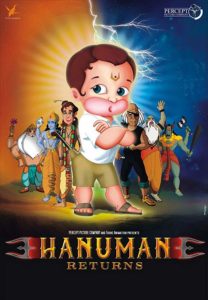 The next film after Hanuman is the Return of Hanuman released in December 2007.
Directed by Anurag Kashyap, it is the second project of Percept Picture Company.
The screenplay is written by Amit Babbar and Anurag Kashyap and starred Pinky Rajput.
The music of this film was composed by Tapas Relia.
Return of Hanuman is a children's film and has been rated as an Educational Film by the Central Board of Film Certification (CBFC) as it deals with the issue of global warming.
Like the previous one this movie is also about Lord Hanuman.
The plot of this film follows Hanuman who comes to Earth with a desire to play with village children.
Hanuman reincarnated as Maruti lands up at the village of Bajrangpur and saves a boy from being bullied by local hooligans.
Maruti uses a mace locket to return into Hanuman.
The story starts on how Rahu and Ketu came into existence followed by why man himself is the biggest evil or the impact of pollution leading to global warming.
Return of Hanuman combined the modern with the mythological to communicate the golden lesson of good prevails over evil.
A monster made of polythene and other non-biodegradable waste appears from a volcano and keeps on swallowing the villagers of Bajrangpur.
After struggling to stop the monster, Hanuman asked help from Lord Ram and defeats the monster.
At the end Hanuman leaves his family and friends of Bajrangpur.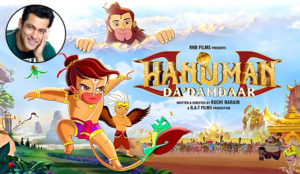 Hanuman : Da' Damdaar is directed by Ruchi Narain and released in 2017.
Produced by R.A.T Films, the storyline follows Hanuman.
Celebrity actors like Salman Khan, Raveena Tandon and Javed Akhtar gave the voice for this film.
It has colourful illustration of characters and backgrounds.
In this film Maruti prays to God to make him the bravest kid in the world.
God heads his prayer and leads Maruti into a series of jungle adventures.
Maruti's experience and new friends leads him to metamorphose from a simple Bajrangi to Hunuman Da Damdaar.
Music of this film was composed by Sneha Khanwalkar and lyrics are by Abhishek Dubey.
The background music was given by Shruti Kumar-Jessica Weiss and Bupi- Tutul.
The album is released by T-Series.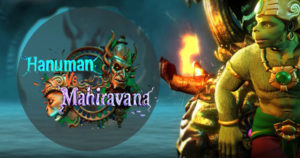 Movie Hanuman Vs Mahiravana is released in 2018.
It is an Indian Mythological adventure 2D and 3D stereoscopic animated movie produced by Green Gold Animation Pvt. Ltd and distributed by Yash Raj Films.
The story is written by Narayanan Vaidyanathan and directed by Dr. Ezhil Vendan.
The film is about Hanuman and his attempts to free Lord Rama and Lakshmana from the clutches of evil wizard Mahiravana.
Mahiravana is the son of sage Vishrava and the brother of Ravana, the king of Lanka.
It mainly focuses on the tale of Hanuman and his biggest battle with Ravana's youngest step-brother, the king of Patala Mahiravana.
The expert voice over helped to bring the characters to life.
The 3D animation and effects is of good standard each frame is intricate and beautifully designed.
The music and background score raises the viewing experience.
This Movie released across India in Hindi and Tamil on July 2018.
It was distributed by Yash Raj Films and running time is 1 hour 36 minutes.
With stunning visuals this film is a good entertaining piece for all age group.
In India Mythological heroes like Hanuman, Ganesha and Krishna helped to start the animation industry.
Mythology delivers ready-made storyline, well-defined and easy-to-recall characters that quickly click with the core audience.
Experiment with more themes needed to be done unlike West our animation films are not made of big budgets.
Hence we got a view of the animated movies on Hanuman that is made till date.
Whether it is superhero or mythological hero animation has aided to bring life in all imaginative characters.
Join our MAAC centre and add colour, texture and movement to any of the mythological heroes.