Visual Effects (usually called as Visual FX or VFX) is a process by which computer generated imagery is created and manipulated for a film or advertisement at the time of post-production because the required output cannot be achieved during the live action shooting.
Wikipedia says:
"Visual effects involve the integration of live-action footage and generated imagery to create environments which look realistic, but would be dangerous, costly, or simply impossible to capture on film".
Therefore, if something is impossible to film, it can be accomplished with the help of visual effects. Today cost is also not a big factor because of the availability of affordable software, huge manpower and competition in the visual effects market has enabled the filmmakers to achieve what they want. Say the budget of the movie is low or high, use of VFX in almost all the movies has become an essential part.
Let's take a few examples from big earning movies of Hollywood, where the use of VFX has enhanced the quality:
Independence Day: Resurgence : Director Ronald Emmerich employed visual effects supervisor Volker Engel from Uncharted Territory, LLC who had also worked for several of his film like 2012, Godzilla, The Day After Tomorrow, etc. To carry out the climax battle scene and design of the alien, Weta Digital was mainly responsible.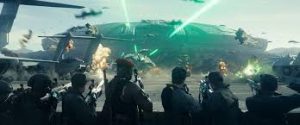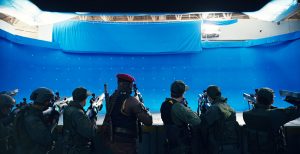 The Avengers: The movie has two sequels, The Avengers (2012) and Avengers – Age of Ultron (2015), here we will be talking about the former – The Avengers. Although both the movies have used enhanced Visual effects but the The Avengers became the highest grossing movie for Marvel Production to earn more than $1.5 billion worldwide. Joss Whedon directed movie The Avengers had more than 2200 Visual effects shots and was completed by 14 VFX companies. Industrial Light & Magic (ILM) headed the project and was responsible for creating many of the films key effects.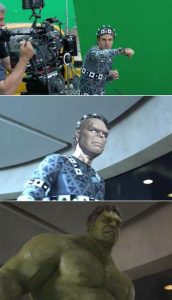 To create the onscreen Hulk, Mark Ruffalo wore a motion capture suit with other actors while four motion capture HD cameras captured his face and body movements.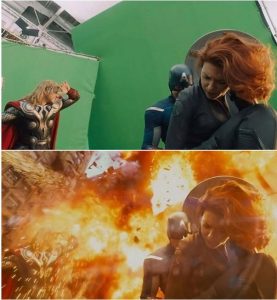 VFX breakdown: Before and After stills from the movie – The Avengers.
There is a VFX Challenge category in the 24FPS International Animation Awards, we do take part in it every year. MAAC Chowringhee won Bronze Award in the year 2014 and MAAC Kankurgachi won a Bronze Award again in 2015. So, why wait, visit us today and explore the world of VFX at MAAC Chowringhee, MAAC Kankurgachi and Rashbehari Best VFX Training Institute in Kolkata.