The year 2022 is already overloaded with fun filled animated movies as there are many delayed movies that are yet to just hit the movie theatres.
Even if it is action blockbusters, superhero movie, or quirky indie fare , there are many wonderful movies that one need to look forward to this year.
Whether one is interested in fun manually drawn cartoons or films with ground breaking animation, this year is expecting several incredible sounding and looking animated movies that both kids and adults enjoy.
There are various animated movies releases that one hope to watch in theatres or in the movies sites very soon.
SOME OF THE ANIMATED MOVIES ARE DISCUSSED BELOW-
HOTEL TRANSYLVANIA-TRANSFORMANIA
It is regarded as the first movie of 2022. It has become a new wave as the films main theme is of Hallowen.
However with each series of the  animated movies the makers are moving away from traditional monsters and vampires.
The third movie in the series came to know about a gang who went on a summer vacation, in this fourth series the gangs are not even monsters.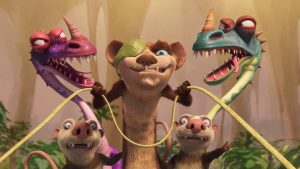 Van Helsing new invention metamorphose Drac and his pals into humans and Johnny into monster.
With their new misfitted bodies , Drac and the pack are trying to find a new way to switch themselves back before their metamorphosis becomes long lasting.
But there were still very much entertaining ad interesting characters and voice over was given by some of the most interesting characters working today.
The film was mainly directed by Jennifer Kluska and Derek Drymon and some of the cast members include Andy Samberg , Selena Gomez,Kathryn Hahn , Jimm Gaffigan , Steve Buscemi , Molly Shanon, David Spade, and Fran Drescher. The film was released in Amazon Prime video.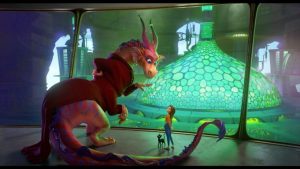 THE ICE AGE ADVENTURES OF BUCK WILD
Although Disney has closed down its Blue Sky studios it is still the studios IP the most beneficial of all the Ice Age Franchise.
Viewers generally expect the moviemakers to comes up with amazing animated feature for good time starting with this Disney + film.
The Ice Age adventures of Buck Wild revolves around Simon Pegg –voiced weasel Buck, who made his maiden appearance in the franchise third film Ice age; Dawn of Dinosaurs.
The animation part of the film was outsourced to Vancouver's Bardel Entertainment.
Buck ,Crash , and Eddy tried a lot to keep the'' Lost World ''alive .
The amazing expedition of India's prehistoric mammals were brought back to entertain everyone of us.
LUCK
The first release from young studio Skydance Animation Studio was about an unlucky girl who suddenly discovers that there exists both good and bad luck.
Luck is the first animated feature film to possess the imprimatur of John Lasseter who moved to Sky Dance after leaving Pixar Disney and he was alleged of sexual harassment.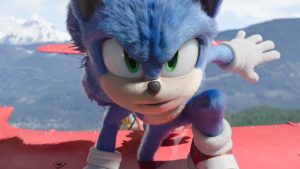 The releasing date was tentative. Apple acquired the film in February and they are yet to confirm they are just still with it.
The animation comedy is directed by Peggy Holmes and written by Keil Murray .
It stars Jane Fonda and Whoopi Goldberg. Another film which is supposed to release in 2022 is Turning Red.
Turning Red is the first two Pixar movie set to release on 11th March.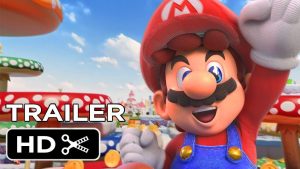 Pixar never releases more than one animated movies a year.The plot of the movie is very much rare as it shows a 13 year old girl turns into a red Panda if it gets excited.
The storyline of the movie may might appear to us as if foolish but it is no doubtedly a marvellous animated movies full of lessons than even adults may take lessons from it.
Turning Red will get a dramatic release instead of going straight to Disney , it will be the first theatrically released film in two years.
SONIC HEDGE HOG 2 
This film was supposed to release on 8th April had a turbulent marketing campaign, as fans very much criticized Sonics design, the character was hugely famous and the movie became a huge success.
It was barely a matter of time and the sequel was put into production and again it just appeared again just after two years.
Sonic the hedge hog 2 It was not an entirely animated  movies series. It was more of runtime .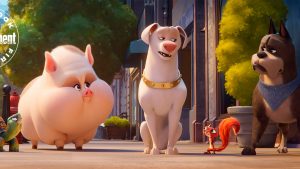 It is generally based in other worldly location that is generally seen in video games.
Many animated charaters are seen in the movie. It has introduced two famous characters from video games in the movie,Tails and Kunkles and Dr Robotnik as Eggman the villain of the series.
The Bad Guys is a movie which was supposed to release on 22nd April.
It was directed by Peirre Perifel the CG animated movie is based on a book by Aaron Blabey which shows the character some villains who decide to rectify themselves.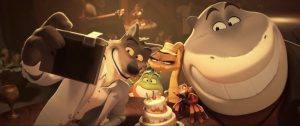 The Production company of Bad Guys is Dream Works and the voice over was given by Sam Rock well, Awkwafina, Anthony Ramos, Marc Maron Craig Robinson Alex Borstein and Zazie Beetz.
Another film which is supposed to release on 20th May is Dc League of Superpets.The movie is all about Dc superheroes pets .
Johnson and Kevin Hart are in the lead role .
The voice over is given by Dwayne Johnson , Kevin Hart, Kate Mc Kinon, John Krasiniski, Vanessa Bayer, Natasha Lynonne, Diego Luna , Keanu Reeves.
Another movie which was released on 27th May is Bob Burger Movie is a Tv show which was converted into full length animation.
The film is full of humour and pop culture references. It will become Disneys first hand drawn feature since 2011 Winne the Pooh.
LIGHT YEAR
This movie is supposed to release on 17th June.It is released by Pixar .The animation of the movie looks amazing from its trailer.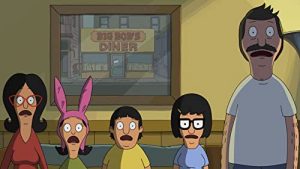 The story line of the movie is about the astronaut who inspired the Buzz figure of Toy story Fame.
''Puss in the boots the Last wish'' is another movie which is set to be released on 23rd September.
Puss is one of the most funny characters in the movie which gives us a lot of entertainment.
There are a lot of pun jokes in the movie about kitten and pirates.
Antonio Banderas has given the voice over in the movie.
SPIDER MAN 
Across the Spider Verse- The movie was released on 7th October.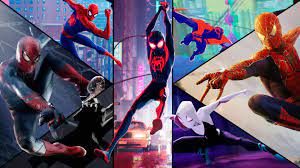 The Spider Man is an exciting movie because of its fantastic animation.
The movies title is given as Part 1 which indicates that another sequel is already on the way.
The movie has new directorial team which includes Kemp Powers, Justin Thompson, Joaquim Dos santos.
MARION
This film which is supposed to release on 21st December . Not much is known about the movie.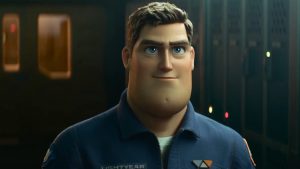 The voice over is given by Chris Pratt. Other cast member includes Anya Taylor as Peach , Jack Black as Bowser, Keegan Michel Key as fungus Toad.
People are expecting that the movie will be better than 1993 Super Mario Bros.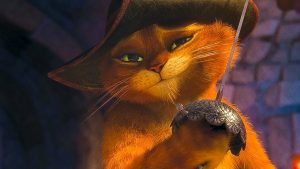 These are the animated film of 2022.People are ardently waiting for their releases. Gettting irritated of lockdown they want some excitement.
You can call us 9836321595 for free career guidance and avail FREE DEMO Class At Best Animation Training Institute In Kolkata.