In today's blog we will dwell into the heart-winning 2D animation character Popeye.
A little seaman with bulging forearms, a squinty eye and a screwed-up face with pipe in his mouth.
This is the description of one time very popular 2D cartoon character Popeye.
An American cartoonist named Elzie Crisler Segar was the creator of Popeye character.
Popeye 2D character first appeared in the daily King Features newspaper's comic strip Thimble Theatre on January 1929.
Popeye has been adapted to various entertainment medium like television animated cartoons, theatrical shorts, video games and live-action movie.
TV Guide had ranked Popeye at number 20 in the list of 50 Greatest Cartoon Characters Of All Time.
Popeye's Credo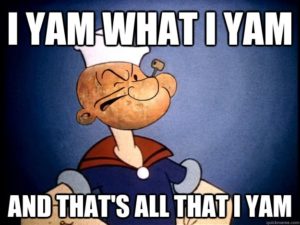 American cartoonist Bud Sagendorf, the assistant of Elzie Crisler Segar continued the journey of Popeye character after the death of Segar.
In the year 1933 Max and Dave Fleischer adapted the Thimble Theatre character into a series of theatrical 2d cartoon shorts for Paramount Pictures.
And for remaining 25 years this 2d cartoon remained as a staple of Paramount's releases.
"I yam what I yam and that's all what I yam" is the most famous Credo of Popeye.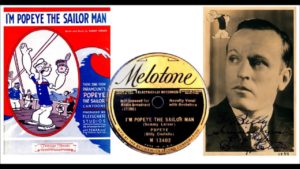 William Costello, American voice actor was the original voice of Popeye later which was replaced by Jack Mercer.
First 2D Animated Series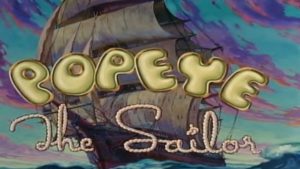 Popeye The sailor was the first 2D animated series produced by group of studios.
Popeye the Sailor released in 1960 with 220 episodes.
This animated series was produced by traditional animation technique with simple television budgets and 220 episodes were produced in two years.
The main character involved Popeye, Olive and Bluto.
Due to the 2d animated series Popeye became more sensational than the comic strips and a researched showed that the sailor was Hollywood's most popular cartoon character.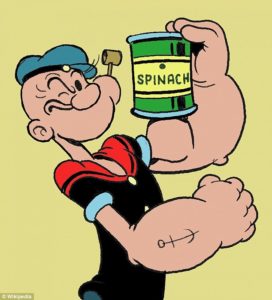 These 2d animated series showed Popeye gains superhuman strength by consuming a can of spinach and he can easily rescue Olive his lady love from the evil Bluto.
The original creator of Popeye Elzie Crisler Segar used spinach as a prop.
But Max Fleischer made the can of spinach as a trademark which Popeye used whenever at hopeless condition.
In initial animated series; Popeye and Bluto had white coloured sailor uniform which later changed into blue colour.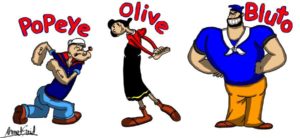 The main character Popeye in his sailor uniform lacks manner but he has solutions to all problems.
He has Sherlock Holmes like investigation power and great diplomatic arguments.
Popeye has anchor tattoos on his forearms.
In the2d animated cartoon shorts Popeye has seldom used his pipe to smoke tobacco rather he has used it to eat spinach.
His pipe is highly versatile and has been utilized as cutting torch, musical instrument and many other materials or objects to help him in his mission.
Moreover he can even use his pipe as a weapon to blow smoke over his enemies faces.
There is a love triangle between Popeye, Olive and Bluto.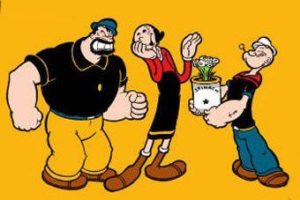 The character Olive is tall and skinny with thin feet.
She is slightly silly personality and wears red shirt with black skirt.
Olive is very fickle and constantly seeks attention in the animated versions.
She gets angry over little things and constantly gets kidnapped by Bluto.
No matter whatever goes wrong Popeye always rescues her and wins her affection in the end.
Many times in the plot Olive gained superhuman strength from eating spinach whenever the villain is a woman because Popeye cannot hit a lady.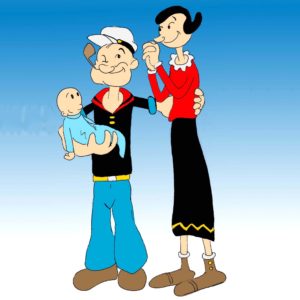 Often Olive takes care of a baby named Swee'Pea or sometimes she asks Popeye to take care of him if she is busy.
She is full of energy and joy of living.
American voice artist Bonnie Poe provided the voice for Olive in Popeye the Sailor and I Yam What I Yam series later voice artist Mae Questel did the voice for Olive.
Popeye's Colour Feature Series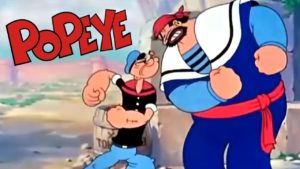 2D animated short Popeye the Sailor Meets Sindbad the Sailor is another cartoon plot produced in Technicolor.
It is 2d Popeye Color Feature series; Popeye the Sailor Meets Ali Baba's Forty Thieves and Aladdin and His Wonderful Lamp along with Sindbad Sailor were adapted from story of One Thousand and One Nights.
Popeye the Sailor Meets Sindbad the Sailor was over sixteen minutes shorts and received nomination for Academy Award for Best Short Subject Cartoons.
In this episode Bluto is a greatest sailor but challenges Popeye as he was sailing in the Sindbad's Island.
In other episodes too Bluto is the villain character who hates Popeye.
He is a man with beard and voiced by Jackson Beck.
Bluto is attracted to Olive and always tries to allure her but with the help of spinach Popeye usually defeats him at the end.
Other Animated Witty Series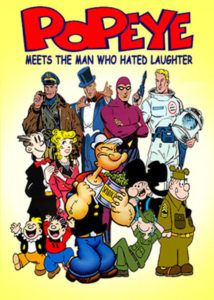 Popeye, Olive Swee'Pea and Wimpy appeared in the 2d cartoon movie Popeye Meets the Man Who Hated Laughter in the year 1972 as part of American Broadcasting Company (ABC) Saturday Superstar Movie.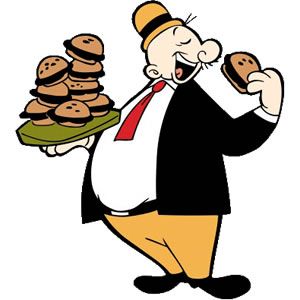 It showed the character Wimpy as a pleasant man; fond of tall tales and hamburgers and who is a friend of Popeye.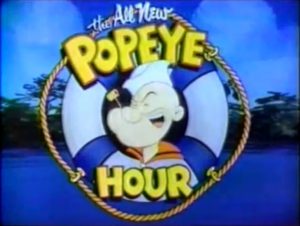 All New Popeye Hour was an American animated TV series aired from 1978 to 1983 on CBS Channel and produced by Hanna-Barbera Productions.
It was adapted from the original 2d comic strips and an hour long animated series.
This series had higher-quality of 2D animation with adventurous sailor Popeye.
Within these series Popeye did not threw punches on Bluto due to ban of violence on television at that time instead Popeye used to lift and toss Bluto.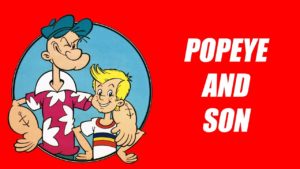 In 1987 Popeye and Son returned to CBS which showed Popeye and Olive as a married couple with a son named Popeye Jr.
Popeye Junior hates the taste of spinach but eats it to increase his strength.
It showed Bluto also has a wife and a son named Tank but the rivalry between Bluto and Popeye continues.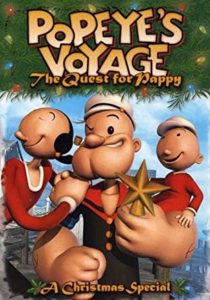 In 2004 all new computer-animated TV series Popeye's Voyage: The Quest for Pappy released by Lions Gate Entertainment as 75th anniversary of Popeye the Sailor comic strip character.
Popeye characters have a long history spanning about a century and it is one of the most beloved cartoon characters in the world.
MAAC Kolkata is the powerhouse of Animation Courses, join us to know more and be a part the world of cartoon characters .