VFX have become a cross-breed of technology and artistry where live-action and digital animations are indistinguishable from one another.
Today, we will discuss about the latest VFX trends of 2018.
Movies like Transformers, Deadpool, Captain America have used visual effects to a great extend.
VFX industry is constantly developing by the introduction of new tools, new concepts and ideas.
Currently VFX industry flourishes on comic books, science-fiction films, animated features and virtual reality.
The goal of VFX industry is to create realistic CG Digital Character so that the audience can't tell the difference between the CG character and a real one.
VFX artists are creating more and more realistic CG characters and hence our films have better CG characters now.
VFX Trends Widely Utilized In The 2018 Movies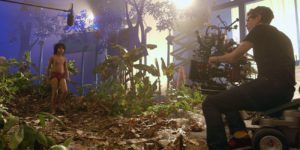 Along with Digital Characters, make up is playing a very big role
New tools are indulging VFX artists to create unbelievable scenes.
Software like Nuke launched by visual effects development company Foundry and Fusion launched by Blackmagic has gained a lot of attention from the film industry.
The year 2018 saw Visual Effect techniques like Motion Capture, Stop Motion, Invisible Effects, CGI Creatures and De-aging.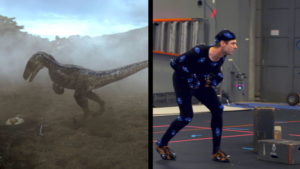 Jurassic World: Fallen Kingdom (2018) movie used the technique Motion Capture or Mo Cap.
Motion Capture cameras are most exciting trends in the world of VFX.
Mo Cap helps to record movement of objects or people.
It records action of human actors in filmmaking and recorded human actions are then used to animate digital character models in 2D or 3D computer animation.
Jurassic World: Fallen Kingdom was created using a combination of animatronics and CG imagery.
Industrial Light and Magic (ILM) animators worked on the CGI versions of the creatures.
In Mo-Cap an actor is filmed performing an action and then recorded film is projected onto an animation table frame-by-frame.
Animators trace the live-action footage and then match with the animated character.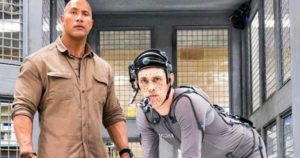 Similarly another film like Rampage made in 2018 also used Mo-Cap technique, Weta Digital provided the visual effects for the film.
Movement coach or Mo-cap coach Terry Notary helped Jason Liles in his performance as George the gorilla.
Mo Cap is often used in Video Games to animate athletes, martial artists and other characters.
Even Virtual Reality allows users to interact with digital content in real time by capturing hand motions.
It is one of the widely used VFX trend of the current time.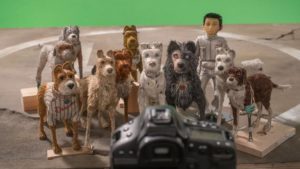 Stop-Motion is another latest VFX trend used in 2018 film-making.
It is an animated film-making technique where objects or puppets are physically moved in small increments between each photographed frames so as to get independent motion when series of frames will played back.
Stop-motion films can use humans, household appliances for comic effects.
The handmade puppets, sets and still images are giving new experience to the audience more recently.
Stop motion animated science-fiction-comedy drama film Isle of Dog received Silver Bear award at the 68th Berlin International Film Festival and received huge praise from the critics.
As stop-motion involves photographing puppets made from modelling clay while making tiniest movements in each frame; animated film Early Man by Nick Park used this same technique.
It is a slow and detail process but the result is charming.
Clay is an important ingredients in such films.
Modeling puppets and backgrounds requires a lot of time and effort, for Early Man artists created hand-sculpted trees, mountains, soaring football arenas and lot more.
Early Man took 13 months to complete.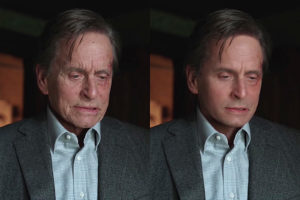 De-Ageing is another VFX trend which played a big role from the past few years.
De-ageing is a visual effects technique used to make an actor look younger during flashback scenes.
Practically it is tough to make an older actor to suddenly transform into a teenager; that is why De-aging technique is there to help.
With CGI a person appear much younger than their years.
In De-aging VFX technology, no anti-aging make up is used on the actor as it changes the way the light affects the face.
Lola VFX Company uses de-aging in films; Lola VFX handled Michael Douglas's de-aging in the movie Ant-Man and the Wasp released in 2018.
This technique works on complete skin planning which involves removing any age spots and reducing eye bags.
Mesh Wrap technique is used for digital face lift for the actors or actresses.
De-aging is an amazing effect and will evolve more over time.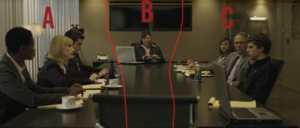 In the above picture we can see how the camera is invisible in the final shot.
Application of Invisible-Effects is growing with the rise in the volume of VFX being used in television and films.
The blending of digital effect with practical effect will lead to the collaboration between the artists and companies of different background.
Invisible Effect helps the VFX artist to fix the small errors with the scenes or can add or erase certain part or object without the knowledge of audience.
In the action sequences, actors are lifted with the help of ropes which is later erased with the use of computer.
VFX techniques like Chroma-Key, Matte painting aids to add background in a shot in a very smooth way so that the audience can't understand.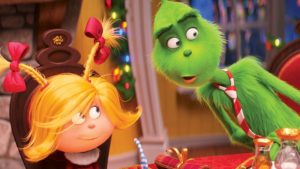 Hollywood has made many movies on CG monsters, aliens, animals or strange creatures.
Walt Disney Animation Studio along with other renowned Animation Studio has widely contributed in the computer animated movies.
Movies like Incredibles 2, The Grinch, Ralph Breaks the Internet made in 2018 has amazed us a lot; their colourful illustrations, unique creatures uplifted the level of imagination.
Film like Ralph Breaks the internet used 434 computer generated characters where Disney animator Mark Henn contributed to bring the Disney Princess into CG animation.
Implementation of CG characters for both live-action and animated movie will grow in near future also.
Therefore we got familiar with the VFX trends that were used in the year 2018 and no doubt that those trends will be use in the upcoming movies also until and unless any new VFX technique being invented.
Readers and Aspirants join us to know more about VFX Trends.