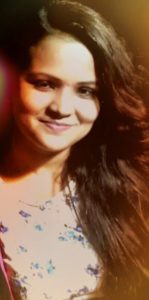 INTERVIEW WITH RUMA BARUI
 Can you tell us a little about yourself?
I come from Naihati, and I love creating new design. Drawing, has been a long time passion. It's a childhood dream to proceed with my career in a similar field, and I'm blessed to be able to do that.
.Why did you choose Maac Kankurgachi?
Maac Kankurgachi has established itself as a leader in the field of industry-oriented digital design. I chose Maac Kankurgachi because I was sure I could get proper training and guidance. To develop and nurture my skills which will definitely give a kick start to my career. The courses are very well organised and designed as compared to the other renowned institutes.
How has Maac Kankurgachi helped you reach your goals?
The faculty at Maac Kankurgachi are wonderful. I joined the CE Pro Course, which is of around 7 month's duration. It is a specialisation course covering compositing and editing. I got a thorough exposure to the software's in the course. My instructors were equally helpful. Whenever I needed any further guidance or practice they have guided me. Got good placement after completion of my course, so I am satisfied all around.
Tell us about your Job Profile.
I have been placed as a Paint Artist at Eskay Studios in Kolkata, which is a major studio in the movie industry here. My work includes compositing-oriented tasks such as matte painting, roto-scopy and some motion graphics assignments. It's very interesting.
Any parting words for present students?
Maac Kankurgachi will give you a great platform to begin your career from scratch, and you will be well trained with the necessary skills and software knowledge to become industry expert. You have made the right choice if you are planning to join Maac Kolkata, so all the best!
I hope you can follow your dreams like I could follow mine, thank you Maac Kankurgachi.