Hello guys, down memory lane – we all must love to watch the Tom and Jerry, the comedy TV cartoon series. We will discuss the evolution of the Tom and Jerry today. None among us cannot admit that they have never seen any single episode of this famous TV show. Let's turn up the pages of history to recollect the birth of Tom and Jerry.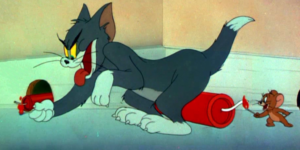 The two of the most adored cartoon characters were created by Joseph Barbera and William Hanna for Metro-Goldwyn-Mayer. The duo had written and directed 114 cartoons on Tom and Jerry from 1940 to 1957 at the MGM cartoon studio in Hollywood. Tom was a blue-grey long hair cat and Jerry was a little cunning house mouse. The whole plot centered on rivalry between the two title characters. Tom always tried to catch Jerry, but Jerry proved all his attempts to be unsuccessful with his cleverness and cunning abilities. However, in some of the shorts, they have been going along very well and displayed a genuine friendship and concern for each other.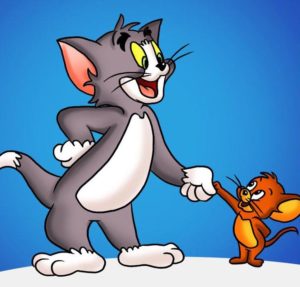 The first cartoon was released on February 10, 1940 and was titled 'Puss Gets the Boot'. But they did not get their names in the first short; their names were Jasper and Jinx. It was an instant hit. Later they got their names as Tom and Jerry by an animator John Carr, for which he won a prize of $50. The physical look of Tom and Jerry kept changing year after year. Hanna-Barbera's final short was Tot Watchers which was released on August 1, 1958, after that MGM Studio closed down in 1958. Then MGM revived the series with Gene Deitch to direct another 13 shorts for Rembrandt Films between 1961 and 1962. In the mean time Tom and Jerry became highest grossing animated short films of that time. Between 1963 and 1967, Chuck Jones produced additional 34 shorts of Tom and Jerry under Sib-Tower 12 Productions. Tom and Jerry came back with their own TV series – Hanna-Barbera's Tom and Jerry Show (1975-1977). Then several other shows came up as Tom and Jerry Kids (1990-1994), Tom and Jerry Tales (2006-2008), Warner Bros' Tom and Jerry (2014- Present). Some Tom and Jerry Movies have also been released such as 'Tom and Jerry: The Movie', 'Tom and Jerry: The Magic Ring', 'Tom and Jerry: The Fast and The Furry', etc.
Tom and Jerry has won more Academy awards than any other animated series. The shorts which won the academy awards are – 'Yankee Doodle Mouse (1943'), 'Quiet, Please (1945'), 'Mouse Cleaning (1948)', and many more.
Let's watch one of the funniest Tom and Jerry Video:
https://www.youtube.com/watch?v=7HrrU5cEJwk
We at MAAC Kolkata teach 2D Flash Animation just like Tom and Jerry to our students. Visit today and learn about the wide range of courses offered here which can make your career bright and enlightened.