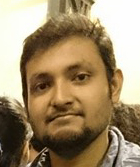 Interviewer: Hi Saurav. How are you?
Saurav:-Hello Sir, I am fine thank you.
Interviewer: Please share your experience what you have been doing after completion of your course successfully from Maac Chowringhee?
Saurav: – I am completely enjoying my life in Visual Effects (VFX) Industry working for Drishyam VFX. It's quite interesting and extremely challenging. There are lots of things I've learned from Maac Chowringhee. In a practical way how in studio set up one has to deliver his best I have learned from my experienced faculty team at Maac Chowringhee center special worth mentioning is Suprio Sir under whose guidance have developed my showreel.
Interviewer: Share some experience of your work in movies?
Saurav:-I have worked in Fitoor and currently working in another Bollywood movie. It's always challenging to work in movies. I have faced many problems and gained experience by troubleshooting them.
Interviewer:Did You get lucky meeting any movie star?
Saurav:- Well not so lucky yet to met any movie stars as of now.
Interviewer: You have been working in such a big studio like Drishyam VFX tell us how's the atmosphere on the floor?
Saurav: – Atmosphere is awesome. Extremely professional. We have been assigned our work in a limited time frame. We are on our toes to meet our deadline.
Interviewer: What are your future plans?
Saurav:- Well I want to build a successful career for myself as Lighting Artist and want to work for Hollywood movies.
Interviewer: Tell us something about Maac Chowringhee what inspired you to take up the course here?
Saurav:-Ohh you took me down the memory lane, I miss those fulfilled days of our training and hard work we did while working for 24FPS Vfx Movies, I miss my fellow students and Suprio Sir of course without whose able guidance it wasn't possible who I am today.
Interviewer: Had a great time chatting with you and I am sure many aspirant will get inspired from your words and get into the world of Visual effects as there career and we at Maac Chowringhee pray for your bright future.
Saurav:-Yes I am very happy to talk to you after many days and sharing my little experience with you all. Thank you so much.